It still does not seem real that the rarest of musical geniuses and true cultural icons, Prince, is no longer with us. As I sit in reflection today about what the man and his music meant in my life, on this one-year anniversary of his transition into the spiritual essence, I'm taken back to my formative teenage years, and the project that changed my life.
To me, Purple Rain, in its entirety, is the best, longest and most important music video that accompanied the greatest album of the 1980s. I've written on the Purple Rain project before, and revisited some of my thoughts here.
Prince was in the midst of deconstructing barriers through the revolution of his music, an unexpected upheaval that would bridge gaps and bring joy to diverse and far-reaching sectors of individuals around the globe. As we sit here today, the work still remains as fresh, lush, hypnotic and emotional as it was in 1984 when it overwhelmed with its simplicity, audacity and eroticism.
Along with the remarkable band, The Revolution, Prince powerfully blended Pop, Rock and Roll, Gospel, Punk, Funk, Rhythm and Blues and love ballads in a way that made a farce of radios rigid adherence to Black or White musical formats and social concepts. And in Purple Rain, he pulled off what is popularly regarded as one of the supreme accomplishments in the history of music.
The album earned the Diamond Award from the Recording Industry of America after going platinum 13 times over. In 2007, Vanity Fair named it the best soundtrack of all time. It won two Grammy Awards for Best Rock Vocal Performance by a Duo or Group and Best Album of Original Score Written for a Motion Picture. It nabbed an Oscar for Best Original Song Score. It spawned four top 10 worldwide hits with the singles "When Doves Cry," "Lets Go Crazy," "Purple Rain," and "I Would Die 4 U."
A funny thing happened when I first popped the Purple Rain cassette into my boom box. I heard bits of James Brown, Little Richard, Sly and the Family Stone and other strands of music. Rock and Roll, Country, and genres that I would have previously summarily dismissed.
The minute I heard him announce, Dearly beloved, we are gathered here today to get through this thing called life, I knew that my musical journey, my thought process, my view of the larger world out there would undergo a radical re-shaping.
The more I listened to it, the more entranced I became.
Within a few weeks, Purple Rain had displaced Michael Jacksons Off the Wall as my favorite album. I intrinsically knew, through those hypnotic guitar riffs, drum patterns, thoughts conjured up of animals striking curious poses, the dizzying solos, all experienced within my transition to adolescence as a high school freshman; that my world was about to expand in ways that would be awesome, colorful, exciting, loud and unpredictable.
I began looking for purple sneakers, shirts or hats that I could incorporate into my wardrobe.
Those thoughts and feelings exploded after I saw the movie, glued to my seat, dumbstruck by the visual manifestation of this astounding music that was produced by this musical genius.
The film centered around Prince's character, The Kid, a young, talented singer and musician on the Minneapolis underground music scene who seems to have the looks, gifts and drive to become a superstar. He falls in love with the gorgeous Apollonia, an aspiring singer and stunning physical specimen. Their rollercoaster relationship and the resulting complications of him following in his own fathers self-destructive, verbally and physically abusive footsteps provide the back story.
But the star of the show is the music.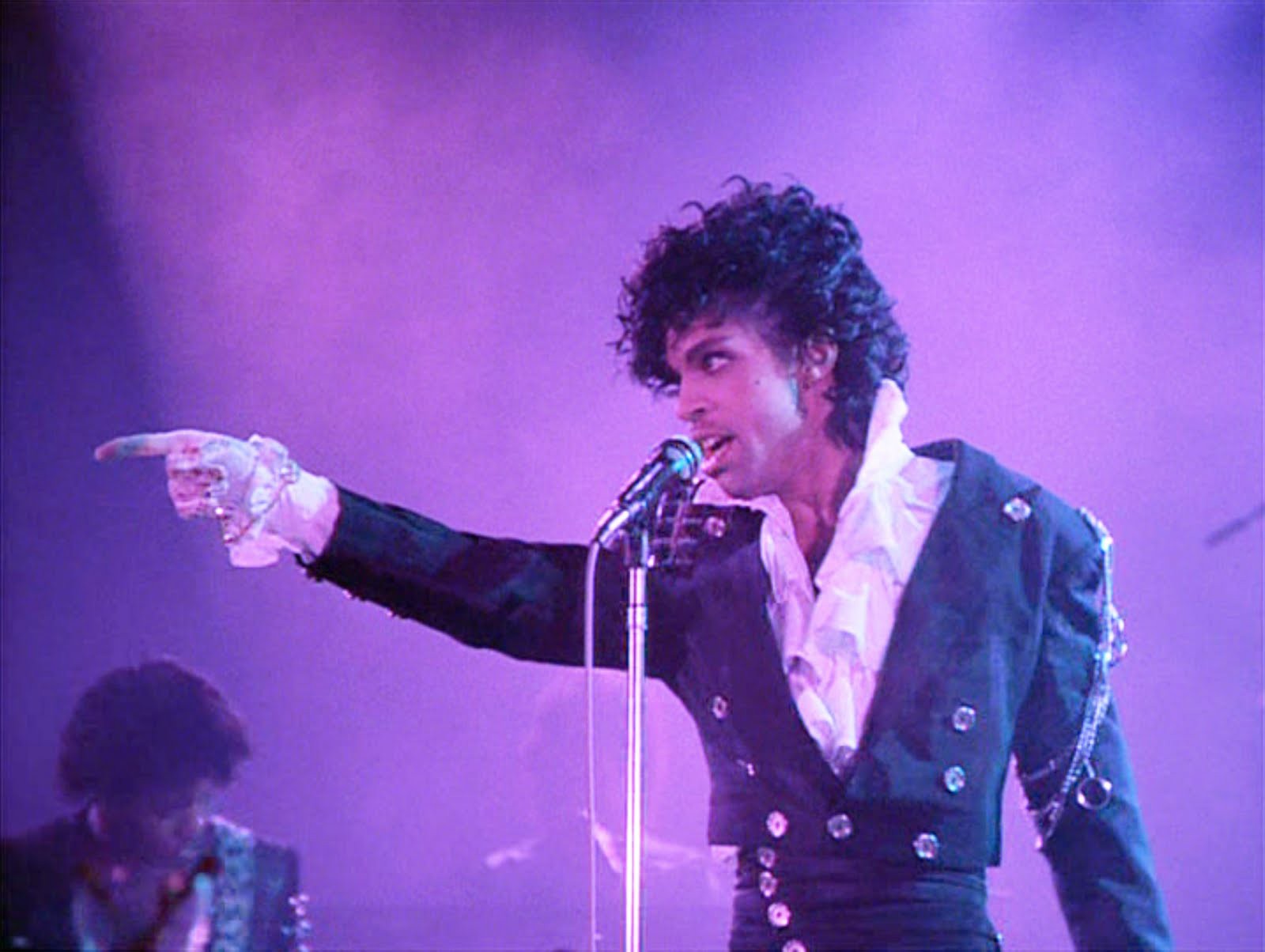 Underneath my outer mask at the time which was adorned with shell-toe Adidas sneakers, Kangol hats, suede pumas, a mean arsenal of mother jokes, an unhealthy obsession with Bernard King and the New York Knicks, Levis jeans, mock neck sweaters and Georgetown, St. Johns and Syracuse college basketball Starter jackets I secretly yearned to know what it felt like to be a one-man magnum opus of mind-blowing sex and music that could take people through a wide range of dizzying emotions.
I wanted to be free and confident enough within myself to jump onto a huge, thunderous purple motorcycle wearing purple boots and a tight, crushed velvet purple outfit, with a guitar strapped to my back, with Apollonia's tender self holding onto me tightly, her arms excitedly, suggestively wrapped around my waist.
"Lets Go Crazy" pushed me to think about how I wanted to spend my time through lifes journey, working hard and making a difference, yes, but also taking some time to just go nuts, because after all, In this life, things are much harder than in the afterworld and that regardless, to always be mindful of not letting the elevator bring us down. Because you could always push a button to get to a higher floor.
"Take Me With U" made my virginal, yet-to-fall-in-love-self yearn for breathtaking and butterfly inducing romance. And GOOD LAWD, when Prince told Apollonia to purify herself in the waters of Lake Minnetonka, my fourteen-year-old life changed considerably for the better. It wasn't simply about the miraculousness of her womanly beauty, but it was also the little purple fellas confidence, mystique and swagger. I wanted to have that type of personal power, poise, self-assurance and buoyancy. He re-defined my definition of cool.
"The Beautiful Ones" taught me that this thing called love could make you lose your mind. When he set it off with, Baby, baby, baby. Whats it gonna be? I already knew, without ever having been in that situation, that he was hurting.
"Computer Blue," though it did not garner the acclaim of most of the films other songs, was a hidden gem. To this day, I still find myself randomly blurting out, Wendy? Yes Lisa. Is the water warm enough? Yes Lisa. Shall we begin? Yes Lisa, even though I have no idea what theyre talking about, or what Computer Blue means.
"Darling Nikki" took my mind many places, snapping it out of its romance-induced fantasies to a place where some wild, uncontrollable sex fiends roamed. I didn't want my girl to be the one pleasuring herself in a hotel lobby, but I also wondered what it would be like to hang out with one such lady, from time to time.
"When Doves Cry," to me, is one of the best songs ever produced and Prince's career-defining accomplishment. It made this young kid from Brooklyn want to hang out in Minneapolis, wear purple blouses, and when I was old enough to sidle up to a bar, tell beautiful women, "Either somebody put something in my drink, or you're the finest mother****** I've seen in ages!"
"I Would Die 4 U," rocked me from the opening line, where he asserted, Im not a woman, Im not a man. I am something that youll never understand Whenever I heard it, Id ask myself, Who is this mysterious dude? Throughout the previous songs, and with his vulnerabilities bared both in his lyrics and actions in the film, this song reminds us how hyped he is about himself, and how much of an enigma he is, one moment saying I would die for U, and the next moment telling his screaming fans that hes their Messiah. Like my man Bumpty said in Grown Ups 2, Whaaaaaaaaaaat!!!???
"Baby I'm a Star" became one of my mantras. I repeated the words, You might not know it now, baby, but I are, Im a staaaaaar I dont wanna stop, til I reach the top. Whenever life dealt me a blow,  I emerged moments later feeling like nothing could stop me.
And of course, "Purple Rain" is one of the most mysterious, beautiful, sad, hypnotic and emotional anthems ever constructed. The delivery builds toward such a touching and sensitive climax, it was the anchor of every one of my slow jam tapes back in the day. If I called you on the phone at night and Purple Rain was playing in the background, that meant that my tender teenage emotions were on fire for you.
Most of the songs were recorded live, in front of an audience, prior to filming. And there's an unquantifiable synergy and connection between Prince, The Revolution, the words, the instruments, and the fans.
.From the fashion, the underappreciated music of Morris Day and The Time, the scene-stealing Jerome, Apollonia's sexy and erotic single, Sex Shooter, all of it conspired to transform Prince from great musician into a superstar and an icon.
Purple Rain took Prince off the fringe, delivering him into the mainstream. And in the process, it changed the world, and specifically my world, for the better.