After Indiana's abysmal performance in Game 1 against the 8th-seeded Atlanta Hawks, who backpedaled down the stairs into the playoffs, Paul George suggested a remedy to halting the Hawks offense would be him taking Jeff Teague as his assignment. Teague is one of the league's most prolific penetration and kick or score point guards and he steered his way past Geoge Hill like Jason Statham in a Bugatti for four quarters. Yet, that's just one of two major adjustments the Pacers coaching staff has to make.
Not only was it confirmed that Joakim Noah vaulted ahead of Roy Hibbert in Defensive Player of the Year voting on Monday because of his range to protect the rim and crouch down to become an irritant on the perimeter, but Hibbert may not want to check his Twitter mentions or read ESPN's front page where Kevin Pelton is of many analysts joing the chorus making the argument that Roy Hibbert should be planted firmly on the sideline during Game 2 of this series and perhaps beyond. Not because of his rim-melting offense or squabbles between he and teammates. This is strictly a basketball decision.
I usually don't endorse making rash decisions after Game 1's in any series, but for a franchise that's been struggling since the All-Star break, they've got to listen to Coach Malcolm X and win by any means necessary.
Via ESPN:
The Hawks' shooting ability made Hibbert's size a nonfactor defensively. During the regular season, according to SportVU player-tracking data on NBA.com/Stats, Hibbert contested 60 percent of opponents' shots within 5 feet of the basket while he was on the floor (plays in which he was within 5 feet of the shooter and 5 feet of the basket at the time of the attempt). Remarkably, SportVU recorded Hibbert contesting just one of Atlanta's 13 attempts within 5 feet of the basket while he was on the court during Game 1.

Even the handful of times he was inside when a shot was taken, Hibbert wasn't in help position because he had so much ground to cover from the perimeter. At best, the Hawks' strategy neutralized him. At worst, it made him a liability because of his difficulty containing quicker players on the perimeter. The result: The NBA's best defense during the regular season allowed 101 points in 90 possessions to Atlanta.
Backup center Ian Mahinmi is giving up three inches to the 7-3 Hibbert, but with those inches comes better mobility and footwork to follow the Hawks' 6-11 floor-stretching center Pero Antic.
Hibbert was self-aware enough to notice his own shortcomings in Game 1, but getting phased out like a bulky VHS tape isn't what he had in mind.
"We just have to get certain guys under control as a team," Pacers center Roy Hibbert said after Indiana's Game 1 loss. "I'm sure we'll look over film … if I'm the main culprit in terms of being the weak link on defense because they have a spread-five lineup. I guess we'll have to adjust."
As you can tell from this screenshot courtesy of ESPN.com, when Hibbert is being pulled away from the basket by Antic, he's useless as a help defender and Teague is cruising past the patrol doing 75 MPH unobstructed to the hoop in what's usually a residential neighborhood.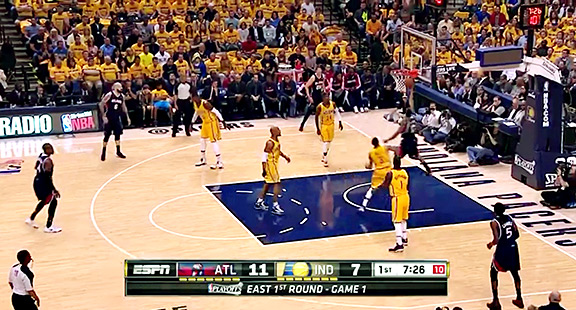 What makes matters worse is that Antic is a physical equal in terms of strength down low where Hibbert's shot attempts have mushroomed. When he's not skipping bricks off the rim, he was getting spiked by Kyle Korver–twice.
Hibbert has more highs and lows than MC Hammer's accountant, and his body language the last time Frank Vogel had him shelved at the end of Game 1 was worse than the Mandela memorial's fake interpreter's sign language technique. Andrew Bynum was reportedly beside him on the bench in the closing miutes trying to get his mind right. Andrew Bynum! That's essentially DMX guest hosting Iyanla Fix My Life. If that's how bad things have gotten, it may be time to ring the alarm and calll in the National Guard (they can defend a pick and roll, right?).
However, Newton's third law of motion applies here. Saying there's a chance this could have an adverse effect on Hibbert's attitude and volatile self-esteem moving forward when he'll be more needed is like saying Columbus Short describes the length of his fuse. On the other hand, as much as Indiana loves their mountain parked in the paint, no Hibbert may be what's needed for the Pacers to neutralize the Hawks.
Towards the end of the regular season, Vogel discussed resting his exhausted starters. Hibbert is the biggest and the fatigue is more visible. This may be his chance to carry that philosophy into the playoffs.