To some folks, Lance Stephenson is like that lingering NBA rash that wont permanently go away. And say what you want about Stephenson, his entire career as an NBA player has been built on being obnoxiously intolerable, antagonistic, cocky and LeBron James deadly come playoffs time.
Stephenson was basically out of the league before Indiana made some late roster changes to fortify the team for a playoff run. Prime time, against the game's No. 1 winner, is the perfect moment for a player like Lance — who they call the 8th grader because he plays ball with the same confidence he had in the eighth grade — to show why he is known to be as clutch as he is nuts.
He's also proving that the 3-year, $12 million deal he got in March is a steal of an investment for Larry Bird.
Indiana lost to Cleveland 106-102 in Game 4 of the NBA playoff's first-round on Sunday, but Stephenson showed the world why he belongs in the NBA and how he is a rare player that actually elevates his game come playoff time. The spotlight is the only light he seeks, which can make an 82-game regular season a challenging one with Lance. But when the bright lights are on and you need killers with overconfidence leading the way, Stephenson is the anti-Kevin Love.
With a humiliating first-round playoff sweep on the line and times as desperate as theyve been for the Pacers this season, it wasn't the highly vocal and critical Paul George who decided to come out taking control of the action and bringing it to Cleveland. It was Lance who scored team-high 14 first half points, including 4 of 7 from trey land to keep the Pacers in the game.
In fact, George shot a dismal 5-for-21 and played as if he had other plans for the summer. Stephenson was the catalyst and antagonist during the Pacers fourth-quarter comeback attempt. He made deft passes, Coney Island-style-wild drives to the hoop and he was jawing with LeBron James as he always does when awarded the opportunity.
With under 4 minutes left in the game, NBA analyst Hubie Brown, who was raving about Stephenson's basketball acumen the entire game, gave Lances stat line: 9 of 15 shooting, 22 points, 5 rebounds 3 assists in just 26 minutes of play.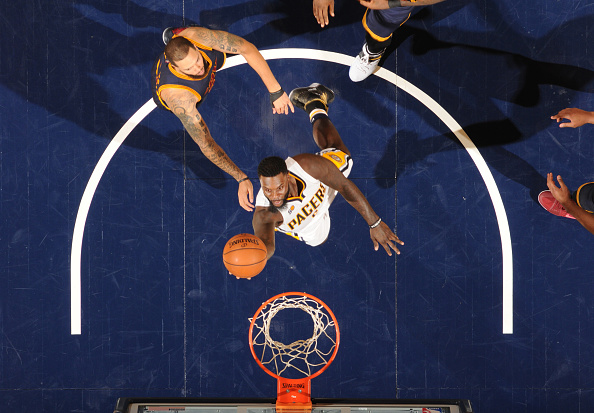 At that point Indiana was down 100-98.
For some reason and through no fault of his own, Lance wouldn't score again in the 2017 NBA season. I dont know if head swere trying to freeze him out, but the Pacers sure weren't looking for him. Indiana had two chances to tie, but instead of running the O through Lance as a passer or penetrator, they settled for two ill-advised three-pointers from Steph Curry range. Therein lies the dysfunction of this Pacers team; too much ego and not enough lethal