The 2015 WNBA champion will be decided on Wednesday night and for the first time since 2009 the series will go the full five games. Game 5 is Wednesday night in Minneapolis, where the Indiana Fever won Game 1.
Indiana was able to avoid elimination, winning 75-69 in a Game 4 on Sunday night . As they've done all postseason, the Fever found a way to hang on by a string. According to Yahoo.com, Indiana is 5-0 in the playoffs this season in elimination games. Starting with their run to the franchise's lone title in 2012, the Fever are 9-2 overall in elimination games.
The only other series to make it to a fifth game since the WNBA started playing best-of-five in 2005 were in 2006 and 2007. History may be on Indiana's side. The team that won the championship in all three of those series lost Game 3.
Maya Moore, who hit a buzzer-beating shot for the Lynx in Game 3 and is one of the greatest players and competitors in league history, was the topic of conversation when I spoke to womens basketball legend Teresa Edwards at The Nick Buoniconti Funds 30th Annual Legends Dinner at the Waldorf Astoria in NYC.
If anybody is qualified to give their opinion on a players greatness it is Edwards, who in 2000, Sports Illustrated magazine ranked 22nd on its "100 Greatest Female Athletes of the 20th Century" list. Overall, the four-time Olympic gold medal winner, competed for the United States in international competition a total of 19 times. Edwards is a mythical figure in womens basketball — a Hank Aaron type — and a member of the Naismith Basketball Hall of Fame.
Her teams won 14 gold medals, which makes her a candidate for G.O.A.T status, along with Cheryl Miller and Lisa Leslie. Soon after, she played professionally for the Atlanta Glory in the upstart American Basketball League averaging better than 20 points and 6 assists per game.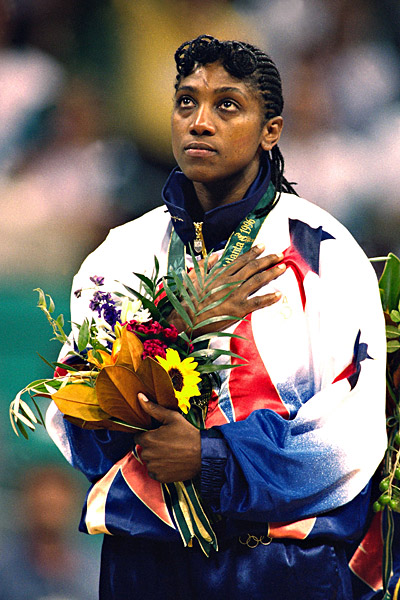 Edwards, a true pioneer, says Moore is the WNBA player she identifies with the most.
Teresa Edwards: Its not because shes in the Finals right now, but because that kid has an uncanny willingness to refuse to lose and thats the way I played. I did whatever I had to do day in and day out. And once you step onto the court. Youre on the court and nothing else exists. Theres a certain level of joy once we step onto the court that elevates us to go to higher heights even within ourselves, to do better than we did last time. And when you do that and seek that within yourself I constantly see Mya going after that for herself and for her team.
Her quick release…I think I had a quick release. Her speed. I might have been a little quicker but dont tell her. Her mental capacity is similar and she is a student of the game. I think we share a lot.
With Moore, The No. 1 overall pick of the 2011 NBA Draft leading the way, the Lynx return home with a chance to win their third title in five years. Moore is as clutch as they come. She had a career playoff-high 40 points to help Minnesota reach the title series for the fourth time in five seasons. The 2014 WNBA MVP keeps building on her legend, which began in her teens, balling for the Georgia Metros 16U Nike Travel Team. The Metros went 73-6 in two seasons with Maya navigating them to four National Championships.
She continued her prolific career at UConn, where she introduced her silky smooth game to the world and became a celebrity of sorts. She was part of a Huskies dynasty that surpassed John Wooden's UCLA men's team, who won 88 games in a row from 1971-1974. Moore scored a career-high 41 points in UConn's 89th straight win and solidified herself as a future pro franchise player.
The beauty of Moore is that she flourishes in winning situations, surrounded by other talented studs. Shes a team first player that is murder she wrote for the opposition. When basketball heads see Moore suiting up for action, they put a check in the win column for whatever team shes on. Lynx coach Cheryl White feels like Moore is almost taken for granted as a player.
"Four times in five years in the Finals, it's not easy for these players," Lynx coach Cheryl Reeve said, "especially when the expectation is every time they play, they should win the game."
Only the Houston Comets and the WNBAs original Big Three (Sheryl Swoopes, Cynthia Cooper and Tina Thompson) won more when they took the first four WNBA championships under Van Chancellor. The Lynx won their previous two titles on the road, in Atlanta in 2011 and 2013.
Edwards is enthralled by the many story lines within this star-studded WNBA Finals.
Edwards: Whats happening right now is that youre seeing 36-year-old Tamika Catchings (an all-time great player and Indianas regular season leading scorer at 16.1 ppg) and her Indiana teammates fight to the death to send her out the right way with a second championship. On the other hand you have the competitive nature of Seimone Augustus, Rebekkah Brunson, Moore and Lindsey Whalen. They are the veterans of the league and they are also champions. They are not going to roll over.
Overall, Minnesota has the marquee names, but winning chips — especially in womens basketball — is about sharing the rock and Minnesota does damage with the passing game.
Edwards: Thats what we (women basketballers) do and Minnesota does it best, but now youre seeing Indiana rise to the occasion. They played a heck of a defensive game so far and its exciting. This is whats scary. Indianas won their games and Catch hasnt played yet, but we also know Myas not finished. Seimone is playing pissed, Rebekkah is probably hiding a little injury but she has to bring it. Sylvia is playing OK. I think Indiana has a strong bench and a strong will to win.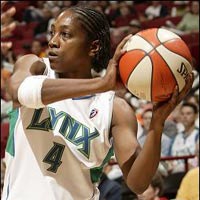 I finished up my interview with a few more questions for Edwards.
Gambler: So who has the coaching edge in this series so far?
Edwards: Cant really say but Indiana Coach Stephanie White has had a great game plan. Her team has executed very well.
Gambler: Whats your opinion on the evolution of the league ?
Theres a lot happening very fast. It was very popular in the beginning and then we hit a lull and now we are rising. I think we have a crop of young kids now — and it began with Mya –that came out fierce and unafraid of their abilities…unafraid of the veterans and unafraid of where the game is and deciding that they are about to make this happen for themselves. I see these crop of players taking the womens game to a new, exciting level.
As far as marketing the WNBA, we have to get more community involvement and more connections with powerful people within the community they play. Also we need a bigger fan base or find a place where our fanbase is and make it what it is.
I embrace the fans we have had from the beginning and hopefully one day we will have a bigger, stronger base of fans. I think we do have the most diverse fan base. I take pride in the fact WNBA is entertaining and very talent-oriented. I think we have the most diverse fan base in America for any sport there is.
Gambler:What is Teresa Edwards doing to satisfy her never-ending Basketball Jones?
Edwards: I been in and out coaching for a while. I am enjoying my opportunities to travel and speak. Im getting more and more into the lower levels with High Intensity Basketball Skills for kids. I think thats where I can really empower youth and make my mark. Ive been in New York for three years now, quietly walking the streets , trying to get my feet wet.
Gambler: Speaking of getting your feet wet, Cheryl Miller returned to coaching at unheralded HBCU Langston University in Oklahoma and last season she flipped a third-place squad into a first place squad. She came out the gate with a 20-1 record, including a 17-game win streak to set her regime off in Hollywood fashion.
Edwards: Yeah…Cheryl wanted to make Langston into a powerhouse and I think she will do it. I think we all mature and develop into things that we want to do and then their are things we were born to do. Cheryl was born to do this Its just taken her a while to get there because of the broadcasting commitments and she enjoyed that but for me personally, because I am the exact same age and we are peers, I am very proud that she's back and involved in the game and I dont see her doing anything but leading that program to greatness. Im excited, I think Cheryl is one of those players that sleeps until she bangs..until she explodes on you… and I think thats what shes going to do with coaching. I really wish her the best and am glad to see her because she has been way too quiet in our game.