The NBA announced today that the Oklahoma City Thunder will play two preseason games in October against Euroleague Basketball teams Real Madrid and FC Barcelona Lassa, as part of NBA Global Games Europe 2016 presented by BBVA.
The Thunder will tip off against nine-time Euroleague Champion and 33-time Spanish League Champion Real Madrid on Oct. 3 at the Barclaycard Center, before travelling to Barcelona to face 18-time Spanish League Champion and two-time Euroleague Champion FC Barcelona Lassa on Oct. 5 at the Palau Sant Jordi.
"Coming off one of the most exciting Western Conference Finals in recent memory, the Oklahoma City Thunder is an ideal team to bring the excitement and passion of the NBA directly to our European fans," said NBA Commissioner Adam Silver. "The Thunders matchups against two heavyweights of European basketball will show off the best of our game while also providing a focal point for a wide range of grassroots basketball activities in Madrid and Barcelona."
The Thunder, who in 2016 made their fourth Western Conference Finals appearance in the last six years, previously played a pair of European preseason games in 2013 against the Philadelphia 76ers in Manchester, England and against Fenerbahe Ulker in Istanbul, Turkey.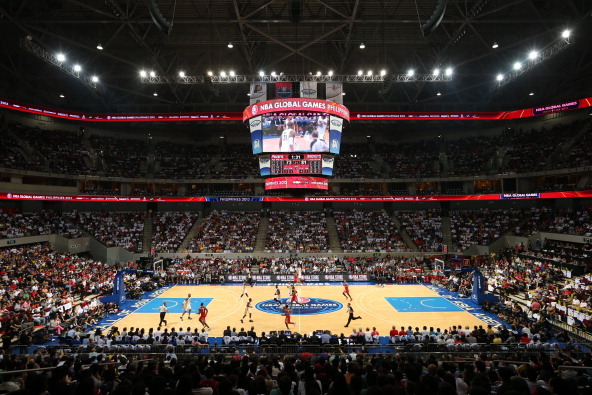 Real Madrid, led by Rudy Fernandez, Sergio Llull and Felipe Reyes, most recently hosted the Boston Celtics in 2015. FC Barcelona Lassa, who currently features Alex Abrines, Juan Carlos Navarro and Ante Tomic, last played against an NBA team in 2012 when they faced the Dallas Mavericks in Barcelona.
100 international players from 37 countries and territories were on opening night rosters for the 2015-16 season, marking the second consecutive year that opening night rosters feature at least 100 international players.
For the second consecutive year, all 30 NBA teams featured at least one international player at the seaon's tip. The Toronto Raptors led the league with seven international players on their opening night roster, while the Cleveland Cavaliers, Minnesota Timberwolves, San Antonio Spurs and Utah Jazz each featured six. The Atlanta Hawks, Dallas Mavericks and Denver Nuggets fielded five each, while the rosters of the Chicago Bulls, Milwaukee Bucks, New York Knicks and Orlando Magic each included four.
In March, the NBA also announced that the Houston Rockets and New Orleans Pelicans will play preseason games in Shanghai and Beijing on Oct. 9 and Oct. 12, respectively, as part of NBA Global Games 2016.
While many people questioned why so many talented American college players were passed over in the most recent NBA Draft, it's becoming increasingly clear that league is focused on an increasingly globalized strategy.