Baseball's diversity initiatives begin to produce coveted draft picks.
The lofty 2017 MLB Draft status of several African-American players who have honed their skills in at least one of MLB's special programs and initiatives, designed to increase minority participation in baseball from the grassroots level on up,  is proof that baseball is making incremental but significant progress.
Hunter Greene was the No. 2 pick in this year's Draft. The two-way baller is a product of MLB's Compton Youth Academy, Elite Developmental Invitational and Dream Series.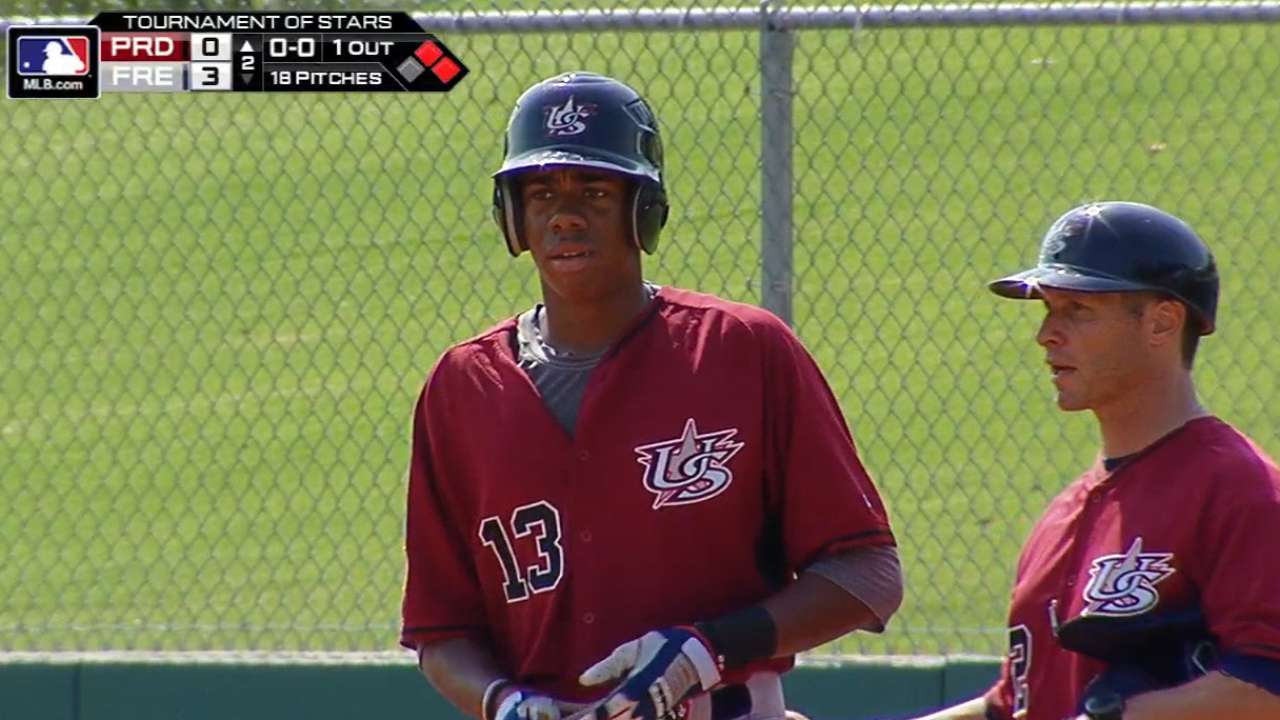 When embarking on such a culturally-changing endeavor, there's no sleep for those entrusted and appointed to oversee MLBs Urban Youth Academies and other events that offer exposure and opportunity to minority baseball players. The latest diversity power move by Major League Baseball and the MLBPA will begin today with the first MLB-sanctioned Breakthrough Series Event in Chicago at Curtis Granderson Stadium at UIC.
The diversity-focused amateur development camps, operated primarily by MLB, has expanded in 2017 to include several Breakthrough Series events (Chicago, Ill.; Compton, Calif.; Bradenton, Fla.), the DREAM Series and the Elite Development Invitational at Historic Dodgertown. The effort began in 2008 as a singular Breakthrough Series event in a joint effort by MLB and USA Baseball to promote the sport as a viable collegiate and professional option for youth from minority backgrounds.
The Breakthrough Series previously has been held at the MLB Youth Academy in Compton, California (2008-2009); USA Baseballs National Training Complex in Cary, North Carolina (2010-2012); at Minute Maid Park, home of the Houston Astros, and the Houston Astros MLB Youth Academy in Houston, Texas (2013); and multiple locations in 2014-2016, including the P&G Cincinnati MLB Youth Academy.
It's special because it's by invitation only, and the participants are selected collectively by the Major League Scouting Bureau, the MLB Urban Youth Academies and other informed brain trusts.
Nearly 160 previous participants of the Breakthrough Series have been selected in the MLB Draft, including 16 players in 2017.
Hall of Famers and mythical Black Knights Ken Griffey Jr. and Dave Winfield highlight the list of former MLB players and executives scheduled to serve as coaches and mentors at this invaluable event. A contingent of college recruiters and professional scouts are also expected to attend and evaluate players who demonstrate potential, but may not have had the opportunity for exposure if not for these events that seek out minority talent.
Approximately 60 minority, high school student-athletes (Graduating Classes of 2018 & 2019), representing 18 states throughout the country, will attend this event, including eleven players from Chicago.
In addition to flexing their skills for pro eyes and getting invaluable feedback from an impressive list of former MLBers, General Managers, Coaches, and executives, participants will receive direct instruction, insight, and mentorship.
The list of Black Knights in attendance is a whos who of African-Americans in baseball. Here are some of the other featured attendees.
Jerry Manuel  MLB Youth Programs Consultant. Nicknamed The Sage for his incredible baseball mind, Manuel is a rare African-American skipper who managed the Chicago White Sox (1998-2003) and the New York Mets from the middle of 2008 to 2010. He first played in the majors for parts of five seasons in the 1970's and early 1980's.
Reggie Smith Seven-Time MLB All-Star; 17-Year MLB Outfielder and First Baseman
Tom Flash Gordon  Three-Time MLB All-Star; 21-Year MLB Pitcher
Marquis Grissom Two-Time MLB All-Star; 17-Year MLB Outfielder
Mike Cameron Former MLB All-Star; 17-Year MLB Outfielder; Member of the Chicago White Sox (1995-1998)
Jeffrey Hammonds  Former MLB All-Star; 13-Year MLB Outfielder; Special Assistant, Player Programs and Initiatives, MLBPA
Tony Reagins Senior Vice President, Youth Programs, MLB; Former GM of the Los Angeles Angels (2007-2011)
Omar Minaya  Senior Advisor to the Executive Director, MLBPA; Former Major League GM (Montreal Expos, 2002-2004; New York Mets, 2004-2010)
White Sox GM Ken Williams, baseballs longest-tenured African-American front-office boss, and several White Sox players will also be in attendance and address the athletes.
If any of those high schoolers needed inspiration or encouragement to keep playing baseball, they will surely get some over the next couple of days thanks to MLB's efforts to bring baseballs soul out of the hole.