Perception is reality for most people.
Take Marshawn Lynch, for example. Sitting here in the wake of his recent retirement, I expect to witness a deluge of stories from veteran NFL beat writers and commentators regarding his on field greatness, but it certainly was not always the case. Yes, today he is perceived as one of the toughest running backs of his era, but much of the media attention fell upon his off the field issues and his upbringing early on.
Lynch emerged as a four-sport athlete in basketball, football, track and field and wrestling at Oakland Technical High School, recording 1,722 yards and 23 touchdowns in just eight regular season games his senior year. He wasnt heavily recruited and ended up attending Cal, majoring in social welfare. One could surmise his awareness of social and economic circumstances of his upbringing simply by the major he chose. Yet, the perception early on was that he was just another Bay Area thug.
After wrecking the Pac-10 and earning first-team All-American, first-team All-Pac-10 and Pac-10 Offensive Player of the Year, Lynch was drafted by the Buffalo Bills with the 12th overall pick in the 2007 NFL Draft.
In 2008, as a rookie, he would split time in the backfield with veteran running back Fred Jackson and still run for over 1,000 yards.
The following season, he became the first Buffalo Bills player to be selected for the Pro Bowl since Travis Henry six years earlier, despite being limited by a shoulder injury.
Lynch was arrested that year in Culver City, California after a gun was found in a backpack in the trunk of a car in which he was an occupant. In April of 2009, he was suspended by NFL Commissioner Roger Goodell for three games after a disciplinary hearing for violations of the NFLs personal conduct policy.
The perception was that he was just another wild kid from the ghetto that didnt know how to leave the hood behind him. He would start three games for the Bills in 2010 before being traded to the Seattle Seahawks.
Lynch would later say that being traded from Buffalo was one of the best things that ever happened to him. In his first career playoff game, the definition of his moniker Beast Mode was born as he broke 9 tackles, flattening Saints cornerback Tracy Porter with an embarrassing stiff arm on a 67-yard touchdown run
He would record 737 total yards in 2010, but that was only the beginning. He would tally 1,204 yards and 12 touchdowns in 2011. The same year his affinity for Skittles candy was realized when cameras witnessed a trainer giving them to him in a game versus the Philadelphia Eagles.
He would break the franchise record for consecutive touchdowns previously held by Shaun Alexander and was rewarded with a four-year, $31 million contract.
While his on the field actions yelled of his greatness, Marshawn had begun to gain a reputation in the media of being a curmudgeon, shunning interviews and the spotlight. Regarding his media relationship, things weren't always that way. But he eventually grew tired of the manner in which he was praised in one sentence and admonished in the next by many beat writers, commentators and bloggers.
Meanwhile, he just kept wowing football fans across the country. In 2012 he would put up over 1,500 yards rushing and 11 TDs while averaging a mind-boggling 5 yards per carry. It would result in another Pro Bowl.
2013? More of the same: 1,257 yards and 12 TDs and helping to lead the Seattle Seahawks to Super Bowl XLVIII.
In Week 16 of the 2014 season, he exploded for a 79-yard touchdown run against the Arizona Cardinals. His backward dive and simulated crotch grab drew fines from the NFL and conservative consternation from across the nation.
Again, perception had turned against Lynch. But what could they really say? No off the field incidents since Buffalo, no domestic violence reports, no gun charges, no substance abuse issues. Seriously, what could they say?
Lynch was a monster during the playoffs leading up to Super Bowl XLIX versus the New England Patriots, but much of the press coverage centered around his media acumen.
During the mandatory media day for the big game, he famously, and repeatedly coined the term Im just here, so I dont get fined.
There were all sorts of theories as to why he didnt want to talk. They thought he was crazy, but that was just a part of his genius.
Yeah, he was crazy all right. Crazy like a fox to give a cold shoulder to some of the very people who mischaracterized him in print and on television for much of his career. Always the thinker, Lynch wore a hat from his own company, adorned with his logo, at the pressers. Orders began pouring in.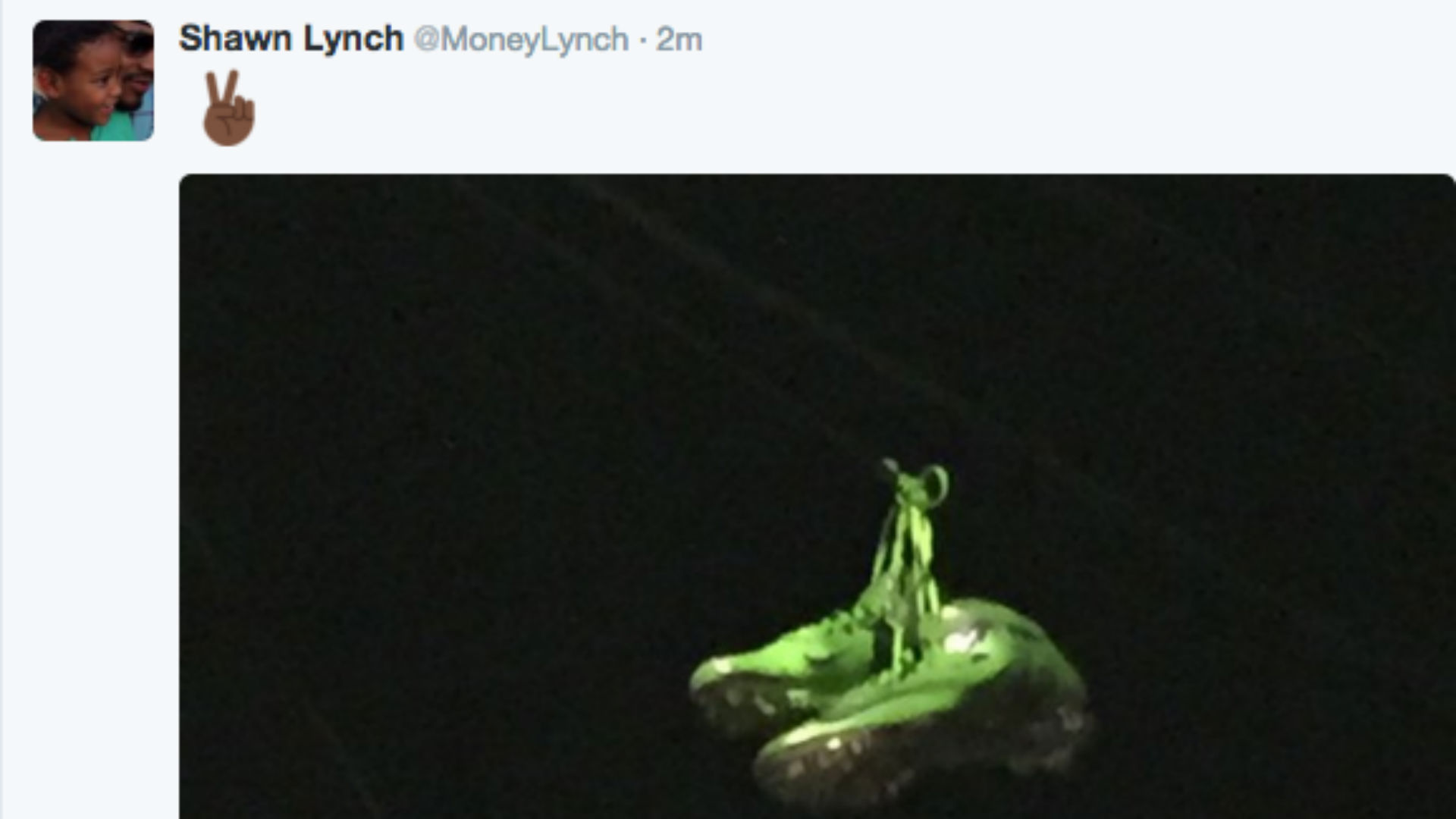 The Patriots would win with a late interception thrown by QB Russell Wilson to Patriots corner Malcolm Browner on a slant route. Prognosticators and announcers immediately criticized the move by coach Pete Carroll as it seemed that Lynch was tailor made for the situation.
Conspiracy theories about who the team wanted to be the MVP, and how the game was fixed, exploded. For his part, Lynch was visibly hurt by the decision and left the locker room without addressing the media. He would later mention during an interview with Conan OBrien that he was expecting to get the ball prior to the play.
In 2015, age and injuries seemed to catching up with him. He struggled to get going early on before electing to have sports hernia surgery. He would return against the Carolina Panthers in the Division round and did not have an impactful game. Ever calculating and on point, despite the mainstream narrative, Lynch retired via Twitter during Super Bowl 50.
His honors are as follows; Super Bowl champion, five-time Pro Bowl selection, two-time league rushing touchdown leader, two-time postseason rushing touchdown leader, 24th all-time in rushing touchdowns. For a three year span from 2011 to 2014, there was no doubt who the best running back in the game was.
Retiring at the age of 29 leaves many fans wanting more, but Lynch has decided that he has sacrificed his body to the game for too long. He has reportedly saved the lions share of NFL salary, which was a very thoughtful, shrewd and prescient move if true.
As far as perception goes, there were many who let the dreads, gold teeth and diction fool them. They shouldn't have.