Markelle Fultz scored 19 points, including three 3-pointers, on Friday night at the Barclays Center in Brooklyn, N.Y. at the Jordan Brand Classic All-American game.
A 6-foot-4 senior point guard from DeMatha Catholic High School in Hyattsville, Maryland, Fultz will be playing his college ball in the Pac-12 next year for the University of Washington. He wrapped up his high school career by showing the smooth versatility and elite skill set that have some projecting him to be among the top picks in the 2017 NBA Draft.
The Jordan game is as big as it gets on the high school level. The events alumni include players like LeBron, Chris Paul, LaMarcus Aldridge, John Wall, Harrison Barnes, Carmelo Anthony, DeMarcus Cousins, Anthony Davis, Rudy Gay, Blake Griffin, Kevin Durant, Dwight Howard, Kyrie Irving, Rajon Rondo, Derrick Rose, Amare Stoudemire, Karl-Anthony Towns, Kemba Walker and a host of others whove gone on to college and pro stardom.
Fultz was also selected to play in the countrys other premier, nationally televised showcases like the Nike Hoop Summit in Portland, Oregon and the McDonalds All-American game in Chicago. That hat-trick is considered the ultimate badge of honor for Americas elite graduating senior basketball players before they move on to chase future NCAA and NBA glory.
In the McDonalds game at the Windy Citys United Center on March 29th, Fultz scored 10 points, handed out six assists, grabbed four rebounds and led all players with three steals in only 15 minutes of action. Two weeks ago at the Moda Center in Portland, he played 18 minutes for the Team USA squad and set a Hoop Summit record with five steals, to go along with his 11 points, three assists and three rebounds.
But it was in the closed-door practice sessions of these events, which were only open to media personnel and NBA scouts, where he made his biggest impression.
All-Star games never tell the full story of a players potential. But the practices and workouts do.
Away from the glare of the television cameras and pulsating music in the NBA arenas, while matched up against his peers in an intense crucible of drills and scrimmages, Fultz showed why hes one of the most intriguing guard prospects in what many are calling perhaps one of the most talented classes in the history of high school basketball.
As a primary ballhandler, he scores and distributes with equal aplomb. His ability to shift gears on the move and change direction while remaining fully under control is beyond impressive. He directs his teams offense like a maestro with an innate understanding of the games rhythms.
Markelle seems to instinctively feel what his team requires of him to secure a victory. And then he goes out and delivers it.
(Photo Credit: usab.com)
If they need 15 assists, no problem.
12 rebounds? Bet.
40 points? Good money.
Guard the other teams best offensive player? No puzzle.
Watching him is like looking at a mirage because once you think youve figured his package out, it undergoes a swift regeneration. He impacts the game on every level imaginable in a way that a box score could never fully measure.
But what can be dissected is his scoring arsenal. And it is utterly a defenders nightmare.
In one motion, hell curl off a screen to catch and shoot a smooth long-distance jumper that tickles through the twine. The next time down, he might catch, pump fake, take two hard dribbles and pull up for a delectable mid-range jumper at the elbow.
Next, hell split a double-team at the top of the key at a speed that most college players dont possess, and loft a soft alley-oop that his airborne teammate slams through the rim. On the next trip down, hell split that same double-team and convert a layup through contact with a combination of strength and creativity that cannot be taught.
He has a dazzling array of floaters, short jumpers, head-fakes, hesitation dribbles and a knack for either getting an improbable bucket, getting fouled in the process, or both.
The smooth nature of his skill set seems as if everything comes easy to him. To watch Markelle on the biggest stage, playing with and against the countrys other top players while making the most difficult things look routine, one might assume that hes solved basketballs most complex puzzles years ago, coasting toward accolades and top rankings that have been laid out for him since day one.
But nothing could be further from the truth.
The journey of Markelle Fultz is one of improbable stardom, a meteoric ascension, a mothers loving example and the power of one determined young mans belief in the power of his own dreams.
***
NEW YORK, New York Under Armour Elite 24 Practice, Thursday, August 20th, 2015
Markelle sports a flat-top fade in the gymnasium at Xavier High School in Manhattan. As warmup drills get under way, his right wrist is taped. His smile exposes a set of braces while he shares a laugh with Dallas, Texas native Terrence Ferguson, an exceptional shooting guard prospect wholl be suiting up for the Arizona Wildcats next year.
With soon-to-be Denver Nuggets rookie Emmanuel Mudiay off to the side watching, fresh off of his one pro season in China with the Guangdong Southern Tigers, ex-NBA players T.J. Ford and Jeff McInnis and former college coach turned outstanding ESPN analyst Fran Fraschilla, among the other coaches at the Elite 24 event, are eying Markelle and the other players as they do their high-knees, butt-kicks, stretching, dribbling drills and three-man weaves to get warmed up for the practice session.
Markelle is among the first ten players chosen to scrimmage, along with Kobe Simmons, wholl play at Arizona next year and future Kentucky Wildcat Bam Adebayo. Ferguson is on the opposing squad, along with Michigans shooting guard/small forward Josh Jackson, wholl soon suit up for Kansas, Delawares exceptional point guard in the class of 2017, Trevon Duval, and the Sudanese superstar Thon Maker, who is entering the NBA Draft this year.
The 6-foot-2 Duvals alley-oop slam to inaugurate the action is impressive, as is Jacksons wide open dunk off of a steal. Markelle causes a small group of NBA scouts to subtly nod at one another when he slides over a pick with textbook crispness and elevates, splashing a pure jumper from the top of the key.
In a scrimmage that is often sloppy, punctuated by an array of alley oops and dunks, Fultz does the little things that the casual observer might miss.
He moves his feet exceptionally well on defense, cutting Duval off from penetrating. He covers a lot of ground quickly with his long strides, easily penetrating through defensive pressure for layups or subtle passes that lead to easy scoring opportunities for his teammates. He pushes the pace, changing speeds and directions in a way that asserts a different, noticeable energy on the action.
While some of the other players are drawing visible smirks and some head-scratching from the pro scouts due to a lack of hustle or glaring flaws in their skills or demeanor, its not a rim-wrecking dunk that gets them most excited early on during the scrimmage.
(Photo Credit: seattletimes.com)
Its when Markelle fights for a loose ball, emerges from the scrum with it palmed in his massive hand and in one fluid motion threads a perfect bounce pass to a streaking teammate.
Its one simple play, but it illuminates his hunger, strength, vision, court awareness and willingness to get down and dirty for the team, all within a four-second span.
***
Ebony Fultz loved basketball when she was a kid. Her uncle, who worked at various recreation centers around the Washington, D.C. area, once coached a girls team that he had named after her: The Ebony Princesses.
That really made me start liking basketball, said Ebony. I enjoyed being around the game and when I got to high school, I became the manager of the team.
When she was in the seventh grade, she went to live with her grandmother, who everyone in the family and neighborhood simply called Mother. Her grandmom worked evenings at the Census Bureau, so Ebony would be at home alone on most nights.
I had to be more mature than most other teenagers, she said. She would leave me dinner, but I had to learn how to cook for myself because she loved liver, and I didnt want to eat that, she said with a slight chuckle.
In addition to basketball, she loved dancing. She often went to the legendary DC nightspots of yesteryear that featured some of the citys hottest home-grown Go-Go music, like the Panorama Room.
After graduating from Crossland High School in Temple Hills, Maryland in 1988, she attended Allegheny Community College in Cumberland, Maryland, where she naturally gravitated towards the schools basketball players from the Washington, DC area. Among those athletes was Jay Bias, Len Bias younger brother.
After a year and a half at Allegheny, Ebony found out that she was pregnant. She soon gave birth to a daughter, Shauntese.
The fun times hanging out at the Go-Go came to an abrupt halt. She now had to figure out how to support herself and her child at the age of 19, especially after Shaunteses father removed himself from the family picture.
(Photo Credit: Jordan Brand)
She moved back to the DC area and stayed with a friend while looking for work. She found employment waitressing at a local Dennys restaurant and continued looking for other jobs. Eventually, she found one with the Department of Labor.
It was a temporary assignment with no benefits, said Ebony. But it was a job.
Shauntese had just gotten out of the hospital after a brief, scary bout with pneumonia, and Ebony frantically searched for a babysitter so she could report to her first day on the new job. She found a lady that came recommended, but when she picked her daughter up after work, something didnt seem right.
I cant keep your daughter, the woman dryly told her. She cries too much and people in my building are complaining.
As she walked home with Shauntese, Ebony was worried about finding another babysitter. When she carefully examined the bag that she had prepared with all of her babys diapers, pacifiers and other supplies, her heart dropped.
All of her milk was still in the bottles, she said. She hadnt eaten all day. I was a wreck when I found out that the lady hadnt fed her. I cried that whole night. Luckily, I found another lady that was awesome, a nice older lady who took very good care of my baby from that very next day until the day that Shauntese was old enough to go to school.
Two months into the job, her superiors could not help but notice her work ethic, and they rewarded her with a full-time offer with the Bureau of Labor Statistics.
Thats when I started my career in the government, in 1991, said Ebony. It was a permanent job with benefits and health insurance.
Six months later, shed saved up enough money to put a down payment on her own apartment.
I was determined to have my children grow up in a nicer environment, said Ebony. We moved to various places in and out of the city. The goal was always to live in the Maryland suburbs because I wanted my kids to have something better.
When Shauntese was eight, Markelle was born.
I made sure that she was the first person to hold him, Ebony said. I was very conscious that it had only been me and her for eight years, and that this was going to be a new factor that would change both of our lives. And I would always tell her, Youre the older one. You have to set the example for your little brother.
Markelle seemed to come running out of the womb, always in perpetual motion.
And he seemed to have something in common with his mother. From a very early age, he gravitated towards basketball.
Every time wed go to the grocery store, they had these bins full of basketballs, said Ebony. And he would always reach out trying to grab them. And he kept saying, Ball!
***
SPRINGFIELD, Massachusetts Spalding Hoophall Classic, Monday, January 8th, 2016
The standing-room-only crowd inside the Blake Arena on the campus of Springfield College, where Dr. James Naismith invented basketball in 1891 when it was then known as The YMCA International Training School, is abuzz with heightened anticipation well before the 11:00AM tipoff.
The ESPN cameras and broadcast crew are there for the nationally televised game between Marylands DeMatha Catholic High School and St. Louis, Missouris Chaminade College Prep in the Spalding Hoophall Classic, the nations top in-season high school basketball showcase.
The stands are awash with people wearing Duke Blue Devil paraphernalia, obviously there to catch a glimpse of Mike Kryzewskis latest blue-chip recruit, Chaminades highly-touted 6-foot-9 forward Jayson Tatum.
Tatum is the complete package a gifted, fluid, multi-faceted big man who can handle the ball, pass, rebound and operate with efficiency on the wing and in the post.
Throughout the first half, Markelle is content to let the game come to him. He doesnt force the action, but operates within the natural flow of it.
(Photo Credit: seattletimes.com)
He distributes the ball masterfully, like when he runs DeMathas half-court set with extreme patience before lofting a beautiful alley-oop to his teammate DJ Harvey, a 6-foot-6 guard/forward who is being recruited by the likes of Villanova, Duke, Georgetown, Arizona, Louisville, Virginia, Texas, Oklahoma, Notre Dame and a host of others.
Markelles six first half points all come from the mid-range. He dribbles hard, stops on a dime and rises high in the paint, at the free throw line and along the baseline, above the long, outstretched arms of Tatum and Chaminades Tyler Cook another 6-foot-9 forward who has signed to play at Iowa next year to convert soft, supple jumpers.
With a little more than a minute elapsed in the third quarter, Markelle scores his eighth point on another mid-range jumper, this one off the catch-and-shoot, to give DeMatha a 27-24 advantage.
Tatums mid-range display is equally spectacular. He scores his 22nd point with slightly more than 2:00 left in the third period, and Markelle answers by converting a twisting layup that he releases with his back to the basket.
Its a move thats almost mystical in its spontaneity and nearly indescribable in its execution.
The next time Markelle dribbles upcourt, the matchup that everyone has come to see has now come to full fruition. Tatum is crouched in a defensive stance, standing a full half-a-foot taller, backpedaling, guarding Fultz one on one.
And thats when the excitement and on-court action begin to bubble. The crowd roars in unison as it rises to its feet.
With 3:17 left in the fourth quarter, Chaminade is leading by ten, 49-39.
The expression on Markelles face never changes, whether hes wobbling Tatum with a sudden dribble and change of direction, or soaring high over the defense towards the rim, where he converts difficult shots through traffic.
His spin-move off the bounce and lefty layup over Tatum brings DeMatha to within three, 53-50, with 44.4 seconds remaining. His textbook pass finds its way into teammate Nate Darlings sweet spot, and Darling drains a long three to bring the Stags within one, 55-56 with 26.1 seconds left.
After Tatum knocks down two free throws, Markelle breaks down the defense and attacks the rim, converting yet another tough layup in traffic, again trimming the Red Devils lead to one, 58-57, with 9.0 seconds to go.
The contest eventually moves into overtime, where DeMatha rides the momentum of Markelles supreme floor game to a 72-69 victory.
Along with Tatum, who tallies 40 points, Markelle is named the games Co-MVP. He finishes with 20 points, five rebounds, five assists and three steals. The crowd gives both teams a standing ovation.
Tatum was the real deal, but everyone in the gym knew that he was looking to shoot the ball once he touched it. With Markelle, he asserted his will on the game in a number of different ways.
When the rock was in his hands, you didnt know what he was going to do. But whatever it was, it was going to be exactly what his team needed, and precisely when it needed it.
***
Markelle began playing basketball on the courts of the Good Luck Community Center in Lanham, Maryland and by the time he was six, Ebony began asking around for some good trainers that could work with him. One of the names that she kept hearing was Keith Williams.
Williams was a few years ahead of her in high school, one of those talented players that she once hung around. A former state champion who played with NBA star Walt Williams at Crossland High, Keith went on to become a two-time Black College All-American at the University of Maryland-Eastern Shore before being the final cut by the New Jersey Nets in his rookie training camp.
Troy Weaver, now the Assistant General Manager of the Oklahoma City Thunder, was a friend whod just started the DC Assault AAU program. Weaver asked Williams to stop by the gym to teach the kids some drills when he got back home after being released by the Nets.
Williams was a natural, and Weaver and others quickly recognized his skills as a mentor and teacher. He went from working out the DC Assault kids to later working with Steve Francis, Ty Lawson, Kevin Durant, DeMarcus Cousins, John Wall and others as a personal trainer.
Despite his NBA clients, Williams continued to work with community youth as well.
Ebony soon placed Markelles basketball education in Keiths hands.
I remember Ebony being this little pipsqueak, always running around in high school, Williams said with a playful grin. But she was always a very sincere, very nice young lady. The first time I worked Markelle out he was six years old.
(Photo Credit: insidethelockerroom.net)
Williams noticed that Markelle, despite being clumsy at the time, had very big feet.
He was slow, and very quiet, but I knew that his body had not caught up with his feet yet, said Williams.
If you look at Williams cell phone when Markelle calls, the name onscreen is the one that first popped into his mind when he first met the young man: Bambi.
Most of the little kids ran straight out of the gym after one of Williams workouts.
Bye coach Keef! Theyd yell it in a hurry as they burned rubber towards the exit.
Williams would work them out hard, refusing to allow water breaks. He figured if they could make it through one of his extreme sessions without water, theyd be able to handle adversity in their games.
But Markelle was different.
I knew he was going to be good because he was one of the very few kids who was willing to work out with me twice a day, Williams said.
After finishing up his training with the kids in his younger age group, Markelle begged Williams to allow him to join in on the next session with the 10 through 14-year-olds.
I kept telling him, No! But he kept begging, said Williams. I started to let him play with the older kids. Those really big feet wouldnt let him keep up with the speed of the older guys, but Markelle was competitive. And he had such a calm demeanor even then. He was always playing to win, but whether he won or lost, he remained emotionally even. He never did any crying. By the time he turned ten, I knew that when his body caught up with his mind that he was going to be a special player.
Markelle attended the summer basketball camps offered by DeMatha from a very early age and quickly became hypnotized by the schools aura. The banners inside the Kathy and Morgan Wooten Gymnasium commemorating the Six National Championships, nearly 40 conference titles and over 20 Washington, DC City Titles scream excellence. As does the schools basketball alumni list, which includes names like Adrian Dantley, Mike Brey, Kenny Carr, Danny Ferry, Sidney Lowe, Dereck Whittenburg, Keith Bogans and Jerian and Jerami Grant, among others.
Markelles favorite DeMatha player was another late bloomer who'd been one of his own former summer camp counselors.
I always looked up to Victor Oladipo, Markelle said, referring to the third-year guard with the Orlando Magic. Id been going to DeMathas camp since I was younger and just fell in love with the winning tradition. Ever since I was little, I dreamed about going there and being a part of it.
But he had not been recruited there. Nor was he seen as an elite basketball prospect entering the ninth grade.
He played on the freshman squad and on the junior varsity as a tenth grader. Initially disappointed that he got cut from the varsity, many people suggested that he transfer to another school where he could play.
But Markelle was determined to prove himself.
When I got sent down to the JV as a sophomore, I was kind of upset because I thought that I was good enough to play varsity, said Markelle. But I got over it, went back into the gym with Keith and we just trained even harder to put in that work. I felt like the best way that I could respond was to simply prove myself and dominate.
He did exactly that, and was moved up to the varsity team at the end of the season. But anyone who tells you that they knew, back then, that Fultz was a future NBA draft pick is lying.
When they moved him up to the varsity, he played a few minutes at the end of some games and scored six points, maybe, in total, said Ebony. But the one thing about Markelle, ever since he was little, is that when he puts his mind to it and says hes going to do something, he does it. He rises to the occasion. The bigger the challenge, the harder he works and the harder he plays.
Most kids that play high school basketball play freshman ball, then they play on the JV, said DeMathas head coach Mike Jones. They become role players on the varsity as a junior and then, maybe they have a chance as a senior to be a contributor.
But thats not the trajectory for most of Markelles teammates on the Hoops Summit, McDonalds and Jordan Brand rosters. The overwhelming majority of them have been highly ranked prospects since elementary school, kids who walked into their freshman years in high school with starting positions and college scholarships already in their pockets.
Markelle was never spoiled, he was always the underdog, said Williams. He was never considered to be the best kid in the Washington, DC area in the eighth and ninth grade. He wasnt ranked as one of the best fourth, fifth or sixth graders in the country. That benefitted him because he worked incredibly hard, every day, to prove that he could play with anybody.
And by the summer between his sophomore and junior year, thats when he just exploded onto the national scene and let everybody know, Williams continued. Everything just came together. And he blew up!
(Markelle and Keith Williams, Photo Credit: Alejandro Danois / The Shadow League)
Fultz turned heads on the AAU summer circuit at every event he played in. The kid who started on JV as a six-foot point guard had now grown to 6-foot-4.
His body had finally caught up with his feet. The hours of working, sweating, shooting, dribbling, practicing, and never believing in the doubters were finally paying dividends.
After dominating in a tournament in Las Vegas, against kids that had long been established atop the national rankings, an assistant coach for a top team in the Big Ten sidled up to Williams.
Who is he???!!! the coach incredulously asked. And why doesnt he shoot the ball more, because its obvious that hes the best player on the floor.
Markelle had just turned sixteen and had yet to start a varsity game. He quickly went from an unknown to an astronomical ascension up the national player rankings.
High Point University was the first to offer a scholarship. Within a few months, Markelle held offers from Arizona, UCONN, Georgetown, Kansas, Louisville, Miami, Maryland, North Carolina, Texas and many, many others.
I always wanted to him to be able to go to college, said Ebony. I never imagined that it would be like this. I knew Markelle was a good player, but I didnt realize just how special he was until I saw him holding his own against the top kids that I was always hearing about. He was stepping up, being a leader, being aggressive. There were over 80 coaches in the gym at one event asking about him. Stuff got so crazy, so quickly, I just said, Wow!
***
HYATTSVILLE, Maryland DeMatha Catholic High School, Friday, March 4th, 2016
Painted in blue and white letters, behind the basket and above the three prominent banners that celebrate DeMathas city, conference and national championships along the wall in the school gymnasium inside the LT (SEAL) Brendan Looney 99 Convocation Center, are the words DeMatha Today, DeMatha Forever.
Temperatures outside are in the low 30s, with a dusting of snow still lingering on the roads. The hoops team is shooting around and warming up at 3:50PM, ten minutes prior to the start of practice.
Atop the bleachers, on a walkway that gazes down on the shiny hardwood floor, a scattered collection of boys in button-up shirts, ties, khaki slacks and blue blazers lean over the railing, watching.
Markelle, wearing low-top red and black Nike Kobe XIs and mid-calf Washington Huskies socks, is part of a group of six players, plus head coach Mike Jones, playing a one-on-one drill. The player that makes his shot stays on and the next man tries to guard him. If you miss, you go to the back of the line and wait behind the players in front of you until your next turn.
(Photo Credit: Jordan Brand)
The group is laughing and smiling, but the competition is serious. Markelle splashes step-back three-pointers, scores in the mid-range, pump-fakes defenders out of their shoes, makes off balance fadeaway bank shots, deep jumper after deep jumper and scores on a series of layups with either hand.
When the buzzer sounds for the official start of the practice session, the Stags huddle at midcourt before breaking off into position groups. The bigs work on post moves, catching the ball with their back to the basket and then facing up, before taking two hard dribbles and finishing with a dunk.
On the other side of the court, the perimeter guys dribble from half-court to the three-point line and take two quick dribbles into a midrange shot. After 20 minutes of various shooting drills, the blue and white teams scrimmage. The starters wear blue, and practice attacking against full-court defensive pressure.
Coach Jones yelling and perplexed stares go hand in hand.
Ball Pressure!!! he screams. Hands!!! Ball Pressure!!!
The Stags are preparing to run at a frenetic pace, pushing after made and missed free throws, trying to find quality shots in transition within seconds of inbounding the ball.
The next evening, theyll take on Riverdale Baptist in the semifinals of the Maryland Private School Tournament.
The season is almost over, as is the unlikely story of Markelles prep ascension. But a bigger narrative lies ahead.
***
DeMatha, behind Markelles 21 points and 11 assists, goes on to win the Maryland Private School Tournament after beating Capitol Christian, 101-77, in the final.
They finish the season with 33 wins and only five losses after winning the championship of the prestigious Alhambra Invitational. When the dust settles on the 2016 season, they are ranked 13th nationally in the final USA Today Super 25 Boys Basketball Poll.
Markelle walks out of the McDonalds All-American Game, the Nike Hoop Summit and the Jordan Brand Classic as a crowned basketball prince with the brightest of futures ahead.
Hed be forgiven if some of this has gone to his head. But none of it has.
All of this stuff has happened so fast for Markelle, said Ebony. Hes the most modest, humble kid. All of this is still surreal to him. He just wanted to go out and have fun doing something he loved.
I just watched my mom and how hard she had to work, said Markelle, searching to explain his humility. I was always taught to have respect for others and have good manners, that you treat people the way you want to be treated.
Throughout this year, Ebony has talked to her son about finishing up strong academically, setting goals to be on the honor roll and just taking some time to enjoy this experience.
She did not bug him about her preferred choice for where hed play college basketball. As a mom, she wanted him to be close. But she also understands the bigger picture.
It had to be his decision because he has to be there dealing with the ups and downs, said Ebony. If something goes wrong, hell own it and deal with it.
I chose the University of Washington because their coaching staff touched me in terms of the relationship that weve built, said Markelle. I think I can rely on them in both a coaching and parental role. And head coach Lorenzo Romar is a good Christian man who keeps things real with me. Theyve got a great program that has produced some really good guards. But theyre still an underdog, and I can relate to that.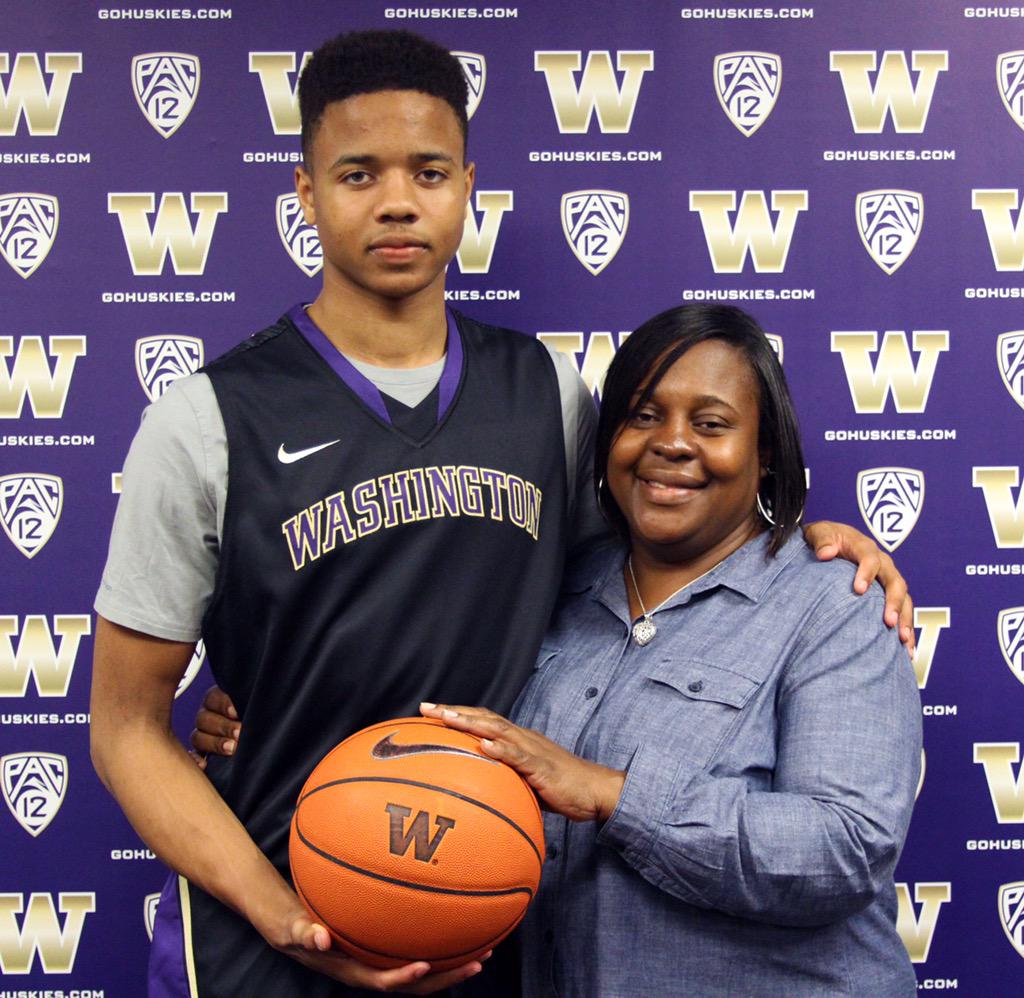 (Markelle and Ebony Fultz, Photo Credit: twitter)
Ebony often thinks back on those days when Shauntese and Markelle were babies, when she struggled and scraped to give them something meaningful in life, something that they deserved.
Through all my struggles, I never thought Id have a 25-year-old daughter in graduate school, working on a Masters Degree, said Ebony. And it makes me so proud to see Markelles dreams coming true, knowing how hard hes worked and how focused hes been.
Now that the season is over, Markelle and Keith Williams are in the gym just like they were all those years ago, twice a day. Theyre eyeing the next step, with Team USA at the FIBA Americas U18 Championships in Valdivia, Chile this summer.
Training camp to make that roster which will be coached by Texas Shaka Smart, along with Marylands Mark Turgeon and UCONNs Kevin Ollie will be at the United States Olympic Training Center in Colorado Springs from June 14th through the 18th.
Once that tournaments done in late July, its off to Seattle and the Pacific Northwest for college.
Markelle really is a throwback, in terms of the way he plays the game and in terms of what kind of a person he is, said Williams. Im tremendously happy for him because nothing was handed to him. Hes earned everything hes been given. He did it the old fashioned way. And as good as he is in basketball, hes more of a special person than he is a player. Hes grounded, does the right things. Hes reaping all of the fruit from the seeds hes been planting all these years.
(Photo Credit: theleftbench.com)
The most impressive thing about Markelle is that hes gone from a normal high school basketball player to being one of the best, if not THE best player in the country, said DeMatha head coach Mike Jones. And hes still the same exact kid that he was when no one knew his name. Hell still take the trash out in the cafeteria and clean up after his teammates when they leave a mess laying around.
None of the stardom and fame has affected him at all, Jones continued. If you observed him away from the basketball court, youd never know that he was such an exceptional talent. He doesnt have that ego that a lot of the so-called top players have. He fits in pretty well around school and hes one of those kids that everybody likes. That makes me more proud than I could ever be.
Ive always been an underdog, just like my mom, said Markelle. Every day, I saw her having to prove herself. So I was always taught that if you can work hard, you can do anything. Just being able to do those things will take you far in life. Ive learned that. Five years from now, my goal is to be one of the best players in the NBA, and be able to pay my mom back for everything shes done.