DICK'S Sporting Goods, Inc., the largest U.S.-based omni-channel sporting goods retailer, has stepped up its diversity game in the aftermath of a racial equality reckoning and acknowledgment of systemic racism in leading corporations in this country. 
The company announced that Larry Fitzgerald, Jr., the 11-time Pro Bowl wide receiver for the NFL's Arizona Cardinals, has been named to its Board of Directors.
Not sure how many African-Americans are on the board, but I'm assuming Fitzgerald is one of the, if not, the first.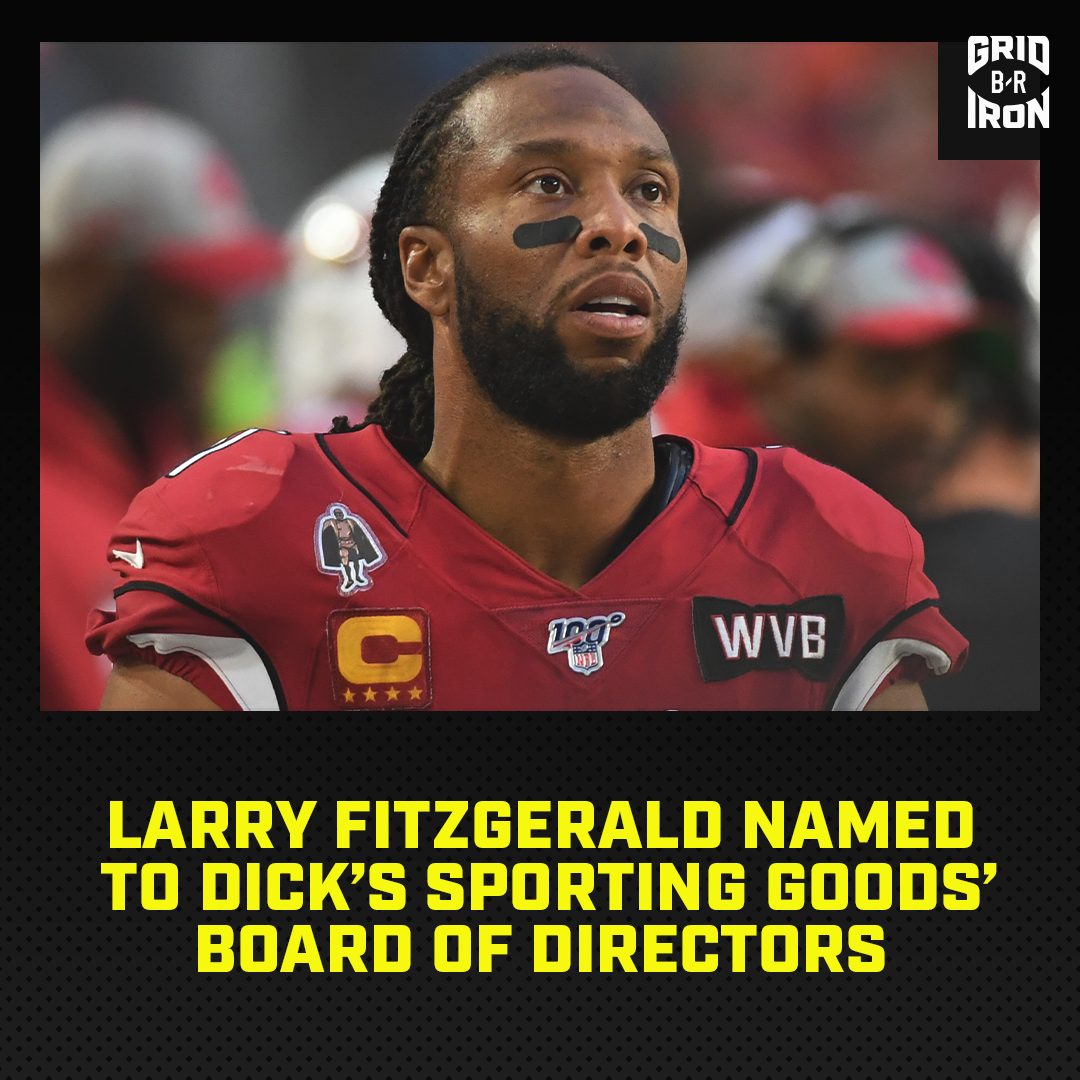 "Larry has been part of the DICK'S Sporting Goods family for nearly 10 years, and we've gotten to know him very well," said Ed Stack, Chairman and CEO. "Larry has a deep understanding of the business of sports and its market dynamics. Larry is a man of integrity, and he shares our values and our commitment to caring for communities. Based on his background, Larry will be a great addition to our Board."
Fitzgerald is an active member in the business community. He joined the Sports Matter Advisory Board of The DICK'S Sporting Goods Foundation in 2018 to help inspire and enable youth sports participation, and he recently purchased a minority ownership stake in the NBA's Phoenix Suns.
"I've long admired DICK'S Sporting Goods, and over the years have had the opportunity to see up close what they stand for and who they are as a company," said Fitzgerald. "We share a passion for sports, supporting young people and serving our communities. I could not be more excited to join the Board and share my experience and knowledge to help DICK'S grow and continue to be a leader in the retail and sports industries."
He's been an exemplary player with strong character and a commitment to social upliftment during his Hall of Fame career. 
Through the "Larry Fitzgerald First Down Fund," founded in 2005, Fitzgerald has used his platform to support underserved children, with a laser-sharp focus on promoting literacy and technology skills, as well as spearheading efforts to prevent and cure breast cancer through the Carol Fitzgerald Memorial Fund in honor of his mom who passed away from cancer in 2003. 
In 2017, Fitzgerald, who ranks second on the all-time NFL receptions list (1378) to Jerry Rice, was a co-winner of the Walter Payton NFL Man of the Year Award, which recognizes a player for excellence on and off the field. He has made five USO tours to visit soldiers overseas and has helped dig wells and build irrigation systems in Ethiopia with Oxfam, a global nonprofit working to end poverty. 
DICK'S has not only wisely decided to bring a celebrity athlete and respected community man into the fold, but few are as qualified as Fitzgerald to actually help navigate the company in a direction that is more inclusive, sensitive and aware of problems with social justice and equality in this country.