We knew this day would eventually come.
Father Time waits for no man, but in the case of NBA Legend Kevin Garnett, who retired on Friday after 21 electrifying, trend-setting, culturally influential and dedicated years in the worlds greatest basketball league, he was very gracious towards KG with his time.
I remember when Garnett entered the league. Young heads were excited to see this long, lanky and explosive athlete making the frontcourt position look like the place to be while media experts were skeptical of Garnetts ability to go prep-to-pro, especially after he was drafted by a team which didnt possess much talent to help KG on the court.
The Timberwolves, since joining the NBA in the 198990 season, had not won more than 29 games in any season. In Garnett's rookie season, the team suffered through their seventh consecutive sub-30 win season and failed to make the playoffs.
The future was bright however, as Garnett was the youngest NBA player in history, at 19 years and 11 months of age, and he made the NBA All-Rookie second team.
Prep-to-pro wasnt the trend at that time, but hoods across the country knew KG had the superstar swag and sizzle. They followed him faithfully and rooted for his passion and persistence every step of the way.
When Brooklyns basketball golden child, Stephon Marbury, joined the team prior to the 199697 season, Garnett made his first All-Star appearance and the tandem, though short-lived, brought excitement, energy and gave us a talent-laden glimpse into the NBAs future. Everybody was gassed on the combo and the picture of the future they were painting. Everybody except Marbury.
While the 90s birthed some of the greatest players we have ever seen, the league was also plagued with egotistical superstars who lacked a fundamental and philosophical appreciation for teamwork. As we reflect back, those self-centered former All-Stars have been long gone from the league. In some cases, forced out because of broken relationships, selfishness and bad decisions.
Not KG.
Hes leaving on his own terms, with dignity and a stellar, Hall of Fame reputation.
Beyond The Game
Garnett, a dynamic 7-footer who helped revolutionize the center/power forward position with his athleticism, high-rising defensive wizardry, extraordinary leaping ability, ball handling dopeness, flair and perimeter prowess, also opened the floodgates for a crop of young high school phenoms that changed the face of the NBA forever.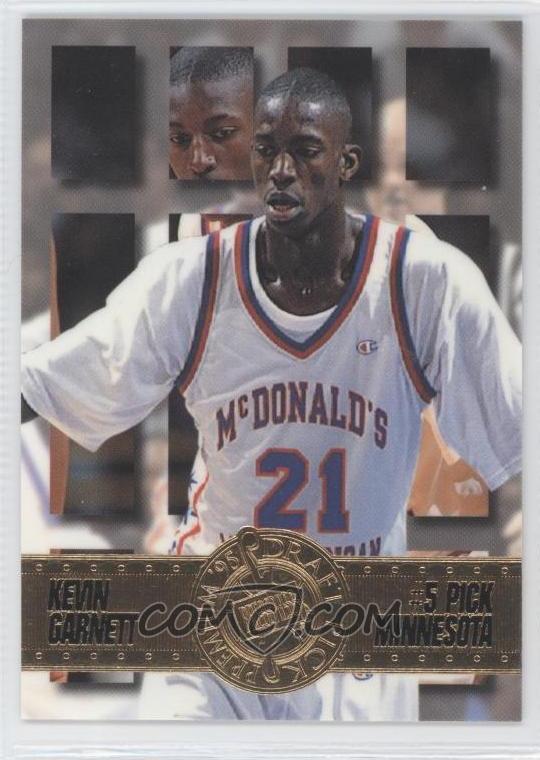 "Da' Kid" was a man among boys before becoming the first NBA player drafted out of high school in 20 years. He was a 1995 McDonalds All-American at Farragut Academy, where he won a National Player of The Year award, giving the Timberwolves two glaring reasons to use their fifth overall pick to select him.
More than his 12 All-NBA Defensive selections, his 15 All-Star games, leading the Boston Celtics to their first championship since 1986 or his 2004 MVP for leading a fledgling Minnesota Timberwolves franchise to the Western Conference Finals, KG was a game changer.
From his arrival in 95 to 05 when the NBA put an end to prep-to-pro business, 40 high schoolers were drafted. It would have been much different if not for the emphatic NBA arrival of KG, who didnt become a statistical star right away but was the epitome of rapid development.
"He literally changed our culture," said Clippers coach Doc Rivers, who coached Garnett and his All-Star buddy Paul Pierce in Boston. "You look at all the things he stands for. He follows through on all of them."
(Photo Credit: boston.com)
Before Garnett made the high school to pro leap, high schoolers, with the exception of Moses Malone, who attempted to jump into the NBA didnt accumulate much success in the league as they werent ready to deal with the physical demands and elevated talent level. They also didnt have the maturity to handle the demands of being a boy in a grown mans world, mentally and physically.
Garnett posted a video to his Instagram account on Friday, saying "farewell" and "thank you for the journey." He narrated the short, black-and-white video that shows him walking alone through Target Center with sunglasses on.
"I'm just thankful. I can't even put that into words," Garnett says. "I'm just thankful. I'm just thankful for everybody and the love. I never would have thought that people love me like this. But, for it to be reality is just something else, man. Man."
Garnett was multi-faceted and versatile in his approach to the game and his opponents. As the ultimate basketball player, he was a tastemaker and one of the NBAs most lauded franchise players during his initial stint with Minnesota.
By the 97-98 season Garnett had already blossomed into a top shotta and prep-to-pro dudes started flooding the league. Kobe, Amare, Dwight Howard, T-Mac and the like.
Garnett also had the money which came in the amount of $126 million — a salary that most people believe sparked the NBA lockout of the 98-99 season and led way to a new collective bargaining agreement.
Despite the criticism, Garnett actually showed loyalty to Minnesota by re-signing with them as opposed to going to a larger market and excelling, like he finally did after 12 seasons, when he joined the Boston Celtics and enjoyed long-overdue success.
Those playoff battles with the Lakers are classic and by performing and leading on the big stage, the NBA world was able to see every aspect of KGs greatness; from his court performance, the way he inspired his teammates, his professionalism and even the genius of his antagonistic nature, KG brought it every night for fans to witness.
(Photo Credit: nytimes.com)
"Kevin Garnett is one of the fiercest competitors our league has ever seen," NBA Commissioner Adam Silver said in a statement released by the league. "He held himself to the highest standard of preparation and performance for a remarkable 21 seasons. On behalf of the NBA family, I thank Kevin for his sustained excellence and the enormous impact he's had on the game."
An enormous, hall of fame worthy, impact.