In the past, some misinformed media mouths have mischaracterized Jackie Robinson Day as an annual bittersweet moment for proud African-American fans of a sport once known as Americas Pastime.
In reality, the day is one of glory and pride for all baseball fans because Jackie Robinsons impact on MLB is still relevant despite the percentage of African Americans on baseball rosters (7.73%) being significantly lower than the high of 19% that played in 1986, according to Mark Armour from Society of American Baseball Research (SABR).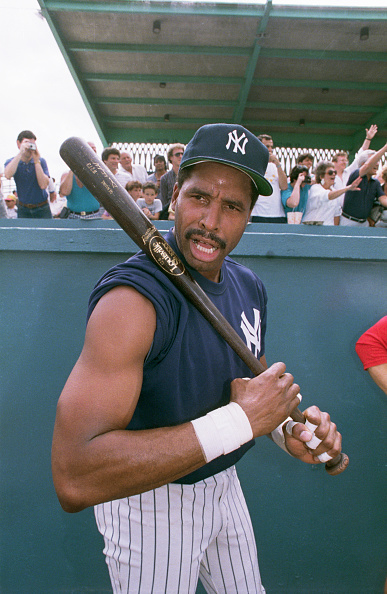 Some tend to look at the raw numbers with no perspective and suggest that Jackie Robinson would be disappointed.
The number of African-Americans may not be as plentiful as back in the days, as many have chosen to follow Michael Jordan and Michael Vick into more immediately rewarding sports. But if you delve deeper and combine the percentage of black players (7.73%) and Latino, Asian and other players with diverse backgrounds (34.6%), you will discover that the game has reached unprecedented levels of diversity (42.33%) on non-DL active Opening Day rosters.
As The Shadow League reported in our April piece,The Changing Face of Major League Baseball, a record 29.8% of major leaguers at the start of the season were born outside the 50 states, topping the previous high of 29.2% in 2005.
As it has since the league started compiling these statistics in 1995, the Dominican Republic led with 93 players, followed by Venezuela (77) and Cuba (23). Venezuela topped its previous high of 66 in 2012 and Cuba matched its most, set last year.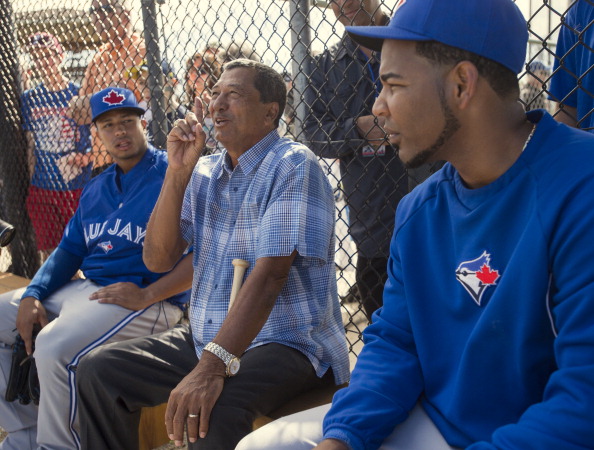 Puerto Rico was fourth at 16, followed by Mexico (nine), Japan (eight), Canada (six), South Korea (four), Curacao and Nicaragua (four each), Panama (three), and Australia, Brazil and Colombia (two apiece). Aruba, Germany, Netherlands, Taiwan and the U.S. Virgin Islands had one each.
These statistics show that American-born players of all races are making the pros less — not just brothers. At the same time, those Latinos of color – who were also once denied entrance into baseball before Black Knights such as Robinson and Roberto Clemente kicked down the door of segregation – are beginning to dominate the game.
To measure the extent of Robinson's influence on today's Hispanic players, look no further than future Hall of Fame second baseman and all-time Dominican great Robinson Cano.
Cano is named after Jackie Robinson because his father, Jose, himself a former major leaguer he pitched 23 innings with the Houston Astros in 1989used to hear the name Jackie Robinson on the radio while listening to games growing up in his native Dominican Republic. Robinson Cano wears No. 24 the reverse of Robinsons retired 42as a tribute. Jose Cano told the story of his son's name to ESPN The Magazine's Buster Olney:
"I never saw Jackie Robinson play. In the Dominican Republic when I was kid, not many people had a TV. My family didn't. We had a radio. All the time on the radio I was hearing, Robinson this…Robinson that…Robinson, Robinson, Robinson. The great Jackie Robinson. I thought to myself, When I have a son, that's the name I'm going to give him. And I did."
Robinson was also very popular in the Dominican because the Dodgers would hold Spring Training there and he was the same color as the locals. A black superhero, Jackie was constantly mobbed for autographs.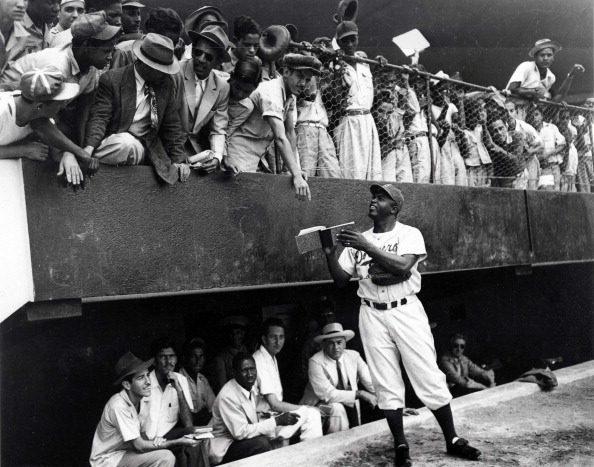 (Photo Credit: Getty Images/Jackie Robinson in DR 1948)
Latin ballers play with a life-or-death passion and flair indigenous to their culture, same as Robinson and his legion of pioneers who made baseball the sport to play for brothers looking to break barriers and build a better tomorrow for themselves and future generations.
With that being said, brothers havent totally disappeared from the game. In fact, due to baseballs efforts with its Urban Youth Academies and Reviving Baseball in Inner Cities program (RBI), Breakthrough Series, Urban Invitationals and other initiatives directed at providing elite baseball experiences for underserved or underexposed kids, we see a grass roots revival in the interest of baseball among African-American kids that is slowly translating to the professional level.
Brothers are getting drafted into MLB
Over the last five years (2012-16), the first round has featured 34 African-American players out of 168 total selections (20.2%).
In 2016: 10 of the top 41 selections (24.4%) and 17 of the first nights 77 selections (22.1%) were African-American or Latino.
The first round of the 2015 MLB Draft featured the selection of nine African-American players (25%, 9-of-36). On a percentage basis, this represents the most African-American players in the first round since 1992, eclipsing the recent high of 22.6% (7-of-31) in 2012.
Theres a ton of black talent coming down the pike.
MLBs 2017 Top 100 Prospect List, released in January, projects a bright future for overall diversity.
On Keith Law of ESPN.coms list, 17% are African-American, which is a one percent increase from 2016, while 33% are Latino.
MLB.com's prospect rankings consists of 14% African-American players and 33% Latino. The top three prospects for the 2017 Draft are African-American, as are six of the top 25 (24 %).
Baseball Americas list is 16% African-American and 36% Latino.
Five of the first 12 high school Draft prospects on Baseball Americas Top 100 High School Draft Prospects are African-American (42%).
So, its not like the color or even the flavor is leaving the game. Its just expanding globally and those players from all over the world who once saw playing American baseball as an unconquerable obstacle are now getting an opportunity acquire wealth, flex their skills, inspire people to dream and write their own chapters in MLB history and life.
Thats all Jackie Robinson ever wanted