When the announcement was made yesterday that Isiah Thomas was coming back to Madison Square Garden to become the President of the New York Liberty, while also being awarded an ownership interest in the WNBA franchise, the majority of the national medias reaction was a swift, firm, how-dare-they-rebuke.
Most columnists and talking heads have correctly pointed out that nearly seven and a half years ago, a federal jury in Manhattan awarded former Garden executive Anucha Browne $11.6 million in damages after she filed suit that she had been wrongfully terminated after complaining of being sexually harassed by Thomas when he served as the President and Coach of the Knicks.
We did not believe the allegations then, and we dont believe them now, said a statement released by Garden spokesman Barry Watkins yesterday. We feel strongly that Isiah Thomas was held responsible for sordid allegations that were completely unrelated to him, and for which MSG bore responsibility. In fact, when given the opportunity, the jury did not find Isiah liable for punitive damages, confirming he did not act maliciously or in bad faith. We believe Isiah belongs in basketball, and are grateful that he has committed his considerable talent to help the Liberty succeed.
Knicks and Liberty owner James Dolan, who has often been ridiculed and lambasted as the worst team owner in all of pro sports, has remained steadfast in his support of Thomas over the years.
The owner has often consulted with him, and requested his insight and assistance with such specialized tasks as the non-successful free agent recruitment of LeBron James last summer and making the deal that brought Carmelo Anthony to the Knicks in February of 2011.
Many are also saying that Thomas basketball-specific resume as an administrator makes the hire laughable as well. Theyre mentioning his work as the part owner and GM of the expansion Toronto Raptors and his purchase of and the subsequent bankruptcy of the Continental Basketball Association, after which NBA Commissioner David Stern created what is now known as the D-League.
(Photo Credit: nba.com)
They are talking about his three-year coaching tenure with the Pacers, where the team failed to win a first-round playoff series, and his undeniably disastrous years as a Knicks coach and executive, followed by another unsuccessful stint for three years as the head coach of Florida International University.
First and foremost, the sexual harassment and Anucha Browns wrongful termination should never be minimized. The matter was litigated and Madison Square Garden as a corporate enterprise was found liable.
Its difficult, given his work history after retiring as one of the greatest players in league history, to argue on Thomas behalf. But with such a groundswell of negativity against him, allow me to play Devils Advocate.
One problem with people screaming about the sexual harassment case in relation to Thomas recent hire is that he has been hired by other organizations since his tenure at MSG. Why were people not outraged when Florida International hired him, or when NBA TV did the same?
If the folks at Florida International and NBA TV felt that he deserved another opportunity to work, than why is this different?
For folks that point to his supposed failure in Toronto, are you aware of the trajectories of expansion franchises, and what the beginning of that product life-cycle often looks like? One thing Isiah did prove during that first stint as an executive was an eye for talent when he selected Damon Stoudemire, Marcus Camby and Tracy McGrady in the NBA draft.
As for the downfall of the CBA, theres plenty to blame Thomas for, most notably not having a firm understanding of minor league sports and the uniqueness of each teams individual market.
But he was a visionary in one specific area, whose ideas were later co-opted by many pro sports leagues. He embraced the power of the internet, allowing CBA fans to watch live game webcasts and personalized video highlights on their computers.
Today, that is commonplace, but back then the vision was somewhat revolutionary. Isiah was one of the first embrace how powerful computer access and streaming video would become to the sports business enterprise.
Others will bark about his coaching tenure with the Indiana Pacers, a team that was just coming off of an NBA Finals appearance the year prior to his arrival. They point out that his teams, from 2000 to 2003, never advanced past the playoffs opening round.
That sounds nice and easy, but when you rip the cover off, youll see a team transitioning from a veteran squad comprised of guys like Reggie Miller, Mark Jackson, Dale Davis and Rik Smits to one that became dependent on young talent surrounding Reggie like Jermaine ONeal, Travis Best and Jalen Rose. Isiah helped to develop ONeal, along with guys like Ron Artest, Brad Miller, Jamaal Tinsley and Al Harrington.
Now onto the Knicks. Theres no sugar-coating that debacle. The moves didnt make much sense, the mortgage was sacrificed in the long-term for short-term rewards that never materialized and he signed Jermaine Jackson, Michaels big brother, in 2005.
Well, that Jermaine Jackson wasnt really Michaels big brother. But the Knicks were more of a mess than whatever that is passing for hair on Jermaines head right now.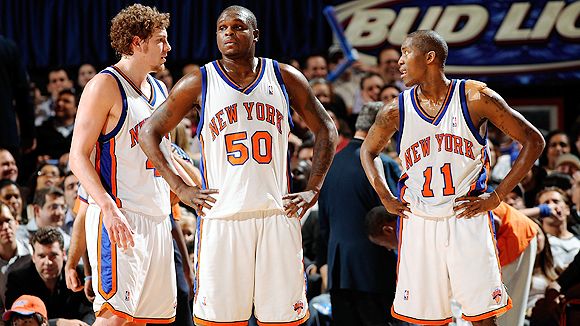 (Photo Credit: theknicksblog.com)
But he did, once again, show that he knew talent when he selected Trevor Ariza with the 43rd overall pick in 2004, made moves to bring in Jamal Crawford and Zach Randolph, drafted David Lee with the 30th overall pick in 2005 while also acquiring the draft rights to Nate Robinson in the same draft.
Looking across the sports landscape, there have been many coaches and executives with failures littering their resumes that have been hired and re-hired by franchises. Some went on to acquit themselves, and others proved themselves to be incapable of success.
Why shouldnt Isiah be given the same opportunity? Away from the prying eyes of the media, he has helped Dolan to re-hire three-time WNBA Champion head coach Bill Laimbeer and the return of franchise legend Teresa Witherspoon as the team's Director of Player Development. He was an advisor on the trade for local Brooklyn and Rutgers legend Epiphanny Prince, and part of the strategic team that plotted the teams most recent draft.
Maybe Isiah Thomas has learned from his past experiences and emerged as a better man. Maybe he hasnt and hes simply been given this gift by his buddy James Dolan. I do believe that people deserve second chances, and if Isiah has someone who believes in him, and is willing to employ him in a field that he is passionate and knowledgeable in, who are we to criticize the hire?
In a press release issued when the hiring was announced, Isiah said, I am honored to have the opportunity to lead the New York Liberty and help the franchise reclaim its position as one of the elite teams in the WNBA. Following a conversation with Jim about his thoughts on the franchise, I expressed my interest and enthusiasm for taking responsibility for both the basketball and business operations, as well as for taking an ownership interest in the team. To me, basketball is basketball. These women are outstanding athletes who want to compete for a championship in New York. I look forward to this challenge not just to win a title, but also to help broaden the teams fan base.
You gotta give Isiah credit for one thing, if nothing else, hes not afraid of meeting a challenge head on. And this might possibly be his biggest one.
Like all of us, Isiah Thomas is a complicated man. People crucify him for his previous professional missteps, but they say nothing about his grassroots work with youth in Chicago and violence-prevention advocacy. They say nothing about him awarding over 100 scholarships to deserving criminal justice students at his alma mater, the University of Indiana, or the new scholarship he has endowed at Cal, where he recently studied and was awarded a Masters Degree in Education in 2013.
If murderers are given second chances, and George W. Bush was elected as the American President in 2000, proving incapable of pronouncing the word "nuclear" correct for his entire eight years in office, than we need to just fall back and let Isiah live. When life knocks you down, and boy oh boy has Isiah had his share of knockdowns, were encouraged to get back up.
Isiah keeps getting back up after everyone has written his numerous epitaphs. Many wish hed simply go away.
Im not one of those people, because I believe life affords every one of us the chance to write the next chapter while moving in another direction.
And if Charles Dolan is willing to let Isiah write his next chapter, by all means, he deserves the opportunity. Hes the boss, he owns the team. So Isiah gets his next chapter.
Lets see how he writes it.