In the wake of his sisters tragic death, Isaiah Thomas chose to take the court for yesterday's opening round NBA playoff game against the Chicago Bulls with a heavy heart and emotions swirling.
Most people would run home to be with their family. Thomas, however, went to work a day after losing his 22-year-old sister Chyna, who died in a car accident on Interstate 5 in Washington state on Saturday.
The images of him receiving the news and sitting on a chair sobbing and weeping a few minutes before the game and being consoled by his teammate will be a lasting one. The TNT crew didn't even think he would be able to play.
Thomas did though. And who was surprised really? The NBA assassin, who has trampled more obstacles than anybody, took the court on Sunday night under extraordinarily tough circumstances and scored 12 of his 33 points in the fourth quarter as the No. 1 seed Celtics lost to the No. 8 seed Chicago Bulls,106-102 in Game 1 of the Eastern Conference playoffs' opening round.
After the game, Celtics coach Brad Stevens addressed the media and discussed the delicate situation the Celtics are dealing with right now. When asked if Thomas will be there for the entire series or return home to Seattle, Stevens said its up to Thomas.
Those decisions have to come on his own time, Stevens said on NBA TV. And then well adjust accordingly.
…Allowing Isaiah to feel this out if he wants and deal with his emotions… If he wants to play he can. If he doesnt want to pay he doesn't have to."
The theme for the entire Celtics organization has been Support. The fact that they are even in the playoffs has become secondary in importance to the well-being of their mighty mouse MVP.
We have to be there to support him and keep him positive and just play as hard as we can for him. Thats the main goal of everyone in this, said Celtics teammate Avery Bradley.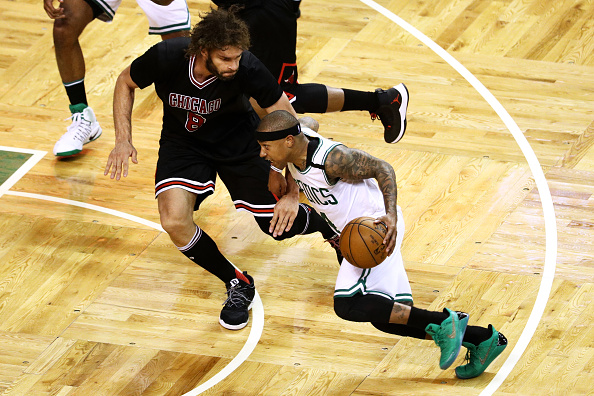 How long can he continue to put the tragedy in the back of his mind? Will he be able to drop 30-point games for the duration of the series or will he slowly melt mentally ? Who would blame him?
Knowing the mental fortitude of the 5-foot-9 NBA giant and what hes had to overcome just to get to this point, odds are Thomas will keep playing, and his sister, with whom he shared a special relationship, would undoubtedly want him to continue growing, rising and reaching for greatness in these NBA Playoffs.