The playoffs have winded down and the offseason is upon us, but the only playoff performers that will be honored all play for the San Antonio Spurs. That's not right. So TSL is here to fix this injustice. Here are the hypothetical playoff awards you won't see handed out –ever.
WANDA PRATT "REAL MVP" AWARD – Courtside presence that provided the most uplifting support or hilarious moments. Nevermind the box score, "You The Real MVP".
4. White NBA fans who brought black NBA fans to Clippers games
After Donald Sterling issued an edict to his side piece requesting that she not be seen hanging out with black people in public, these Warriors fans trolled him hard for Game 4 of the Warriors-Clippers melodrama.
3. Jay Z – Jay's Nets didn't make as much of a splash as many expected given their $80 million luxury tax bill on top of their $102 million roster payroll. However, Jay's bravery after enduring Solange's brutal elevator assault should be recognized. Post Traumatic Solange Disorder is no laughing matter, but his Nets fandom and Drake's attack on his street authenticity drew him out of his funk.
2. Larry Bird – Nevermind that he's the original brain behind this scrappy Pacers roster and that he's responsible for Frank Vogel's ascension to the head coaching job. Bird made his mark in the 2014 postseason as well.
The dour Bird struggle face in the face of adversity was one of the underrated highlights of Indiana's flunctuating playoff fortunes. It was as if Bird had never experienced pain so excruciating as watching the Pacers offense plod through possessions like a carpenter with a penchant for banging hammers on his throbbing thumb. If the scoreboard malfunctioned, every fan in the stadium could simply read the box score between the wrinkles in Bird's forehead, his exaggerated grimaces and his burrowed eyebrows.
1. Drake – I'm not sure if Raptors global ambassador Drake is obligated to show up courtside for Toronto Raptors playoff home games, but his presence was felt in the courtside soccer mom rah-rah attitude and the postgame snacks he no doubt provided. Forget Demar DeRozan, Drake is King of the NBA North and the lint roller is his pom-pom of choice.
With that said, his pensive looks, enthusiasm and transcendent meme-ability combined to make him Toronto's Real MVP. Everyone got caught up in Drake's courtside energy—even Mike Tirico.
ASTRAL PROJECTION AWARD – (Best out of body playoff experience)
2. Rashard Lewis – The playoffs can serve as an elixir of sorts. On the flipside of Dwyane Wade's decline is the surge provided by a forgotten bench gargoyle.
For two seasons, the Miami Heat have stitched Lewis to a plush courtside bench seat. It was the best seat in the house — like being the superstar's Velvetta Cheese subsuming entourage guy.
Then came Indiana and suddenly, Eric Spoelstra decided to brush the dust off his Nintendo 64-aged 6-10 stretch four and plug him into the outlet. Lewis got hot quickly and not even Lance Stephenson could cool him off.
In the final two games of the Indiana series, Lewis scored 31 points, including nine treys, and was inserted into the starting lineup for Game 1 against San Antonio.
Lewis' resurgence was a brief reminder of unique blend of size and shooting ability that netted him an absurd 6-year, $118 million contract from the Orlando Magic in 2007. Needless to say, he became an amnesty clause provision player and after getting his exit papers from the New Orleans Hornets, latched onto the Heat, barely hanging onto the edge of the bench during their run to the 2013 NBA title like a mattress strapped to the roof. In Games 4 and 5, though Lewis' minutes were cut and he was relegated to onlooker.
1. Boris Diaw – Diaw got the Spurs job 'cause he knew a guy. When I saw Diaw had been signed by the Spurs after getting cut by the Bobcats, I was so sure this was just to appease his fellow Frenchmen Tony Parker. Like the Knicks signing JR Smith's brother after giving their Sixth Man of the Year an extension or Derek Fisher being handed the Knicks reigns. Turns out the Spurs do cronyism better than the Knicks too. In his heyday, he was a svelte versatile backup point guard/center in Mike D'Antoni's 7 Seconds or Less offense and Pop was able to channel the spirit of the young Diaw that lost himself in the NBA labyrinth.

TP and Boris Diaw-claquette dunk 360° by karukera33
The Finals is where Diaw was elevated to the starting lineup, but the Final three games of the OKC series was Diaw's magnum opus. That was when the jelly-rolled Diaw, long considered the Spurs flabbiest team dad, had his minutes exploded from 20 minutes to around 35 a night.
In Game 4 he dropped a 14 points and 10 boards double-double. Diaw's subtle 13 points and 6 boards in Game 5 put the Thunder on the brink of elimination and in the series clincher, Diaw scored 26 points in 36 minutes.
Diaw's scoring volume decreased dramatically against Miami, but only because his role transitioned to that of post facilitator and 250 pound rim deterrent.
In a matchup against an agile roster led by the world's most athletic basketball player, the one old potbellied vet nobody wants to guard in a game of shirts and skins brought the pain.
WWJD AWARD- What Would Jordan Do? Instances where LeBron James' murky intangibles came under the most scrutiny.
James' Intangibles have long been questioned more vociferously than the debate over whether Tupac's still alive or Jay Z's Illuminati membership dues. This postseason was rife with instances of James' imperfections and it wouldn't deserve his own category if the Heat hadn't been dispatched so effortlessly by the San Antonio Intangibles. It's not exactly quantifiable, but if you were to pol fans in 10 years about which of the top 20 players in NBA history had the widest disparity between skill and vague, imperceptible, gravitas, a majority would choose James over Wilt Chamberlain. This would no doubt be more tightly contested than Bush v. Gore 2000 if we opened up voting, but here's what I perceived to be James' most critic-worthy moments.
4. LeBron James' The Pass Pt. XXIII
Down by two with under 10 seconds remaining and Paul George guarding, James charged into the lane, but George was draped over all over him and as Roy Verticality Hibbert rotated towards James' path to the rim, he instinctively flicked the ball to Bosh in the corner. Bosh's three ricocheted off the rim and as a result the series headed back to Miami where they would ultimately ring Indiana up by their britches and toss 'em into the lake.
We've seen this play before. It's eerily reminiscent of the drive and kick to Donyell Marshall during the Cavs 2007 playoff run that ended in a Finals loss to the Spurs… What recycled criticism of this play ignores is that Bosh had previously knocked down a trey that cut the Pacers lead from four to one at the 1:16 mark.
3. The Non-Boycott
When TMZ broke the Donald Sterling story, the basketball world collectively craned its neck in King James' direction. The word boycott had been bounced around and on the day after Commissioner Adam Silver delivered a cautious response to the Sterling crisis, Miami was set to lay their final stick of dynamite and demolish what remained of the Bobcats era. Surely, sitting out a single game against a vastly inferior opponent wouldn't have been detrimental to their title hopes.
However, the Heat went out there, played and criticism of James' inaction became a symbol of the disaffected socially unconscious modern athlete. He was criticized like some sort of hashtag activist with blood diamonds in his watch. In James' defense though, sitting out a home game involving the only black-owned business in the NBA would have been counterproductive.
2. His 18.2 shots per game in the NBA Finals were efficient, but hardly indicative of the world's best player deciding to change course, turn off the scoring assembly line and ignite the offense on his own. There were spurts where James would just say, "to hell with it," and drop a payload on opposing defenses. However, it pales in comparison to some of the YOLO performances we've seen from Jordan and Wade in the past.
1. The Cramp Game
It's the game that inspired 1,700 sarcastic words from me about a six minute period at the end of Game 1, which ultimately shifted the balance of this series. James was accused of being a hypochondriac and his inability to play without functioning legs took on a life of its own.
This wasn't Ricky Bobby in a wheel chair though. There was no way James could play in his condition, but that's not how Twitter saw it. Thus, perception became reality.
GEORGE R.R. MARTIN AWARD – (Playoff Storyline)
3. Serge Ibaka's Injury – In their closeout Game 6 of the Los Angeles Clippers matchup, Ibaka tangled legs with Chris Paul in an innocuous play that ultimately had no effect on the outcome. Ibaka immediately left the court and was later diagnosed with a season-ending calf injury while his teammates finished off Oklahoma City. The vacuum left behind by Ibaka essentially allowed San Antonio to attack the paint offensively with shock and awe precision. Yet in a miraculous turn of events, Ibaka was cleared for Game 3. Instead of a gimpy Willis Reed-esque cameo Ibaka, poured in 15 points, seven boards, capped four shots and altered a litany of others. One game later, he'd led the Thunder on a two-game winning streak before OKC's balloon was popped in six games.
2. Roy Hibbert's Regression – Hibbert's fragile confidence is something else. The Pacers All-Star center has remained relatively injury-free for a man of his stature who makes his impact absorbing contact from rim slashers flying towards the basket at rim altitude. However, his delicate ego cracks like Bill Walton's feet or back and the vibrations matriculate to his game, which ebbs and flows like the pulsing bass on a pair of Beats by Dre headphones.
Agent Zero's Instagram roast didn't help. Hibbert's inability to compartmentalize nearly ended Indiana's season in six gruesome games against the eight seeded Atlanta Hawks. A serene fishing trip with George Hill and Paul George is ultimately what they claim picked him up off the emotional mat. However, I still wouldn't cast my suspicions away from the dismissal of subversive backup center Andrew Bynum.
2. Lance v. LeBron – The NBA's tofu equivalent to the T.I. and Mayweather beef provided enough fodder for the Eastern Conference Finals and memes that transcended the sport. A middleweight with a skill for self-promomotion like Lance Stephenson never stood a puncher's chance against a trained hardwood pugilist like James.
He came off foolish at times, but he sure made a mundane team entertaining.
SOLANGE HARDCORE TITLE BELT CONTENDERS – (30 sec. rematches we wanna see that should take place in a Metropolitan Museum of Art elevator)
3. Dajuan Blair vs. Tiago Splitter – This incident went somewhat under the radar during the postseason, but it was definitely the most shameless play of these playoffs.
Blair was in the midst of an immaculate all-around performance at the time of his ejection and the Mavs led 83-82 late in the fourth. A win would have put the Spurs in an insurmountable 3-1 hole five feet under. Then, without Blair in the lineup down the stretch, Rick Carlisle's shorthanded Mavs were outscored 11-6 the rest of the way, Blair was benched for Game 5, which the Spurs won and ultimately the Mavericks would become first round fish food. Conversely, the Spurs took the series in a commanding fashion during Game 7. Blair's kick changed the momentum in this series, but if he wants to turn this rematch into a kickboxing matchup, I'm taking the Spaniard who still has his ACLs.
2. Hinrich vs. Beal – Kirk Hinrich's goggles give him the visage of techie Richard Hendriks from HBO's Silicon Valley rockin' a pair of Google Glasses, but on April 22, 2014 Bradley Beal nearly incited a rare appearance of Killa Kirk. No punches were ever thrown, but once Hinrich took off his protective eyewear, (the NBA equivalent of a pocket protector), you knew it was on and poppin'.
In all seriousness though, I'd probably take Solange over Hinrich in a scrum, but maybe Hinrich's picked up some old man fighting maneuvers after over a decade in The Association.
1. Z-Bo vs. Steven Adams – There's something about those pugnacious Pitt kids. All season, we've witnessed Adams' ethereal ability to rile up opponents to the point of inciting physical violence, but he's never fought back.
Zach Randolph was the final victim of his suspended for Game 7 of the Grizzlies first round series against the Thunder for a fairly harmless shove near Adams' neck area.
This could go either way. It could be an opportunity for some retribution on his part or it could end with Z-Bo wailing on Adams on behalf of his peers. "This one's for Lil' Nate! That's for VC! Larry sends his regards and this fist of fury!"
Should Steven Adams be placed in Witness Protection next season? pic.twitter.com/WVX9IVDPeL

— DJ Meta Dunson (@CerebralSportex) May 5, 2014
Of all the guys Adams has irritated, Randolph is the wrong one to let it simmer for an entire summer.
BEYONCE ELEVATOR ATTENDANCE CERTIFICATE (While all the action was taking place, these starters ate minutes off the buffet while their contributions were tantamount to eating up all the popcorn as they watched.)
George Hill – The most offensively sterile member of the Pacers starting lineup is the glaring weak link heading into the offseason. Paul George and Stephenson did most of the ball handling against Miami, which begs the question about whether he's Indy's Tommy Strawn. "Martin, Gina! What is his actual job out there?!"
During the Eastern Conference Finals, Hill averaged a pedestrian 10.8 points and 2.2 assists per game in 36 minutes a night. The Pacers could have used a guy like Kawhi Leonard, but they need a legitimate playmaking point guard more.
James Harden's defense – All offense and no D makes James an incomplete player. The Rockets' Bearded Wonder's faux defense has been mocked by The Shadow League before, however, the playoffs features a higher level of intensity. Surely he'd clamp down a little better in the playoffs right? Wrong.
The play that sprung Damian Lillard open for his series-clinching trey to end Houston's season only occurred because of Harden's inactivity. The Rockets could have extended their first round series against Portland to seven games if Harden had used simple basketball acumen and hedged out on Lillard as he bounded around a fence of screeners towards the inbounder.
Not only that he was the one that issued the Code Red switching defensive bulldog Patrick Beverley onto Mo Williams and Chandler Parsons onto Lillard.
Once the whistle blew, Lillard left Parsons in his dust and Redrum was all she wrote.
BEST TRANSFERABLE WORLD CUP SKILLS
3. Kawhi Leonard's Goalkeeping
The Spurs rising young forward could have been a football goalkeeper in another life. His eyes and hands follow the ball everywhere it goesand his long arms could defend goalpost to goalpost. At 6-7, he'd be one of the tallest athletes in a FIFA-recognized domestic league, but he possesses great lateral quickness and his reflexes are cat-quick.
2. Spurs Team Passing – European football is the ultimate team sport. Up until this World Cup, Spain was the first international side in FIFA history to run off off with a hat trick of consecutive major international tournaments. They accomplished this feat because of the passing principles within manager Vincent del Bosque's famed tiki-taka system.
During the 2012 Euro Cup, they took things to an extreme by passing the ball 626.3 times per match. By comparison, Ireland which finished 16th out of 32 teams passed it an average of 221 times over the same period of time.
Ball movement is an art that Prof. Popovich's teams have earned their Ph.D's in.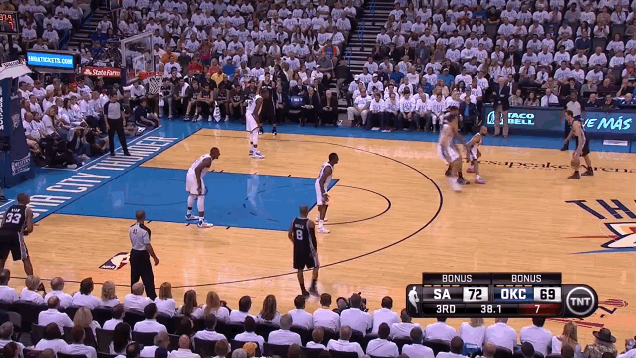 Superb ball movement was again on display when the @Spurs clinched the series in Game 5. They threw 349 passes, over 100 more than MIA (247)

— NBA.com/Stats (@nbastats) June 17, 2014
Given their talent is derived from football-crazed nations, we shouldn't be surprised.
.@spurs become championship team w/ the most int'l players (9). They featured the 1st NBA champs from Brazil (Splitter) & Italy (Belinelli)

— NBA.com/Stats (@nbastats) June 18, 2014
1. Flopping – Lance Stephenson got his blackbelt in flopping this summer and was fined accordingly during the Pacers series against Miami for the third time this season.
Hibbert was also fined for flopping during the series and since flopping rules were instituted in 2012, they've led the league in violations.
IRON THRONE – D.J. Augustine vs. John Wall vs. Pero Antic
Wall and Augustin were outstanding during the regular season in leading their respective squads to the postseason, but heard mostly clanks after hitting a ton of iron during the playoffs. In their defenses, they faced some pretty formidable defenses, but it doesn't make up for their inept shooting.
From Iron Island, Wall shot 36 percent and still has some kinks to work out on his shot, but doesn't hold a candle to the 31 percent turret was Augustin.
However, Hawks center Pero Antic built a castle from bricks during his first round matchup against the Pacers. While his presence on the floor stretched Roy Hibbert away from the basket and made the Pacers center the target of ridicule, it also deflected attention away from Antic's 2-for-29 shooting after the first two games of the series, when he shot 5-of-16.
On the flipside of these three was Damian Lillard-Blackfyre, the third bastard Splash Brother.