When Howard University Bison secondary soldier Craig Johnson was graduating from Grand Street Campus High School in Brooklyn, New York and going through his college process of school tours, applications and considering acceptance letters from other colleges, none of them felt right," the talented senior strong safety told The Shadow League.
"When I went on a college tour to Howard's campus, it was an amazing experience," Johnson recalls. "It just felt right. I knew I could become a man here."
Those Brooklyn streets can be treacherous at times, so Johnsons resilience and toughness was tested at an early age. His football mojo was also challenged during last seasons 1-10 struggle in which Howard lost four games by eight points or less. Their lone win was a 55-9 thrashing of Savannah State at Greene Stadium on Howard's campus.
However, Johnson showed his gritty New York attitude by putting his best foot forward and competing at an All-Conference level despite the building losses. The kid from BK, who now considers himself an ambassador for Howard University, snatched 59 total tackles, 12.5 tackles for losses, 3.0 sacks, 3 forced fumbles and a fumble recovery for a TD.
Four of those tackles came against Hampton in a 37-19 loss in the 2015 AT&T Nations Football Classic at RFK Stadium in Washington, DC.
His standout game last season was in a 21-13 loss to Morgan State on September 26. Johnson recorded seven tackles (four solo) and two forced fumbles, one of which he returned for a TD. He also recorded a tackle for a loss and had a pass breakup. For his efforts, he was named the Mid-Eastern Athletic Conference (MEAC) Co-Defensive Player of the Week.
(Photo Credit: hubison.com)
This season, he is second on the team in tackles with 14 and first in unassisted tackles with 12 after two lopsided losses to Maryland and Rutgers. Despite being outscored 104-27 in their first two games, Johnson remains optimistic.
He speaks with great confidence and seriousness when discussing Howards chances against conference-rival Hampton in a second-consecutive second AT&T Nations Football Classic meeting on September 17th.
Homecoming and NFC are the two biggest games on our schedule, Johnson told The Shadow League. "Its really important for the school and the fans and the alumni who want to talk about their school… and we want to make them proud and the university proud.
Hampton is also 0-2 and looking for its first win after losing a 24-14 gut check to William & Mary, the 13th-ranked squad in the FCS, formerly known as Division I-AA on Saturday.
So there's also a rivalry between the players," says Johnson. "We know some of the players and some of them are local players from our area, so its a huge game and we definitely want to come out on the winning side.
Despite the down times that Howard football is navigating through, Johnson says he wouldnt trade his Bison experience for anything.
My HBCU experience has been life-changing, said Johnson, a 5-foot-11, 200-pounder. The man that I will leave Howard University as is definitely different from the young person I entered here as. Ive learned that nothing is given and everything is earned. Howard U is a place where you gotta go get what you want and earn. From financial aid to the classes to the social life… you have to go get it. Nothing is going to be given to you and thats a reflection of real life. Howard University has definitely taught me that the resources are out there for whatever I need. I just have to go and get it.
Johnson definitely goes and gets it on the gridiron.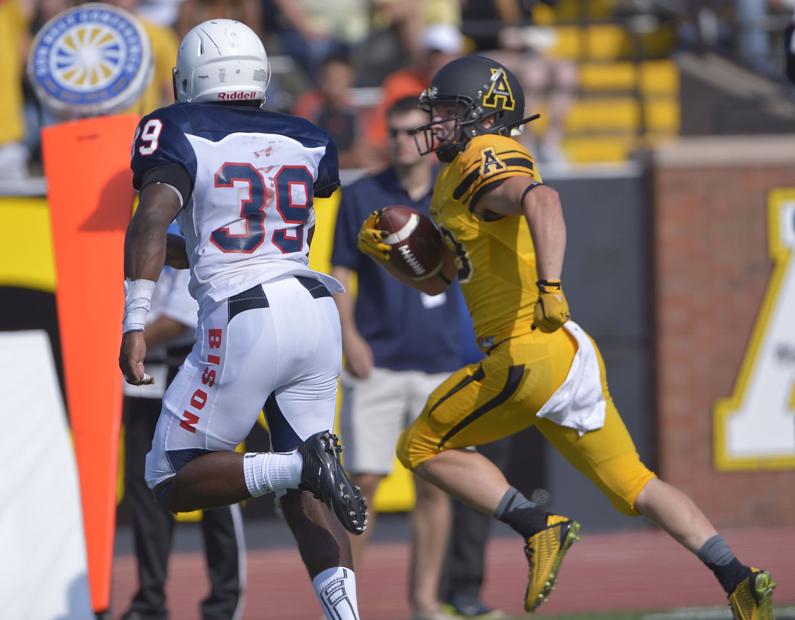 (Johnson pursues Appalachian State player in 2015)
He is one of two seniors in the secondary and considers himself a leader. With the preseason loss of ballhawk cornerback Travon Hunt, a first-team All-MEAC selection who led the team with five picks in 2015, Johnson has had to step his game up and fill a void for a team that had a whopping 16 takeaways.
I'm definitely trying to be the voice between (defensive backs coach) Ronald Bolton and the players…to communicate what hes trying to teach to them in a way that they may understand it better… so I try to be a leader," Johnson said.
The Brooklyn boy earned his third-team All-MEAC selection last season by utilizing skills that transcend athleticism.
My biggest strength is listening to coaching, says Johnson. I have a good defensive coordinator in Rayford Petty and Bolton is a good defensive backs coach. My knowledge of the game is another strength. Im a football junkie. I stay in the coach's office pretty much all day watching film and absorbing knowledge when Im not in the classroom. Also staying level-headed so I can still focus on what I have to do. I try not to get too excited or down in any situation.
Even in losing, Johnson says the combination of camaraderie and competition with other HBCU's is captivating.
The Howard-Hampton dinner is where both teams go out and eat together and laugh and talk junk and get to know each other a little…it enhances the game, Johnson added.
Most special, he says, is the way the old head HBCU players return to support the university through thick and thin.
There's definitely a relationship with the alumni players, said Johnson. They tell us about how it was back in the day, how they used to operate and certain traditions. And we tell them about certain traditions where we eat in the cafeteria, to how we interact with the other students… and how that's still a tradition here at Howard. Its an eye opening experience when those alumni come back and interact with us.
(Photo Credit:101magazine.net)
When Johnson goes back to BK, he says all of the local alumni from Howard and Hampton talk about The AT&T Nations Football Classic with a deep passion.
At home… Howard, Hampton folks from Brooklyn, they reiterate the passion and 'you better win' rhetoric and everything like that concerning the game," said Johnson.
"The people back home in Brooklyn that attended Howard or Hampton and cant attend the classic game, are still emotionally invested as deeply as a resident from DC or somebody who can go to the game.
Johnson says he cant guarantee that Howard will avenge last seasons NFC loss, but he feels like the keys to winning the game are simple. It just comes down to execution.
Stay focused… taking it back to the simple foundation of football — tackling, blocking , knowing your assignment and hopefully making the plays in a timely manner," he said. "This game's about beating the next man at the right time so that's what it's going to be.
***
Tickets for the AT&T Nations Football Classic begin at $25 and are available at ticketmaster.com. For addition information, please visit nationsfootballclassic.com.
The AT&T Nation's Football Classic is a black college football game held annually at RFK Stadium in Washington, D.C. Now in its sixth year, the 2016 game features Howard University against Hampton University and will be played on Saturday, September 17.