With anywhere from 10 to 11 games on the docket for teams in the FCS and Division II, every college football game counts. Its now Week 13 and most teams are done playing for the season. But the stakes are very high for the teams who are playing this weekend.
Headlining this weeks action is the Bayou Classic.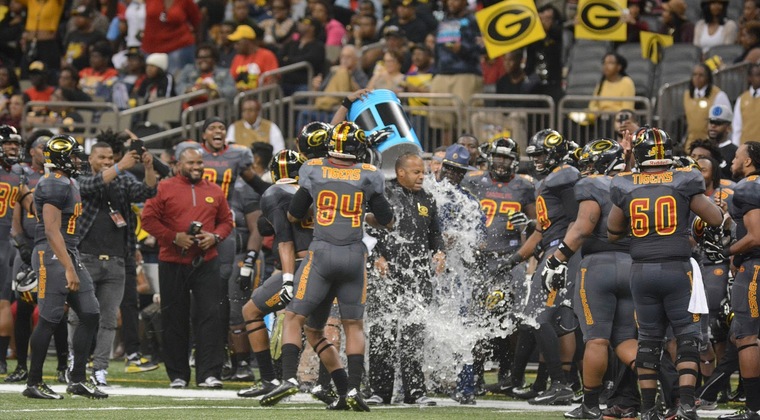 (Photo Credit: Dominique Monday/HBCU Gameday)
For the third year in a row, this game will decide who represents the SWAC West in the conference championship. Both Southern and Grambling come in to the game 8-0 in the SWAC, looking to cap off their conference schedule with their heated rivals.
Grambling has won eight in a row since allowing Arizona to come back from a halftime deficit in Week Two. Theyve put up 40 or more points five times, and went for 50 or better three games in a row before only scoring 47 last week over Texas Southern. Former Ole Miss quarterback DeVante Kincade has been a revelation for GSU, throwing for 27 touchdowns and just three interceptions.
(Photo Credit: Getty Images)
Southern has been just as prolific on offense this season, scoring better than 40 points six times, and topping the 50 point mark three times. They feature the SWACs all-time leading rusher in Lenard Tillery and one of its best passing-receiving duos in quarterback Austin Howard and Willie Quinn.
One important note, while the winner of this game will go to the SWAC Championship, only Grambling is eligible for the Celebration Bowl. Southern was ruled ineligible for postseason play due to APR issues prior to the start of the season, meaning an SU win would guarantee SWAC East winner Alcorn State a spot in the Celebration Bowl against MEAC champion North Carolina Central.
(Photo Credit: Getty Images)
Speaking of the MEAC, the conference will be represented in the playoffs this season after being left out of the field in 2015. North Carolina A&T wont get a chance to repeat as Celebration Bowl champions, but they will get a shot to become the first MEAC team to win a playoff game since 1999. They made the playoffs on the strength of their 9-2 record, win over FBS Kent State, and of course their phenom running back Tarik Cohen. But if this MEAC runner-up cant get it a win over a banged-up Richmond team, it may be a while before another team from the conference gets an at-large bid.
Speaking of winning playoff games, Tuskegee is starting to get pretty good at it. Skegee is heading to the second round of the Division II playoffs after coming up with a 35-33 win on the road against Newberry last week. This will look to pull off another upset this week as they travel to North Greenville.
Regardless of whether or not they pull it off, D2 HBCUs have already won at least one playoff game in six consecutive years. Not too shabby when compared with the one win by HBCUs in the FCS since 2000.