This is the first installment of our series entitled "Ivy Leage Hoops: Ahead Of The Curve In Coaching Diversity." Next week, we bring you the story of Harvard's Tommy Amaker.
As a young kid, Cornell University basketball coach Bill Courtney would stare at the pictures of M.J. that adorned the walls of his bedroom. He was drawn to the elegance of his favorite player's unique personal style, along with the smooth basketball skills that allowed him to dominate opponents on a nightly basis.
Although he and his family relocated when he was very young, from Wisconsin to Alexandria, a city in Northern Virginia that sits on the periphery of the Washington, D.C. metro area, his favorite team, and player, would forever remain rooted in the Midwest.
If you automatically assumed that he worshipped at the Alter of Air Jordan, you'd be mistaken.
Because before Michael Jeffrey Jordan announced himself to the world as a college freshman, back when he was getting cut from the varsity team during his freshman year at Laney High School in Wilmington, North Carolina, there was another player with the same initials that regularly amazed with his scoring arsenal and versatility – the Milwaukee Bucks' Marques Johnson. "Basketball was a sport that I loved from Day One," said Courtney. "If I couldn't go outside, I'd play in my room, using a wire hanger on my door as a rim. I loved Marques Johnson and the Bucks. I would pretend to be him and play entire games in my room, visualizing myself going against some of the NBA's best players like Dr. J, Rick Barry and Magic Johnson. As I got a little older, I looked up to guys from the local area, like Reggie Williams when he was playing at Georgetown, and of course, coach John Thompson, who was one of the very few African-American coaches in college basketball."
Studying and emulating guys like Johnson, and later Williams, formed the foundation of Courtney's thorough understanding of the game. Although they were both tall and played the forward position, Johnson and Williams could dribble and pass like guards while also operating efficiently in the post and on the wing.
It was Marques Johnson, in fact, who was widely recognized as the first "Point-Forward" to be utilized by Bucks coach Don Nelson, who was constantly tinkering with concepts and is widely recognized as one of the game's true offensive innovators.
"Marques Johnson was one of the NBA's great scorers, but he could also set up an offense, facilitate and get his teammates involved," said Courtney. "That's what I learned by watching him, and how I always wanted to play the game."
But there was another inspiration, closer to home, who he strove to emulate.
"My mother was a single mom, raising five kids," said Courtney. "She drove a city Metro bus, went to school, and worked another part-time job while raising a family simultaneously. Seeing what she was able to accomplish and looking at her example, she made me feel like there wasn't anything that I couldn't accomplish."
Courtney may have had an advanced understanding of the game, but his diminutive stature conspired against him early in his high school career. In the eighth grade, he stood 5-foot-3 and weighed about 100 pounds. As a ninth grader, he sprouted to 5-foot-7 and played point guard on Robert E. Lee High School's freshman team.
By the beginning of his sophomore year, he was a legitimate 6-footer, but at a mere 140 pounds, it looked like a stiff wind could knock him over. He averaged three points per game that season.
"I had a little bit of athletic ability, but I was just one of those guys that kept working my tail off," said Courtney. "Each year, I kept working harder and I saw myself getting better and better."
Others began to take notice during his senior year in 1989 when the now 6-foot-2 point guard averaged close to 20 points per game. Robert E. Lee, under Courtney's stewardship, advanced to the Virginia state title game that season. The school they lost to, Roanoke's Patrick Henry High, featured future NBA player, and one of the best under-sized rebounders of all-time, George Lynch.
"That was a great year for high school basketball in the state of Virginia," said Courtney. "Alonzo Mourning's team lost in the semi-finals of the state tournament, and Hubert Davis and Grant Hill's high school teams didn't even qualify."
At the same time, he was also honing his skills as a hoops instructor, serving as his younger brother's head coach in a youth basketball league.
A local newspaper wrote a short story about him, the high school star who was also coaching young kids, titled, "Beware College Coaches. You May Be Recruiting Your Successor."
Courtney's basketball skills as a player were augmented by the A's and B's that dotted his report cards, allowing him the opportunity to accept a basketball scholarship from Bucknell University, the leafy, academically rigorous, private liberal arts school situated along the Susquehanna River in central Pennsylvania.
"I was able to get good grades in high school and go to a place like Bucknell because of my mother's expectations," said Courtney. "If I brought home a C, I didn't play. She instilled in me early on that academics, being responsible and doing my work came first. I had no choice but to get do well in school because if I didn't do what was expected of me in the classroom, I wasn't going to be able to play. That was enough to motivate me."
His growth as a college player mirrored his experience in high school. As a freshman, he stayed glued to the bench for a team that qualified for the NCAA Tournament. As a sophomore, he started about half of the Bison's games and averaged approximately ten points. But the summer between his sophomore and junior years in college, his game elevated to a level that even surprised him.
Playing in Washington, D.C.'s renowned Kenner League, which is held annually within the cozy, air-conditioned confines of Georgetown University's on-campus McDonough Arena, Courtney found himself converting dashing forays to the rim against future NBA stars like Alonzo Mourning, Dikembe Mutombo and Walt Williams.
The Kenner League has long-attracted the area's top-flight prep, college and pro players, along with some of D.C.'s playground legends, for a summer tournament that is among the best Pro-Am's in the country. Patrick Ewing once got busy there, as did Allen Iverson and practically every great Georgetown player from 1981 up through today.
"I was averaging about 30 points per game in the Kenner, going back and forth with guys like Walt Williams and playground legends like Curt 'Trouble' Smith," said Courtney. "I was this kid from this small school that most of the people in the gym didn't know about, but I made a name for myself that summer. I went back to school after that feeling like I was ready to do some great things."
Courtney became one of the Patriot League's best players during his final two seasons. At the conclusion of his college career, he realized one of his childhood dreams when he was invited to play for the Milwaukee Bucks summer league team. He didn't make the team, but the experience made him realize how fast, strong and gifted players were at the NBA level.
He played pro ball throughout Asia for a few years, in places like the Philippines and Hong Kong, which gave him a greater appreciation for the diversity of cultures around the world. With the Asian pro leagues running from February to July, he was able to get some experience as a high school assistant coach in Virginia while still playing overseas.
His first college job was at Lafayette, at the age of 25, where he was hired for the annual grand sum of $2,000.
"I had to figure out how to make some money, so I went to Chili's and got me a job as a waiter," said Courtney.
Fortunately, a month after he took the Lafayette job, American University offered him an assistant's gig for $16,000.
After a year at American, some coaching colleagues advised him to interview for an open job at Bowling Green University in Ohio, whose head coach at the time was Jim Larranaga.
Larranaga had already interviewed 27 candidates, but was unimpressed. He was looking for a specific kind of individual.
"It was probably the strangest interview Bill has ever been on, or will ever be on in his life," Larranaga told ESPN's Dana O'Neil in 2010. "But I knew what I was looking for. I was looking for someone who was upbeat and was as enthusiastic about life as he was about basketball. Through those 24 hours together, I knew Bill was the guy."
The interview consisted of a heated game of 2-on-2 with Larranaga's sons in the family driveway and a trip to the movies. Courtney slept overnight in the home's spare bedroom.
"We went to see 'The Fan,' the movie with Robert DeNiro and Wesley Snipes," said Courtney. "He just wanted to know what kind of person I was, outside of basketball. I didn't know coach L from a hole in the wall and he didn't know me. But we hit it off and I got the job."
When Larranaga moved on to become the head coach at George Mason University in Fairfax, Virginia, after the next season, he brought Courtney along with him. During his eight years as an assistant coach at George Mason, he proved to be one of the nation's best recruiters.
Although the protégé had moved on to an assistant coaching gig at Providence when George Mason made their miraculous run into the 2006 Final Four, Courtney took great pride in knowing the role he played in the Patriots' turnaround.
"We were able to sign some really good local kids at George Mason and by our second year there, we were going to the NCAA Tournament," said Courtney. "Coach L wasn't enthusiastic about going to George Mason initially. We were coming off of a great season at Bowling Green, where one of our players, Antonio Daniels, was just taken with the fourth overall pick in the NBA draft. Mason had a losing record for seven straight seasons. But I knew we could do some great things there because of the location and the local talent in the Baltimore and D.C. areas. And the school had a great arena, one of the best college venues on the east coast."
Despite having moved on, Courtney's work at George Mason was often lauded in the national media by Larranaga.
"Coach L championed me all the time and we had the type of relationship where, even though I wasn't on his staff anymore, he'd call me from time to time and we would bounce ideas off of each other," said Courtney. "When they were in the Final Four, he told everybody, 'Bill Courtney recruited these guys.'"
High profile coaches started buzzing Courtney's cell phone, asking him, "Hey, how did you guys put that thing together at George Mason?"
He went on to work as an assistant at the University of Virginia under Dave Leitao and at Virginia Tech under Seth Greenberg, before being named Cornell's Head Coach in 2010. The Big Red was just coming off of the most successful season in school history when Courtney was offered the job, after former coach Steve Donahue accepted the Boston College job.
The Cornell campus in Ithaca is a beautiful place, with an eclectic mix of architecture ranging from Modernist to Gothic, Neoclassical to Victorian. It is home to manicured lawns, trails, ponds, stunning gorges and scenic foliage, all surrounded by the rolling valleys and picturesque mountains of the Finger Lakes region of upstate New York.
Amid the charm and striking landscape, Courtney feels lucky that his first head coaching job is at such an esteemed institution.
"This really is a unique situation and the Ivy League in general is a terrific place to coach in," said Courtney. "I think everybody that coaches in the league feels very fortunate to be at a place where the academics obviously come first, where you're coaching and mentoring the type of young man who you know, that when this thing is over, their future is going to be in pretty good shape."
And yet, he also knows that his job's success, as beautiful as the surroundings and lofty the educational goals may be, entails not only winning, but winning big.
"We were coming in and taking over a team that just went to the Sweet Sixteen," said Courtney. "They had ten graduating seniors on that team, including three players who were among the best in school history. So it was a rebuild from the start."
Having to rebuild at a place with suddenly high expectations, Courtney knew that the road ahead would require patience.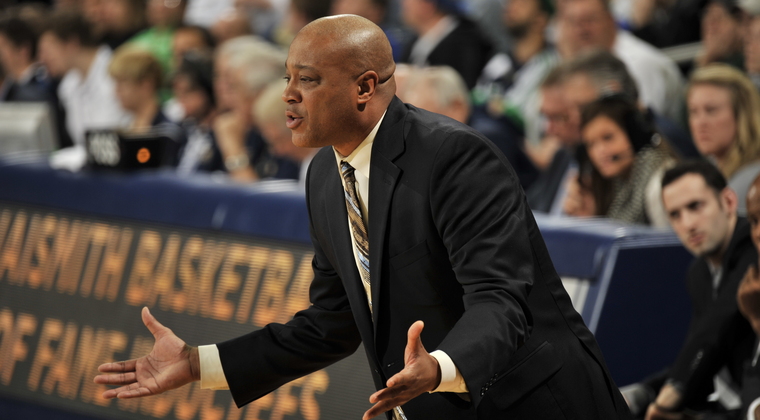 Things were moving along on an upward trajectory, with league records of 6 – 8 and 7 – 7 during his first two seasons, until the final half of last year's Ivy schedule.
"We lost some starters down the stretch run last year and prior to that, we were playing some terrific ball," said Courtney. "We felt like we would have our best team this year but things fell apart."
The Big Red's biggest loss to injury was 6-foot-7 junior forward Shonn Miller, who was a first-team All-Ivy selection last year and the 2011-2012 Ivy League Rookie of the Year.
Miller's injured shoulder forced him to sit out this entire season as well, which is pretty significant, considering that his impact goes beyond the impressive individual statistics that he's compiled. He ranked among the league's top 10 in scoring, rebounds, blocks and steals. In addition, his ability to defend every position on the court made him one of the most versatile defensive players the league has seen in a number of years.
This year, the Big Red scheduled games against national powerhouses Syracuse and Louisville, two Final Four teams and the eventual National Champion from a year ago, burnishing their reputation as a team that takes on all comers. The opponents on this year's schedule include seven teams that won at least 20 games last year and four that won 25 or more.
"We felt like, 'Man, let's go and challenge ourselves and put ourselves in a position to do some special things and make some noise around the country,'" said Courtney. "We thought we would have that type of team this year, but we lost some of our best players."
Despite struggling with a current 1-17 record, the man whose former bosses describe as never having had a bad day still manages to maintain a positive outlook.
"We have two choices," said Courtney. "We can either feel sorry for ourselves, or we can pick ourselves up and continue to fight. We don't have all the parts we thought we were going to have but we've kept fighting and scrapping. The spirit, work ethic and attitude of this team have been off the charts."
Courtney knows that he has a lot of work to do. But he'll hearken back to his mother driving that Metro bus in Washington, D.C., going to school at night while also working a part-time job to put food on the table for her five kids. And he'll remember the expectation of excellence that was set before him, and the standard that he's always strived for and ultimately reached.
He's passed every test that's been placed in front of him thus far. Why would he believe that he won't continue to do so now?
Series Intro : Ivy League Hoops, Ahead of the Curve in Coaching Diversity
Harvard's Tommy Amaker, Part I
Harvard's Tommy Amaker, Part II