Augustine Rubit is the reigning Sun Belt Conference Player of the Year. He was also named an honorable-mention All-American last season. The University of South Alabama's 6-foot-7 senior forward is one of the best college basketball players in America.
But unless you're a college basketball coach, follow the Sun Belt, or a fan of the South Alabama Jaguars, you've probably never heard of him. Once you examine his story, though, chances are that you'll never forget him.
This is the third installment of our four-part series. You can read the first parts of the story here:
3RD QUARTER
THE REVELATION – CONTINUED
For most of the next year, Augustine said little to Matthew's parents about his personal life. But he'd share little slivers here and there. He lived with Ms. Doris during the week, but stayed with the Trauber's on most weekends.
"Matthew would tell us things here and there, but we never brought it up to Augustine because he was such a private person, and we respected that privacy," said Leticia. "Sometimes, he'd say little things, like 'I missed a lot of school,' but he wouldn't say much more than that."
Meanwhile, his dominance on the court as a sophomore at Smiley High School began attracting major recruiting interest.
"I didn't get a chance to see him play early on when he was at Smiley," said his sister Lorraine. "He'd never brag, or even tell people when his games were. I was reading articles in the paper about him and was like, 'Wow! He must be really good.' I went to one of his games, and was amazed. I just sat there, staring at him. I was in shock. I couldn't believe that I was looking at my baby brother. He never told anyone that he was one of the best players in the city."
One day, Matthew mentioned to his mom that Augustine was going on a college recruiting visit.
"I talked to Augustine about it, and I became concerned when he said that an adult was not going with him," said Leticia. "That bothered me. I felt like he should have someone go with him, someone that could watch his back. At that point, we were already in love with him and felt like he was a member of our family. I didn't want anyone taking advantage of him. I called my husband at work and said, 'Steve, Augustine is going on this visit and you need to go with him. And to his credit, he dropped everything at work and went with him. That's how we became involved with more than just basketball with him."
While assisting Augustine as he tried to navigate the tangled labyrinth of big-time college basketball recruiting, they asked the staff at Smiley High School to pull his transcripts. What they saw was appalling.
"We looked at his transcripts, and the classes that he was taking, and realized that there were a lot of holes in terms of what he needed to do in order to get qualified to play college basketball," said Stephen. "This was the absolute worst high school in Houston, and they were just trying to push him through the system."
Leticia's recollection is more succinct. "I remember seeing his schedule and thinking, 'Oh boy, we've got a lot of work to do," she said. "They had him taking classes like Photography and Music and all this stuff that wouldn't even have him on track to graduate, let alone enroll in college. They were just giving him classes so he could get through and play basketball. He told me that when he'd check in at school in the morning, the teachers would allow him to leave class so he could get some shots up in the gym. I was so angry. I felt that no one gave him any responsible guidance and that they were simply using him because he was a great athlete. They did not seem to care about preparing him for any type of life after high school."
The Trauber's helped Augustine switch his schedule around so he could get all of the credits that he would need to graduate and qualify academically through the N.C.A.A. clearinghouse. That meant taking extra classes at night and during the summer. When Matthew saw him struggling with his homework, he'd often act as his buddy's tutor.
"In high school, I was so far behind academically," said Augustine. "I wasn't focused on class, I was focused on sports. I never thought that I could actually go to college. Once I started getting the tutoring and spending more time at the Trauber's house, I started to think more and more about college. And as time went by, I was at their house all the time. After a while, it just felt like home."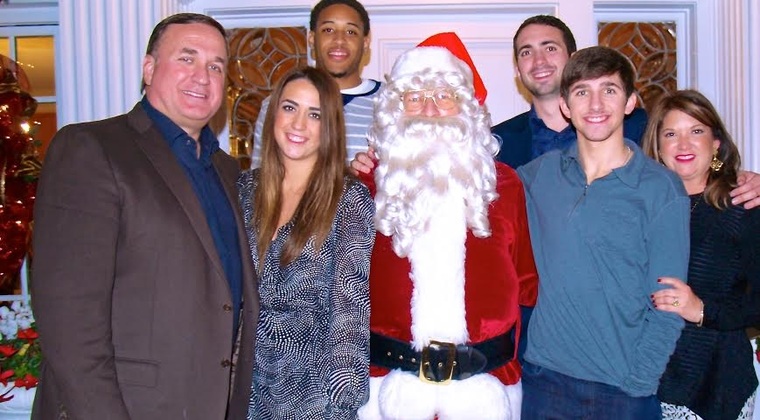 (Trauber Family Christmas photo. Photo Credit: Leticia Trauber)
During one weekend, Mrs. Trauber sensed some reluctance as Augustine was getting ready to leave.
"You know you can stay with us for as long as you want, don't you?" she told him.
He wound up staying the entire summer. They enrolled him in summer school, signed him up for community college and correspondence classes and had tutors work with him around the clock.
One time, he asked Leticia's permission to take a young lady that he liked out on a date. She asked him if he had money to take her out, and he told her that he had enough cash for one ticket.
"I said, 'Augustine, if you asked her out, you should pay for her,'" said Leticia. "I gave him extra money so he could pay for the movie and buy something to eat. I talked to him about opening doors for her and little things like that. He said, 'Nobody ever told me that. I never knew that I should pay for her, that I should open doors and do things like that."
"When he first started spending time with the Trauber's, I was like, 'Who are these people?' said Lorraine. "I was very protective of my baby brother. They would be picking him up and doing all this stuff for him. My younger sister Ashanti and I, she's two years older than Augustine, we would work summer jobs in order to get him things like school clothes. We would do whatever we needed to do for our baby brother. When they took him in, when we'd ask if he needed things and he started saying, 'No, I'm ok.'
Over time, Lorraine's circumspect feelings faded away.
"I began to see Augustine blossom, the more time he spent with the Trauber's," she said. "My instincts told me to fall back, because I saw him gaining confidence. I saw that they were genuine, and that they really loved and cared about my brother. I was grateful because they stepped in, they supported him. They were doing things that I couldn't do for him and they were helping him grow and reach his potential. They were always reassuring him, telling him, 'You got this! You can do it!' He began to see that he could accomplish things that he never thought about before. They were a blessing for him."
FINDING HIS WAY
When the top colleges began backpedaling from his recruitment due to his transcript, Stephen Trauber got on the phone to advocate for Augustine.
"Many of the coaches loved his athletic ability and potential, but once they saw his transcript and his grades, they said, 'There's no way that we can get him in, and if we do get him in, there's no way we can keep him in'", said Stephen. "I tried to convince them otherwise. I told them how hard he was working, the classes he was taking, the strides he was making, but they couldn't see it. They all believed that he would have to go to a junior college for two years."
Because of his exceptional high school play, and due to his play against them in the Great American Shootout, the Houston Hoops asked Augustine to play for them that next summer. He was torn, because he didn't want to leave his T.U.A.C. Warriors family. But he also knew what playing for the Houston Hoops could do for his basketball profile.
"We had a long debate about him going to the Houston Hoops," said Stephen. "With the Warriors, he was with kids and adults who really cared about him, as opposed to the Hoops, who were more interested in the athlete and basketball player. We concluded that playing for the Hoops would be the right place for him. Because of his exceptional ability, he needed to play at a higher level than the T.U.A.C. Warriors could offer."
"With the Houston Hoops, I was playing with guys that were All-Americans," said Augustine. "I was playing with and against the best guys in the country, a lot of guys who are in the NBA right now. It was tough to not be with the Warriors all the time, but it felt like the right decision."
"At the time, we had a kid named Keith 'Tiny' Gallon in our program that wound up being a McDonald's All-American," said Christian Begg, the Vice President and a coach with the Houston Hoops program. "Aug was an undersized 'Big' when he came to play with us and he was a little heavy, but he was putting in work! His footwork was unbelievable, and he could rebound and finish around the rim at high levels. His first big travel event with us was at the Boo Williams Invitational in Virginia. And that was a loaded class with big guys like DeMarcus Cousins. And even though we featured Tiny Gallon and Tommy Mason-Griffin, Big Aug was a double-double machine."
Even when the Houston Hoops lost in the tourney semi-finals to a Boo Williams team that featured current Los Angeles Lakers point guard Kendall Marshall and the 6-foot-8 former University of Missouri stud Ricardo Ratliffe, Augustine Rubit was the one who stole the show.
"He was our most consistent player in the whole tournament and based on that performance, he broke into the Rivals Top 150 national player rankings," said Begg. "He never dropped the ball, he always finished, he had these really long arms and he just had a knack for the game. He wasn't flashy and his game was pretty vanilla. He was a young man of little words, but he was incredibly productive."
Another thing that impressed Begg was not only the way the team's younger players, like J-Mychal Reese and L.J. Rose, who were eighth graders at the time and now play at Texas A&M and the University of Houston respectively, gravitated to Augustine, but the avuncular way that he interacted with them.
"We decided to bring those young guys on the road with us, even though they probably wouldn't play much," said Begg. "They were very good players and we wanted to get them some experience. Big Aug really put his arms around them and treated them very well. They gravitated towards him and he looked out for them. He took care of them."
Smiley High School closed after his junior year, and Augustine finished his senior year at Houston's Christian Life Center Academy.
"I tried to explain to the college coaches that he was working to get his S.A.T. scores up, that he was getting his grades up, that he would have all of the core courses that he needed, but only a couple of schools gave him a chance," said Stephen. "And the University of South Alabama was one of them. Those coaches were pushing for him and encouraging him."
"When we were recruiting him, he was a pudgy guy who looked a lot like the Michelin Man," said South Alabama's head coach at the time, Ronnie Arrow. "But he had a tremendous ability to position himself and know where rebounds where going. The ball just seemed to find its way into his hands. And he seemed like a great kid. We knew there were some academic issues, but we communicated with the Trauber's regularly and we knew how hard Augustine was working. We saw how much they loved him, how they were working with him, and how he realized how important academics were. We knew that these were some good people that were looking out for him."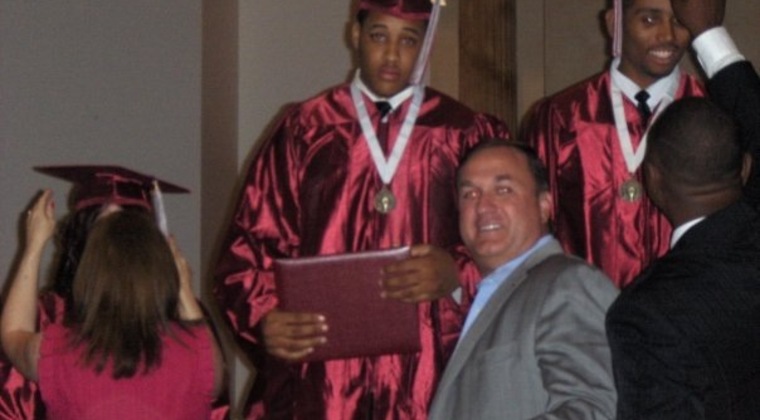 (Augustine and Stephen Trauber at his high school graduation. Photo Credit: Leticia Trauber)
Rubit graduated on time, but had still yet to qualify academically. He took classes at a local community college over the summer and when his grades came back, South Alabama, the Trauber's and Augustine thought he had qualified to play as a freshman. But the Houston school district took away an honors class that had previously been on his transcript. In doing so, Augustine fell 1/10th of a point short of passing through the N.C.A.A. clearinghouse.
"At the time, we were highly disappointed," said Stephen. "He worked so hard to make up all of that work."
"Once he believed that it was possible, that he could go to college, he did everything that we asked him to do in order to achieve that goal," said Leticia. "He never complained, he just worked his butt off. He showed me that his true character was to work as hard as possible, at anything and everything that he set his mind to. We were sad that he didn't qualify to play as a freshman, but we were so proud of him."
The Trauber's decided that instead of attending a junior college, the best thing for him was to enroll at South Alabama, to get a year of training, weight-lifting and practicing with the team under his belt. They believed that working with the school's tutors and getting acclimated to the academics without the immediate pressures of college basketball would benefit him. He could utilize that time to improve as a student and an athlete.
"In hindsight, it was the best thing that could possibly have happened for him," said Stephen.
To Be Continued…