Tarik Cohen, by far, has been the big story of the HBCU Football season. The North Carolina A&T running back has racked up 890 yards rushing and ten touchdowns in six games this season, including three-straight 200-yard plus performances. But as great as Cohen has been, he's not the only HBCU running back having an exceptional season.
Here are a few other names to know and who they'll be playing this week.
Howard's Anthony Philyaw is right behind Cohen in the MEAC and FCS with 757 yards, fourth in the nation. His big, bruising style makes him a different kind of back than Cohen, but his nimble feet give him deceptive speed and acceleration. He'll get a chance to go head-to-head with Cohen on Saturday as A&T travels to Howard for its homecoming game.
Southern's Lenard Tillery has been as much of a headache for SWAC defenders as Cohen has been in the MEAC. He's put together back-to-back 1,000 yard rushing seasons in 2014 and 2015 and is on pace for another one with 630 yards through five games this season. He's just 230 yards away from breaking the SWAC's all-time rushing record. He'll be up against a UAPB defense that has been giving up over 200 yards per game at SU's homecoming on Saturday, which means he could go home with the record.
Tillery isn't the SWAC's leading rusher, however. That honor belongs to Khalid Thomas of Alabama State. Thomas has rushed for 680 yards and five touchdowns in seven games for ASU. He should get plenty of use on Saturday against rival Alabama A&M in the Magic City Classic.
Every year a few former FBS players find their way to HBCUs and make waves. William Stanback has been that guy for Virginia Union. The former UCF running back has produced big time at the Division II school, rushing for 830 yards and 11 touchdowns, both best in the CIAA. He will look to help his team bounce back from a loss to Chowan in a must-win game against CIAA North Division rival Bowie State.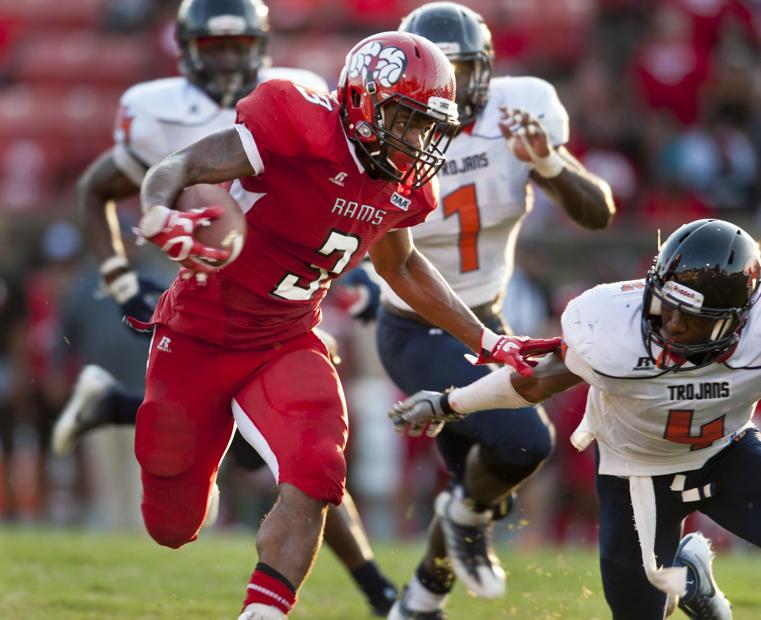 (Te'Vaughn Hurse, Photo Credit: journalnow.com)
And down the road from Cohen in Winston-Salem, NC another HBCU back is racking up yards at a rapid pace. Winston-Salem State running back Te'Vaughn Hurse has been a driving force for the Rams, racking up 733 yards in just six games. The former JUCO star from Indiana has averaged 122 yards per game and an eye-popping eight yards per carry.
Hurse got looks from big-time D-1 programs, but chose to come to WSSU for playing time and a more intimate atmosphere. He's a big reason why the Rams are 5-2 and eyeing another return to the CIAA Championship Game as they face off against Livingstone on Saturday.