It's a perfect match.
The Washington Nationals and Dusty Baker need each other. The Nats need to win a World Series and so does Baker.
The two became one when the Nationals hired Baker, the 66-year-old veteran manager, to be their new skipper on Tuesday, the day the Kansas City Royals celebrated the World Championship that the Nationals were supposed to win this season.
Despite pitching to die for, the Nationals didn't win. Heck, they didn't even make the playoffs. Hence, manager Matt Williams – the 2014 National League Manager of the Year – was canned.
The Nationals looked as if they were going to sign Bud Black, the former San Diego Padres manager. Contract talks, however, went haywire and the Nationals turned to Baker, one of only two managers to win three National League Manager of the Year awards. In 2013, after six successful seasons in Cincinnati, Baker was rumored to be a candidate for the vacant Washington Nationals gig, but wasn't hired.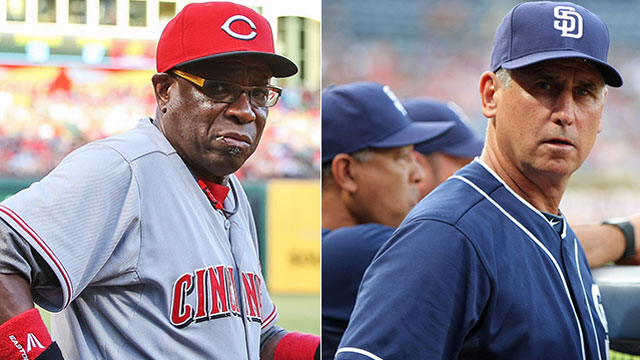 Better late than never.
"We were looking for a manager to help us achieve our ultimate goal of competing for a World Series championship," Washington owner Ted Lerner said in a statement. "During our broad search process we met with any qualified candidates and ultimately it was clear that Dusty's deep experience was the best fit for our ballclub."
This will be Baker's fourth managerial gig, spanning 20 years. He's won everywhere he's been – San Francisco, the Chicago Cubs and Cincinnati. But he just hasn't been able to win in the postseason, win the big prize.
The Nationals desperately need to win it all. They clearly have championship caliber talent. Baker can handle this situation, finally getting Barry Bonds to a World Series in 2002. That's why Washington made a great hire.
Baker has gotten good grades for how he handles a starting rotation, too. And that's huge for the pitch-rich Nationals. "I think I speak for the entire organization when I say I am very much looking forward to working with him," Nationals GM Mike Rizzo said in a statement.
Baker is now the only African American manager in MLB and second minority at the helm of a team.
But Baker wasn't hired to fill a quota. You would be crazy to believe this. Baker, a former MLB outfielder, can manage. He relates to players and players have always played hard for him.
In Cincinnati, his last stop, Baker was 509-463 as manager. His win total ranks third all-time on the Reds' manager list.
In San Francisco, Baker took the Giants to the 2002 World Series. In 2003, Baker led the Cubs to a division title.
"Dusty's experience, as a winning player, coach, and manager, is vast and varied," Rizzo added. "We are excited to bring him to Washington and put his steady demeanor, knowledge and many years in the game to work in our favor."
And as much success as Baker has had, he hasn't won the World Series. He needs to win one to seal his legacy. It's his only missing piece to a stellar career.
Only Gene Mauch (1,902) has won more games as a major league manager without winning a World Series than Baker (1,671). In the postseason, Baker's record is 19-26.
The Nationals, picked by many to win the World Series after adding stud starter Max Scherzer to the rotation, were a flop.
But they have a chance to bounce back and get there. Their pitching is on par with the New York, who surprised everyone by winning the NL East instead of the Nats and getting all the way to the World Series.
Some think the Nationals should have offered Baker more than just a two-year contract. But this is not a rebuild. The Nationals are ready to win now and Baker has been through the wars.
Baker has to get the job done as soon as possible. If the Nationals haven't won in the next two seasons, Baker will have failed. If they win, Baker won't have a problem getting a new deal, if he wants one.
The Nationals' approach gives this marriage a sense of urgency. Baker knows what he's doing, knows what has to get done.
It can really be a happy ending to Baker's career if he can finally win a World Series as a manager. Baker did it as a player in 1981 with the Los Angeles Dodgers.
Baker needed the Nationals. And the Nationals need Baker. Sounds perfect.