When Villanova lost to Seton Hall by a score of 69-67 in the Big East Tournament championship game last week, you could hear the rumblings. You know, the ones about them being overrated, how they're always good in the regular season but get exposed during the first weekend of March Madness.
As they step towards their Sweet 16 matchup with No. 3 seed Miami in the South Region's semi-finals, the No. 2 seed Wildcats made a big step in distancing themselves from that narrative with their 87-68 smackdown of the No. 7 seed Iowa Hawkeyes yesterday at the Barclays Center in Brooklyn.
In what has been called the year of the senior, Villanova used the experience of a veteran roster to get them to the NCAA Tournament's second weekend for the first time in seven years. Four-year vets Ryan Arcidiacono and Daniel Ochefu scored 16 points and snagged 11 rebounds respectively.
In addition to the seniors' contribution, head coach Jay Wright's recruiting efforts in the state of Maryland payed huge dividends as well, with Baltimore's Ochefu owning the boards, Upper Marlboro's Kris Jenkins scoring 16 points and dishing out six assists, and Silver Spring's Josh Hart leading all scorers with 19.
No Villanova senior had made it past the round of 32 in their career, losing last year there as a No. 1 seed and the year prior while seeded No. 2.
(Kris Jenkins, Photo Credit: USA Today)
"I'm thrilled for that senior class, that they get to play in a Sweet 16," said Wright.
Nova never looked to be seriously threatened against Iowa, setting the game's tone shortly after tip-off by banging seven of their first ten shots from deep. Clicking on all cylinders while making a mockery of Iowa's half-court press, their 54 first half-points were the most ever notched by a Wildcats team in the NCAA Tournament.
After being taking to the woodshed, Iowa coach Fran McCaffrey said, "I really think they can go a long way. They're a really difficult team to guard. A lot of times, really talented offensive teams plays defense in spurts, and they don't. They play defense equally as well as they play offense."
Villanova, who connected on 10 of their 19 three-point attempts and opened up a 34-point lead against the Hawkeyes in the second half, erased any doubts about their credentials this year as a national championship contender.
A team with exceptional guard play has a great chance of going far in the tournament's one-and-done format. With their ability to force turnovers that are converted into transition buckets, along with a backcourt that excels in driving toward the basket and finding open shooters on kick-outs, Villanova is as dangerous as anyone still playing right now.
They do their best work when utilizing their perimeter advantage to open up space in the lane and worked their blueprint to perfection in this year's opening rounds. Of all the teams on display in Brooklyn this weekend, they easily looked like the best squad there.
This Thursday evening against Miami at the KFC Yum! Center in Louisville, they'll face the talented backcourt duo of Angel Rodriguez and Sheldon McClellan. This year's Hurricanes squad plays solid defense, shoots well from deep, gets to the free throw line with regularity and has a prime time player in Rodriguez, who is one of the country's best, yet underappreciated floor generals.
What the Wildcats lacked in their superiority in New York was providing a sense of drama within the filled-to-capacity Barclays Center. Notre Dame stepped into that vacuum by defeating an outstanding Stephen F. Austin team, 76-75, yesterday.
Down by a single point with 17.5 seconds on the clock, No. 6 seed Notre Dame had their season on the line with the ball in the capable hands of playmaker Demetrius Jackson. His drive into the paint and errant shot was rebounded by Zach Auguste, who also could not put the ball in the rim. Enter Rex Pflueger, who not only hadn't made a shot all game, he hadn't scored a bucket in ten days!
(Demetrius Jackson, Photo Credit: USA Today)
But that's why they call it March Madness, because anyone, from superstar to role player, can earn a place in tournament lore with one well-timed shining moment. As Auguste's shot rolled off the rim, Pflueger, in the right place at the right time, flipped it into the rim with one hand.
The fighting Irish are moving on to face Wisconsin in the East Regional semi's in Philadelphia on Friday, but the Lumberjacks, by far the crowd favorite in New York, earned the respect of everyone in the building, especially senior guard/forward Thomas Walkup, who finished with 21 points in his final college game.
The one-point defeat snapped Stephen F. Austin's 21-game winning streak, which was the country's longest. Although Gonzaga is etched into our minds as the best mid-major program over the last few years, the Lumberjacks, with Walkup eliciting appreciative oooh's and aaah's from the crowd, put on a show in his team's third straight NCAA appearance.
The Fighting Irish was led by Auguste's 16 points and 15 rebounds, along with Jackson's steady floor generalship and 18 points. The Irish advanced to last year's Sweet 16 as well, where they gave undefeated Kentucky everything they could handle. This year, they won't be satisfied unless they move on to at least the Elite Eight.
While some thought Stephen F. Austin and Walkup could be the mid-major darlings in this year's regionals, Notre Dame showed that, thus far, they're this year's version of the cardiac kids. They came back to beat Michigan after trailing by 12 at halftime in the first round, and then scored the final six points to beat the Lumberjacks.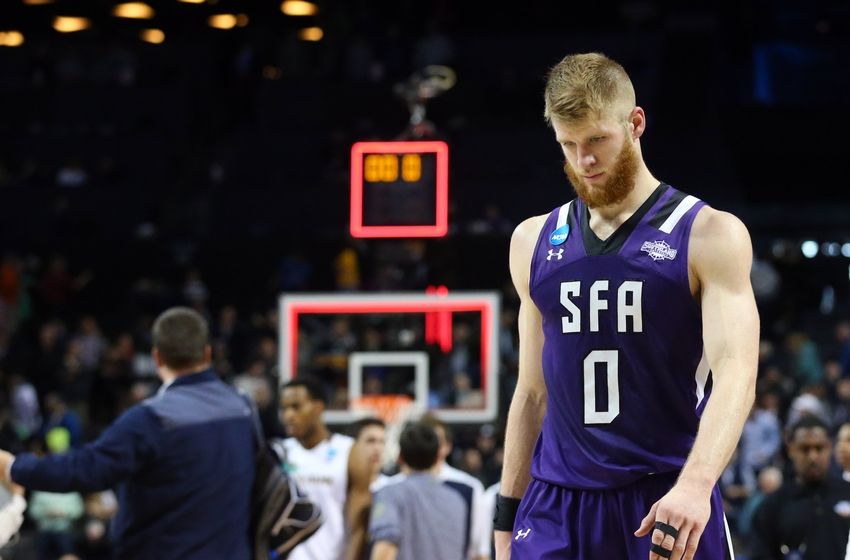 (Thomas Walkup, Photo Credit: fansided.com)
Similar to Villanova, Notre Dame spreads the floor with guys that can shoot, which opens up gaps for Jackson to attack the paint. They converted over 57% of their shots in their first two postseason games, with Auguste and Jackson proving to be one of the country's most formidable inside-outside attacks.
The atmosphere on Friday and yesterday in Barclays was electric, with boisterous crowds providing the event with the feel of a Sweet 16.
Later this week, we'll head down to Philly to see how Notre Dame fares against the East's other survivors, the North Carolina Tar Heels, Indiana Hoosiers and Wisconsin Badgers.
The Fighting Irish and Wisconsin game, if they follow their established scripts in the tournament thus far, should be a nail-biter, as both teams were merely a play or two away from watching the rest of March Madness on television with the other squads who suffered heart-breaking defeats.
If the Irish hope to continue their fighting ways, they better do a better job of taking care of the ball and eliminating turnovers against Wisconsin. The Badgers are not the sexiest offensive team, but they play a rugged brand of defense.
In a game of survive and advance, Notre Dame and Villanova, though taking separate paths, are still dancing.