Jackie Robinson Day went off in grand fashion around MLB on Saturday, but of course no team would out-commemorate the Dodgers as far as the magnificence of the tribute paid to baseballs legendary barrier-breaker.
As part of the 70th anniversary of Robinson's debut, the Dodgers unveiled an 800-pound bronze statue depicting Robinson as a rookie sliding into home plate, placed in the left-field plaza, the most popular entrance to the park.
Robinson's wife, Rachel, and children Sharon and David were in attendance.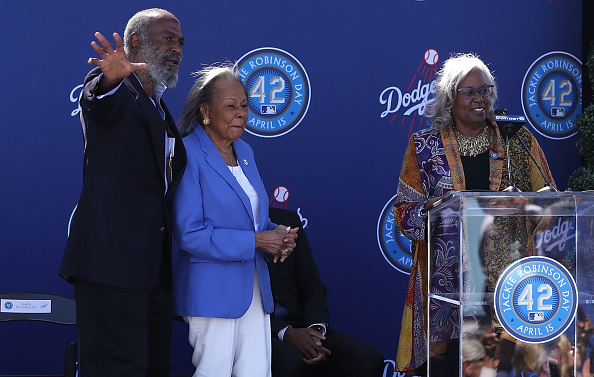 Along with Lakers legend and Dodgers owner Magic Johnson, president and CEO Stan Kasten, Hall of Famer and MLB's first black manager Frank Robinson and Dodgers icons Vin Scully, Tommy Lasorda, Sandy Koufax and Don Newcombe.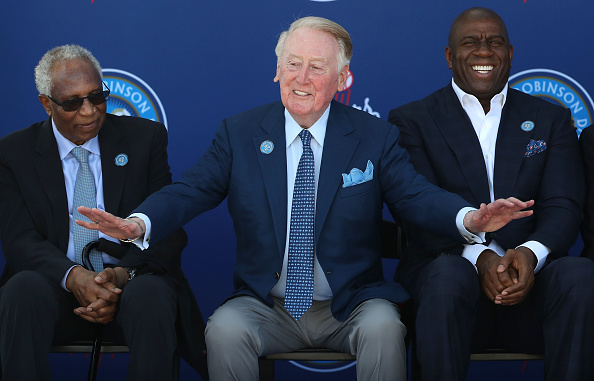 (Photo Credit:Getty Images)
Scully, probably the greatest and longest-tenured baseball announcer in modern times and the only baseball storyteller that matters on the West Coast, was eloquent, personal and poignant in his praise of Robinson.
Some [players] are taller than others, some are heavier than others, some are left-handed, some are right-handed," Scully said. "But the one thing they share in carrying No. 42 is the fact that the man who wore it gave them the one thing that no one at the time could ever have done. He gave them equality, and he gave them opportunity."
Magic Johnson has two statues; one at Michigan State, outside of Breslin Center and one outside of Staples Center. The greatest point guard turned business mogul in NBA history says Robinson's statue has greater social and historical value.