We are finding out that it was lifestyle guru Martha Stewart, of all people, who violated the baseball code and caused Yankees starter Michael Pineda a perfect game on Monday at Yankee Stadium.
Pineda took a perfect game (no hits allowed and no walks) into the the seventh inning and mowed down the first 20 Rays hitters. He flirted with the same perfection that Don Larsen, David Wells and David Cone once experienced. They are the only three pinstriped-pitchers in Yankees history to throw the elusive perfect game.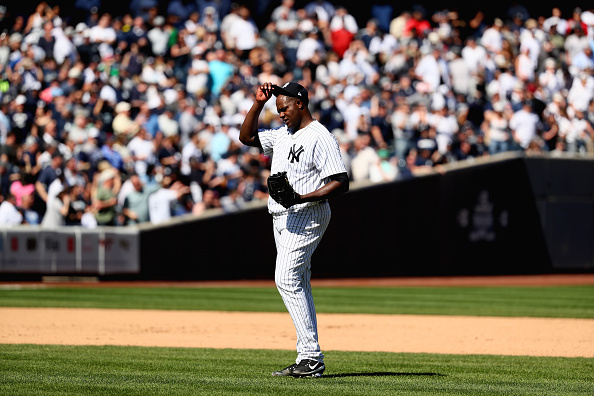 (Photo Credit: Getty Images)
The woman who knows more unimportant information about more things than anyone in the world didnt know that you dont publicly discuss no-hitters and perfect games while they are in progress.
Its a known cardinal sin in baseball for anyone to discuss a perfect game. Its considered a jinx for anyone — even the teammates and coaches and announcers to mention a perfect game. I'm not saying that everyone respects the rule, but before the age of social media and instant, spoiler news, folks were supposed to act like it wasn't happening even though everyone knew exactly what was going on,
Enter Martha Stewart who must have just smoked a doobie with Snoop Lion because she tweeted:
It's top of the seventh here at yankee stadium and the Yankees are pitching a perfect game versus the Tampa rays

Martha Stewart (@MarthaStewart) April 10, 2017
Pineda recorded two outs in the seventh inning before surrendering a double to Evan Longoria, which squashed the perfect game.
Reportedly, the hit came about 30 minutes after Stewarts tweet. Pineda, who ended up with a two-hit, one-run gem with 11 bodies, was rolling until that point. Who else could be the blame, but Stewart. The baseball gods need to bring her up on charges for that and she owes Pineda an apology and a home made dish of Pinedas liking.