It's been a long time coming, but Grambling is almost back to where its spent much of the last 60 years–the top of black college football.
The G-Men are riding high heading into the SWAC Championship Game against Alcorn State, having won nine games in a row, including an impressive 52-30 win over rival Southern in the Bayou Classic on Saturday.
As has often been the case with Grambling when they are at their best, quarterback play is the key to this team. From James Harris, to Doug Williams, to Kendrick Nord, to Bruce Eugene, Grambling has been a place where quarterbacks thrive.
DeVante Kincade is the latest torchbearer in that line, and the latest former FBS player to find success at an HBCU.
A highly recruited player out of Dallas' Skyline High School, Kincade initially took his talents to Oxford, Mississippi to play for the Ole Miss Rebels. Rated as one of the top dual quarterbacks in the nation, he redshirted as a freshman in 2013, but figured it was only a matter of time before he'd take the reins of the offense.
But things didn't play out that way. Chad Kelly was named the starter ahead of the 2015 season, and Kincade saw only mop-up duty.
Meanwhile, Kincade traveled back and forth from Mississippi to Texas often to look after his mother, Latonya Boyd, who was recovering from a stroke she experienced in early 2014. So Kincade decided a move closer to home would be best for him and his family.
So hard, Kincade told The Clarion-Ledger. It was a stress, man, because I was thinking about my mom and I wanted to practice plus I had homework on top of that. I told her I just want to come home and be closer to her so I wont have to be going back and forth that far.
Enter Grambling, who needed a quarterback to fill the shoes of Jonathan Williams, who had just led the team to the SWAC Championship Game. Coach Broderick Fobbs, a direct disciple of Eddie Robinson, brought Kincade into the fold, and the rest is history.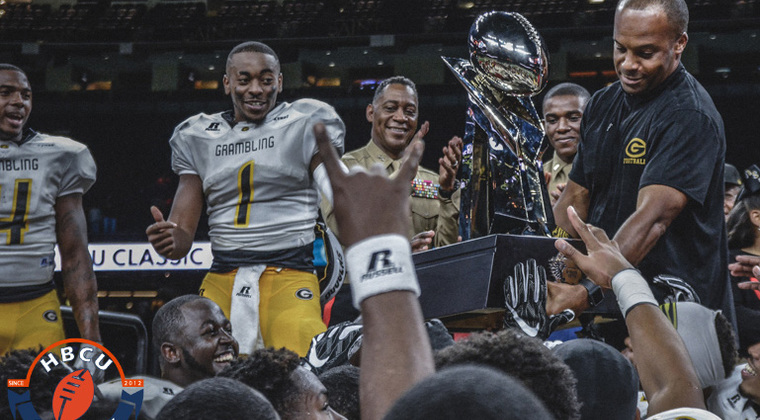 (Photo Credit: Dominique Monday)
Kincade completed 65.8 percent of his passes this year for 2,633 yards and 28 touchdowns while leading the team to a 9-1 record, with the lone loss to an Arizona team that Grambling dominated in the first half before an injury sidelined him. Those numbers earned him the Big Ben HBCU Football Award and SWAC Offensive Player of The Year this week.
Stats and awards are nice, but at Grambling, anything less than a SWAC Championship is considered a major disappointment. GSU will be going up against an Alcorn State squad that it beat 43-18 and is just 5-5 on the season. But they've also won the last two conference championships, and won't likely go down easy.
But after everything that Kincade has been through to get to this point, don't expect that to stop him or his team.