The Yankees are 21-10 and boast a lineup rich with some new, young superstars, signaling the official end of the Derek Jeter era as New York fans look towards future success with a talented roster.
Some things dont change however, and Jeter, who was the most popular player in MLB for 20 years, won five World Series with the Yankees and helped make them a Top 3 sports franchise in the world, is causing a rush on ticket sales and rekindling trips down memory lane for his official number retirement gala at Yankees Stadium on Sunday, May 14th.
After carrying baseballs torch and being the flawless, unblemished two-decade epitome of baseball dopeness and class, Jeters legacy will be literally cemented in the Bronx this weekend. The former Yankee captain will have his No. 2 retired and will be honored with a plaque in Monument Park.
A 14-time All-Star, Jeter had a .310 career average and 3,465 hits before retiring in 2014.
His number is the 21st number retired by the Yankees and despite the litany of Hall of Fame talents that have put in work for the pinstriped bombers, Jeters impact on the franchise is Top 5 all-time.
Longtime teammates Andy Pettitte. Bernie Williams and Jorge Posada had their numbers retired in 2015, and former player Willie Randolph was awarded a plaque in Monument Park as well that year. But the magnitude of their celebrations pale in comparison to the final exit of a guy who is a Top 10 player in MLB history as far as marketablity, flair for the dramatic and enhancement of the game is concerned.
According to the New York Times, "Ticket IQ, which tracks secondary ticket sales, says that Sundays game, at which Jeters number will be retired, currently rates as the second-hottest game of the season, after opening day.
Still, the game is unquestionably a draw, ranking ahead of the big series in August against the Mets and the Red Sox."
Even his greatest rivals revere him.
StubHub, the secondary ticket seller, says the game is its highest revenue generator of the season. It currently rates it at an average ticket price of $284.
Jeter has always been the biggest draw in the game. The sites best-selling regular-season game ever was Jeters final one at home on Sept. 25, 2014. (Thats also the sites second top regular-season seller in any sport, trailing Kobe Bryants final home game for the Lakers a year ago.) That data goes back to the founding of the site in 2000.
Baseball enthusiasts often make a big deal about Big Papi and his impact on Bostons franchise. But the streets talk and so does money, and Jeters game has tripled the StubHub ticket sales of David Ortizs retirement ceremony in Boston in June.
Jeter has always set the bar. Other players had more MVP's and homers, but he was in a class and category by himself as a ball player. Even in the '90s, he was considered a throwback player with his inside-out swing and a baseball savvy acquired more through intelligence and natural leadership qualities than athleticism.
As far as being clutch, theres never been anyone better in any sport. Jeter always seemed to get the big hit and make the game-saving or series-shifting play. He was stoic and tempered in his display of emotion while in the heat of battle.
Every day was like going to the office and his pens and pencils sat in the same coffee container every day for two decades. In other words, he was consistent, predictable and incomparably efficient.
He was the anti-PED era role model as he never hit more than 24 homers playing in an era where drug-enhancement ruined "The Show" and turned it into a video game. He did, however, have more hits than anybody over a 10-year period during his reign and inspired more future ballers than we could ever quantify.
His character was as valuable to the game as his physical attributes, and as much as Yankees fans have anointed every major member of that '90s Dynasty royalty, Jeters jersey retirement should resemble that of a King. Theres no greater Yankees legend still living since Yogi Berra passed in 2015.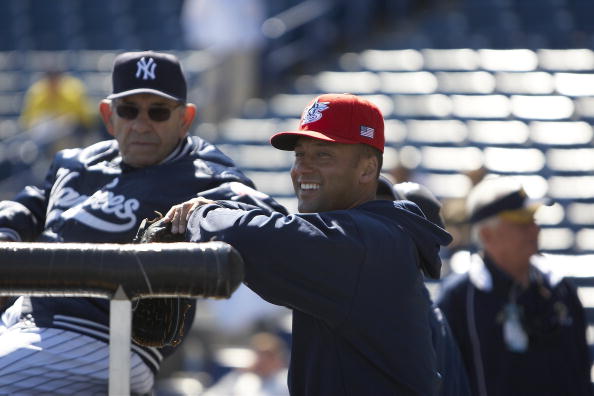 This is only the beginning. As the Yankees move into an entirely new era, flow, brand of baseball, scouting and franchise building, the legend of Derek Jeters glorious run as Yankees shortstop and franchise face will continue to grow.
He will remain the face of the Yankees, even if he becomes a part owner of the Miami Marlins, and moments like this coming Sunday only happen once in a sports lifetime.