Womens basketball has always been a sport that I respected and unapologetically enjoyed watching. I cut my teeth as a young reporter covering ACC womens basketball, and my First Final four was in San Jose, California in 1999 when Carolyn Peck led Purdue to an unexpected championship, becoming the first African-American woman to win a college basketball national championship.
Its been almost two decades since that barrier-breaking moment in women's athletics. Peck, now a sports broadcaster, rode the back of All-American Katie Douglass and annihilated the competition, capping a memorable March Madness marathon by squashing Duke by 17 in the championship game.
South Carolinas NCAA title win on Sunday night made Dawn Staley — who had been on a 26-year championship journey since losing that heartbreaking 1991 final as an elite All-American point guard for the University of Virginia — the second African-American womens college basketball coach to cut down the championship nets. The long road to the championship was not lost on Staley, who reflected on her journey after donning her new "net necklace."
I want people to know just because something takes a long time, if something is a goal of yours to accomplish, you dont give it up. I never gave up on winning a championship, no matter how hard it was, no matter what it looked like.
Staley is the embodiment of womens basketball and its incremental rise as a viable and marketable American sport. She has done it all. Shes in some way been an integral part of every watershed moment in the womens basketball over the past three decades.
Staley is a three-time Olympian, winning the gold at the 1996 Summer Olympics, the catalyst tournament for the late-'90s explosion of womens athletics. After winning two National Player of the Year awards as an All-American point guard for the University of Virginia under legendary coach Debbie Ryan, Staley was a two-time All-Star in the now-defunct American Basketball League and then became one of the stars and influential pioneers of the WNBA.
In 2011, the fans voted Staley one of the Top 15 players in WNBA history. She was elected to the Naismith Memorial Basketball Hall of Fame in 2013.
Her leadership, unselfishness, ball handling skills, relentless pursuit of perfection and groundbreaking style of play made Staley a perfect candidate for coaching. As the story goes, she wasn't interested in coaching and the voices in her cipher were telling her it would be impossible to play in the WNBA and coach D-1 college hoops.
Never one to back down from a challenge, Staley returned to her hometown of Philly and started coaching the Temple Owls near the end of her WNBA career and immediately proved to be a program builder. In six years at Temple, she had a 172-80 overall record with six NCAA tournaments, three regular season conference championships, and four Atlantic 10 Conference titles.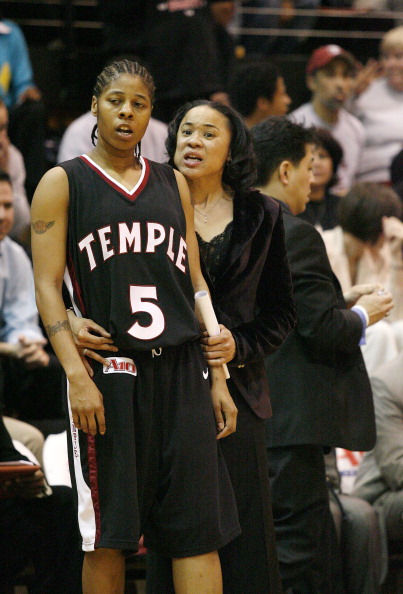 Now she is a National Championship-winning coach for the elite conference in womens college basketball. UConn is still the elite program, but the Huskies coach is a dude. Staleys presence as a woman with her accolades makes her a potential replacement for Pat Summitt as the face of the game.
Pat Summitt really transcended womens basketball to bring in the casual male fan, fans of other sports, said former college and WNBA coach Nell Fortner, who coached Staley on the 2000 Olympic team. People were mesmerized by Pat. Our sport misses that, and we need it. For her to become that would be absolutely outstanding.
With a championship under her belt and her stock as a coach and recruiter higher than ever, Staley is on her way to having that kind of influence on the womens game.
For More March Madness Memories from The Shadow League, check out:
March Madness Memories- Norfolk State Upsets Mizzou