Black Ace David Price will test his troublesome pitching elbow Friday in Baltimore in his fourth side session since the lethal lefty was shut down five days ago with a elbow strain sustained on Feb. 28.
Price told MassLive.com on Wednesday that he isn't 100 percent confident he'll avoid surgery. Thats terrible news for Boston, who is looking to repeat as AL East champs. Price is the anchor of a well-equipped rotation that also features 2016 Cy Young Award winner Rick Porcello.
Price said trying the rehab wasn't his call. He's doing what Dr. James Andrews and Dr. Neal ElAttrache said to do initially and now what the trainers are telling him.
"I'm not a trainer," said Price, who missed from May 16 through July 2, 2013 with a strained left triceps. He still made 27 starts that year and finished with a 3.33 ERA.
Prices Boston tenure has been solid since the 2012 Cy Young winner signed in 2015 for a whopping seven-year, $217 million. He went 17-9 in his first season with Boston and the lethal lefty, now accustomed to Fenway Park, was looking forward to a stronger 2017
Progress has been slow.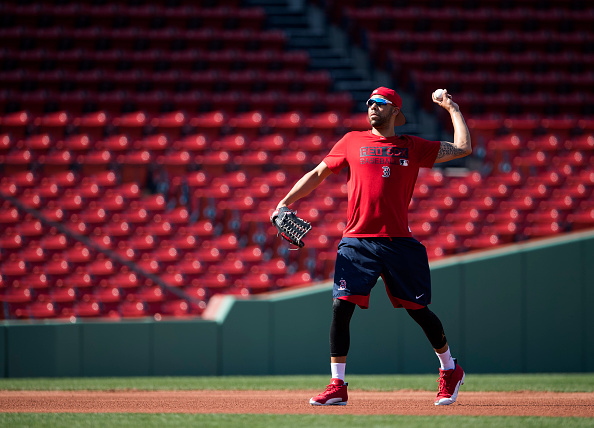 The first three of those side sessions were this past week, over a six-day period. It was decided that Price needed a period of recuperation after that, and he threw long-toss on Wednesday and again before Thursday's game.
The throwing program has been dialed back a bit after he threw bullpen sessions last Monday, Wednesday and Saturday. The plan was for him to potentially throw live batting practice sometime this week if he came out of his bullpen session this past Saturday feeling strong enough.
But hes continued to throw strictly long toss and wont be facing hitters in Baltimore.
Manager John Farrell described Price's progress "as maybe a little bit of a slowdown." The delay came after Price did feel "a little soreness," Farrell said.
"You get a little soreness coming out of the intensity in which he was throwing the ball," Farrell said on Thursday. "So we gave it a couple extra days before we extended back out into some long toss. He had a good work day here yesterday with some pretty aggressive flat-ground work. So I'd love to be able to say this is a straight incline getting back into games. But there's going to be some, I don't want to say peaks and valleys, but there will be days when you've got to monitor how they come out of their work."
The Red Sox (10-6) need their Black Ace on the hill in a tough American League East division, where they sit in third place, game behind the Yankees (9-4) and Orioles (10-5). Its looking like dog fight for the division and surgery for Price would mean an extended absence. One that the Red Sox, despite all of their talent, just cant afford.