Big Papi went out with a boom on Friday night as the Boston Red Sox retired the future Hall of Famers number during a half-hour pregame ceremony at Fenway Park.
Cue the Papi chants! #34ever https://t.co/qAFc4cN6NB
David Ortiz stepped to the mic like Rakim spitting his final 16, wiped the tears from his eyes and paused for a second as the sold-out crowd shouted "Papi!"
Watch as Red Sox legend David Ortiz opens up about his number being retired, then throws out the first pitch.
The Red Sox family stood at the top step of the dugout like a militia honoring their most valued general.
Friends, family and dignitaries from two countries blessed the infield. The three World Series trophies that Papis presence and will lifted Boston to sparkled in the afternoon light as memories of his numerous clutch hits, overthrowing the Yankees mighty juggernaut in 2004 and winning that first chip in 86 years flashed through the minds of Red Sox faithful in attendance.
MLB.com takes a look back at David Ortiz's clutch postseason heroics throughout his career Check out http://MLB.com/video for more! About MLB.com: About MLB.com: Baseball Commissioner Allan H. (Bud) Selig announced on January 19, 2000, that the 30 Major League Club owners voted unanimously to centralize all of Baseball's Internet operations into an independent technology company.
Fellow Red Sox legends, jersey retirees, and Hall of Famers Carl Yastrzemski, Pedro Martinez, Wade Boggs and Jim Rice were also there to hold Big Papi down.
"It's an honor to get to see my number right next to all those legends," Ortiz said before his No. 34 was unveiled along the right-field roof boxes.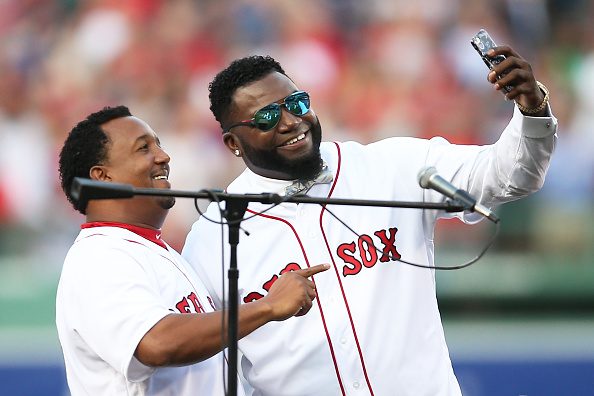 The ceremony was a fitting and final acknowledgement of a player who was the face of a franchise for 14 glorious seasons.
And this is Boston we are talking about; a city that continues to earn its reputation as a bastion of bigotry in pro sports. The Adam Jones incident in which the Orioles centerfielder — a guy who just led the USA to its first World Baseball Classic title — had peanuts and racial epithets hurled his way by Red Sox fans, is still fresh in the mind of African-Americans everywhere.
Any player of color will tell you a story or two about their experiences in Boston. They all sound pretty similar.
Ortizs story is the complete opposite. Hes just the third man of color to have his number retired by Boston. He wears his Dominican Heritage proudly, but he is colorless in the eyes of Red Sox fans.
His exploits on the baseball field and his ability to be counted on to represent the Red Sox regally on and off the field in times of crisis has elevated Ortiz to a level of reverence that supersedes anyones deep-lying racial prejudices.
popchips, david "big papi" ortiz, and moufy made this video to give back to boston in september 2011. in light of the boston marathon tragedy on april 15, 2013, we find comfort in watching it again, and remembering the everlasting strength of the great city of boston.
Hes a Michael Jordan type anomaly in the baseball world. Baseballs Obama. Hes one of those rare folks who were able to reach a place in life where he's judged on his merits and magnificence, nothing else.
As I stated after Big Papis final Red Sox playoff game in 2016 during Hispanic Heritage Month:
No player has captivated a town and the hearts of fans on an athletic, social and political level like the Dominican Don. His bat struck loudly as he came to Boston as an undeveloped hitter struggling to grasp Minnesota Twins manager Tom Kellys disciplined hitting approach…
His legend grew as a player…and became the Yankee Killer for years to come. His words off the field struck thunderously when draped in a backdrop of the American flag as he spoke out against terrorism, proclaiming, This is our effincity in the aftermath of the tragic Boston Marathon bombings."
David Ortiz – Boston "This is Our Fucking City" Fenway Pregame Ceremony 4/20/13 Tags: david ortiz boston swearing david ortiz this is our fucking city Big Papi swearing david ortiz boston david ortiz fenway pregame david ortiz 420 swearing david ortiz speech david ortiz speech david ortiz f bomb
It was a moment that endeared Big Papi to Red Sox fans and MLB forever. It officially granted him a pass on any indiscretions or controversies involving PED's that he may have once been implicated in. His slate was clean and his records untainted.
The kid from DR, who signed with the Seattle Mariners as an international free agent in November 1992, at age 17 and shortened his name from David Americo Ortiz Arias a few years later, made the most of his American experience.
He toiled in Minnesota from 1997 to 2002 and then he emerged from the ashes of the steroids saga, similar to how certain rappers rose to the top of the game after the deaths of Tupac and Biggie, and helped put BoSox baseball back on the elite map.
He kissed the babies, mentored younger players, showed leadership in tough situations and worked tediously to get better each year. He acknowledges legends of color, pioneers of the game. Thats why he chose Kirby Pucketts No. 34 when he left Minnesota to achieve his destiny in Boston like Ertugrul setting the path for the rise of the Ottoman Empire.
He'll be remembered for hitting 541 homers, good for 17th on the all-time list, but more importantly, the way he mastered the game, became a Boston icon and a lauded, world wide baseball ambassador.