There was a time, not too long ago, when the difference between Mike Trout and Bryce Harper in terms of actual production, was substantial. He knew it. His MLB peers knew it and MLB reluctantly accepted it.
In 2012 they both stormed the MLB scene. Harper had the crowd won over before he ever stepped on the field as a 19-year-old Washington Nationals outfielder. His resume came with an avalanche of early hype, headlines and legendary expectations.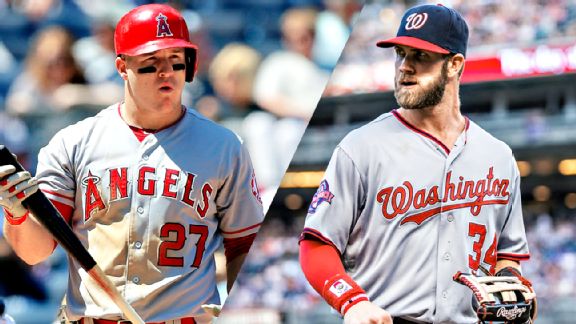 Once the season popped, however, the 21-year-old and less-touted Trout performed with unprecedented distinction and made a splash heard round the baseball world, while Harper showed flashes of future brilliance, but sported some rookie warts.
I wrote about this in a 2012 piece entitled, MLB Year In Review: Switchin Styles Up
What a difference a year makes is the proper theme for this MLB season.
Last October, Nationals outfielder Bryce Harper and Angels outfielder Mike Trout were teammates playing for the Scottsdale Scorpions in the Arizona Fall League. Harper was already the most touted baseball prospect since Ken Griffey Jr. Trout was highly regarded, but not as awe inspiring. Harper was as advertised, hitting .333 with six homers and a 1.034 OPS in 25 games for the Scorpions. It was all there. The lightning quick bat. The freakish power. The Clemente-like arm and the Pete Rose hustle. Trout did his best second fiddle impersonation, hitting just .245 with a .600 OPS. A year later, both players have stormed the MLB scene and are All-Stars impacting winning franchises. But what a difference a year makes.
No one could have predicted that the next time they met, Trout would singlehandedly dampen Harpers MLB coming out party. Harpers having a solid rookie season hitting .270 with 22 homers and 59 RBIs as of Sept. 30th. But Trout has put it all together quicker. Trouts the first rookie to ever bang 30 dingers and swipe 40 bases and, if not for Miguel Cabreras assault on the Triple Crown, would be a shoe-in for AL MVP.
The similarities are endless as far as skills go. Trout is 21, Harper 19. Both players have an edgy-throwback approach to the game, and are known for smashing into walls. The paths they took to get here, however, were different. Trout is a Jersey guy who beat the odds. In 2010, Trout was considered the Angels' third best prospect and just 85th in all of baseball by Baseball America. Harpers always been baseballs best prospect. Harper donned the front of Sports Illustrated as a high school sophomore. He was the old Nas cover. It was written. He signed the thickest contract ever by a first-year player and theres already been a book written about him. Trout waited until he reached the big show to get his first SI cover. All that hype doesnt really matter now. The tide has turned and, moving forward, Mr. Harper is the one that has some catching up to do.
It has taken some time, but Harper has quickly closed the gap on Trout. Its not as if Trouts production or performance has slacked. He had a career-high 41 dingers and led the AL in slugging (.590) and OPS (.991) coming off a 2014 MVP and two second-place finishes to Miguel Cabrera in 2013 and 2012.
Harper didnt have to wait for Trout to start hustling backwards to start matching his all-world production with the stick and with the lumber.
After four years of averaging 18 HRs per season and being unable to play in more than 139 games, MLB Nation witnessed the ascension of one of MLBs mythically-touted young gunners into the games elite this season.
Harper finally had the season everyone was waiting for and the fact that he is only 23-years old, now sets the stage for genuine conversations and debates about which player is truly the future of baseball.
At the Players Choice Awards on Monday night, Harper (no longer a snotty-nosed boy wonder, but a dues-paying veteran of four MLB seasons) was named the NL Outstanding Player of the Year, as voted on by his fellow major leaguers.
Harper led the National League in OBP (.460), Slugging (.649), Wins Above Replacement (9.5 fWAR), Weighted On-Base Average (.461), Weighted Runs Created Plus (198 wRC+), Isolated Power (.319) and runs scored (118) and just about any other offensive category one can create or think of.
Washington's 2010 no.1 overall pick finished tied for first in the NL in home runs (42), finished second in the NL in walks (124), and second in Batting Average (.330).
The gap between the two players has been diminished on the field and in the eyes of fellow pro ballers as well. Harper had to earn his respect from his peers, especially because the media and fans had already been blessing him with Ken Griffey Jr. props for posting Ken Griffey Sr. numbers; Admirable, but hardly Hall of Fame worthy. When a player is getting Mercedes Benz props but representing like a souped-up Hyundai, that can stir up the other road runners on the lot.
Theres no stronger indication of Harpers rise as a respected superstar than the Players Choice Award. Harper will undoubtedly secure his first NL MVP Award as well. This is a total flip of the script considering Harper was voted Most Overrated Player in MLB in an ESPN poll of 117 major league players before the 2015 season began.
If Harper was an artist, he would be relieved in the same manner as if he just dropped his first platinum album after three attempts and a ton of money and marketing invested by the label.
Now that the product fits the packaging, expect the endorsements, accolades and awards to be as forthcoming as
Late last month, Harper got his props as the best hitter in the National League with the Hank Aaron Award, which is handed out every year (since 1999) to the top hitter in each league as voted on by baseball fans and an exclusive panel of iconic HOFers; Aaron, Roberto Alomar, Johnny Bench, Craig Biggio, Eddie Murray, Frank Thomas and Robin Yount.
Trout isn't going away by any means. He could have won the Players Choice Award, but Josh Donaldson's team did actually go to the playoffs. Hopefully it gives Trout some incentive to reach even more remarkable heights. He's still got an outside shot at another MVP.
Harper hasn't dazzled All-Star fans the way Trout has just yet, but for the most part, both players will be on equal footing entering 2016, for the first time ever. The pendulum swing has them primed for the career faceoff everyone projected in the first place. The MLB's marketing of jersey sales, hits records and commercial endorsements (the few MLB players get) will be geared towards putting these two ballbusters in the forefront of the league's future. New players will join the exclusive club, but few if any will have the lasting impact of these two guys. Both are accomplished, but hungry, still searching for that playoff glory that cements a great player as a Grade A performer.
Being a leader and actually making the guys around you better is a learned art. Now that Harper has quieted his critics and evened the playing field a bit, fans of both players can finally enjoy the journey and keep count any way that they like. As of now the score is 0-0 again.