Brooklyn, New York – The Villanova Wildcats look ready to face their demons, which for the past seven years or so have presented themselves in the NCAA Tournament's second round. UNC Asheville looked like a willing adversary for most of the first, trailing by a mere two points with less than five minutes to play in the first half.
But a 18-4 surge prior to halftime, which included a deluge of five three-pointers, allowed the Wildcats to cruise for the rest of the game en route to a 86-56 win over the Bulldogs. Wildcats senior guard Ryan Arcidiacono hit 4 of his 6 three-point attempts while scoring 14 points in addition to dishing out four assists. Senior forward Daniel Ochefu paced a balanced Villanova attack with his 17 points and 10 rebounds.
"Everyone's been talking about this next game coming up for the whole year, even before we got in the tournament, but it's very humbling for us to be able to get this first win," said Ochefu. "Just going forward in this game, we can't think about the shortcomings in the past years. We have to focus on the things we can take care of that will help us get this 'W' on Sunday."
Jay Wright's squad from Philadelphia's tony mainline, now 30-5, will knuckle up against seventh-seeded Iowa in Sunday's Round of 32 at Barclays Center in Brooklyn. Since reaching the Final Four in 2009, Villanova has been unable to clear a second round hurdle.
After spending a few weeks holding on to the country's #1 ranking and winning the Big East regular season crown, the expectations for this Wildcat team are immense. And they looked every bit like a team with Final Four potential while connecting on 57.9% of their shots while hitting on 13 of their 28 deep ball attempts.
Many thought that UNC Asheville, with it's excellent three-point defense and ability to force turnovers, could give Villanova problems today. But, in the House that Jay Z built, the Wildcats showed that if they do indeed have 99 problems, UNC Asheville was not one.
Dylan Smith led 15th-seeded Bulldogs with 14 points.
The Wildcats christened the second half, after their three-point monsoon that ended the first period, by feeding the 6-foot-11 Ochefu, who scored nine points in the paint during the first eight minutes.
Folks from Philadelphia who made the trip to Brooklyn that were hoping to see a Big Five matchup in the second round on Sunday between Villanova and Temple left the arena disappointed. But they, and Temple fans, were the only ones, as Iowa's thrilling 72-70 overtime win with a buzzer beating putback by Adam Woodbury had the filled-to- capacity arena rocking.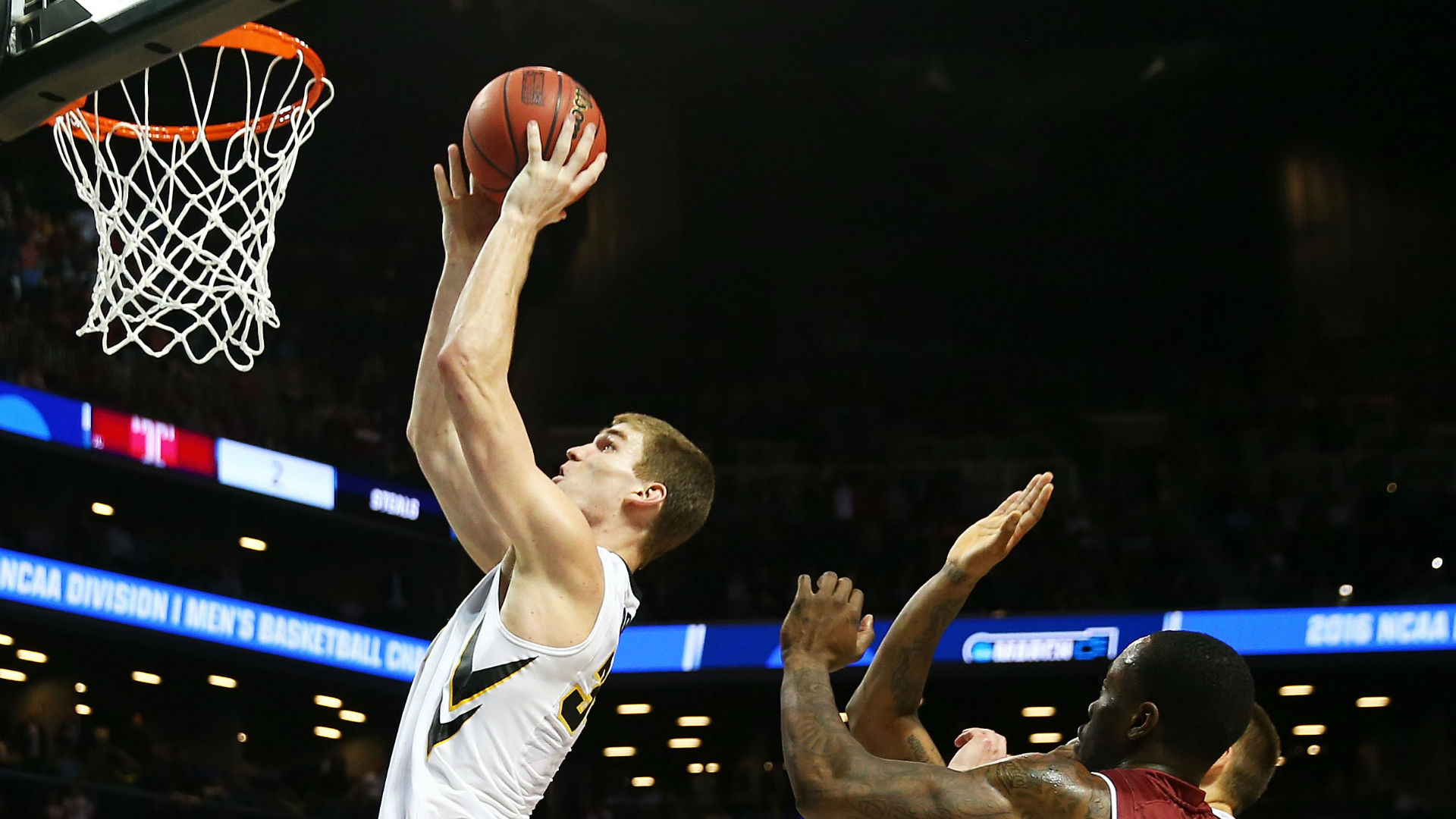 (Photo Credit: sportingnews.com)
Back in January, Iowa looked like one of the top teams in the land after sweeping Michigan State and Purdue, but they limped terribly down the stretch with a season ending loss to a weak Illinois squad in the Big Ten Tournament's first round. Jarrod Uthoff scored 23 points and Peter Jok added 16 points and seven rebounds, but Iowa shot a horrific 34.8% from the field.
Quenton DeCosey, who made three free throws with 2.1 seconds left in regulation to tie the game, had 26 points for the Owls, who also got outstanding performances from guard Josh Brown, who chipped in with 16 points, nine rebounds and five assists and forward Jaylen Bond, who threw up a double-double of 14 points and 15 rebounds.
With the score tied at 70, Mike Gesell, who was 0-8 from the field, got up a short baseline airball that Woodbury converted as the clock expired. Iowa might have played ugly from a shooting perspective, but they did an outstanding job of taking care of the ball.
But even if they only have three turnovers against Villanova on Sunday, if they shoot the same amount of bricks against the Wildcats, Jay Wright's boys will finally get over their second round doldrums while moving on to the Sweet 16.