Eventually Bob Huggins is going to win one of these March Madness diamonds rings. He's been in the game too long and put in too much work as an elite, passionate and influential coach in the college game. His name is rarely mentioned, but his track record wreaks of contention.
Hes battled all of the so-called legends of the game and on certain nights, with less talent, he still managed to leave his imprint on the game. Still managed to distinguish himself as a basketball lifer, a supreme motivator of players, an appreciator of the grunt work that it takes to build a winning program. He breathes basketball life into any program he graces.
Huggins has never won an NCAA title, but with the exception of Kenyon Martin, he hasnt had any legendary college talents at his disposal. On Saturday, his West Virginia Mountaineers topped the Notre Dame Fighting Irish 83-71 to advance to the Sweet 16 of the NCAA Tournament for the second time in the last three years under Huggs who in my opinion, is every bit a part of the fabric of college hoops as a Coach K or Jim Boeheim. He can never be accused of wasting talent or being overrated.
Utilizing Huggins infamous and ingenious full court press, the Mountaineers were too much for the Irish too handle. The Mountaineers are the first team to punch a Sweet 16 ticket and will face the winner of Gonzaga and Northwestern on Thursday in San Jose, California.
When asked what he was going to do with the time off between games, Huggins replied, start recruiting.
Hard work and a consistent grind is what has gotten Huggins to this level as one of just ten coaches ever with 800 or more wins in his career. Thats the magic number for coaching immortality and he is cruising by it with no chill in sight.
Huggins has been to 22 NCAA tournaments in the last 25 seasons. He has navigated a plethora of squads to seven Sweet Sixteen appearances, four Elite Eight appearances, and two Final Four appearances (1992 with Cincinnati and 2010 with West Virginia). Twenty-win seasons is the basis for Huggins squads. To say he gets emotionally involved in the game is an understatement, but his dedication to the craft makes those moments an acceptable part of who he is.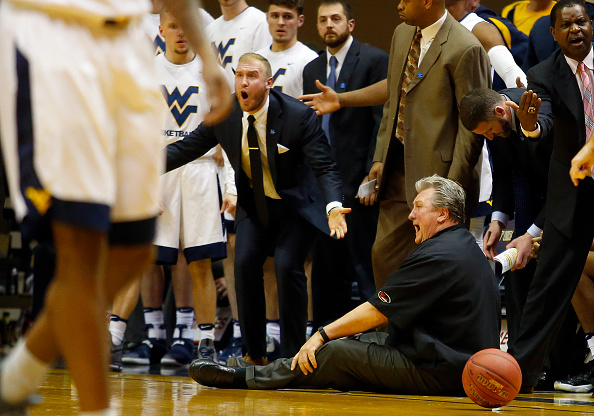 Huggins started out at unheralded Walsh College (19801983) and then coached at the University of Akron (19841989). He started gaining acclaim as a power coach during his reign at the University of Cincinnati (19892005) which ended after 16 legendary years following a DUI scandal. Then he resurrected his reputation with a quick rebuild at Kansas State University, winning 23 games in each of his two seasons there (20062007).
In April of 2007, Huggins accepted an offer to return to coach his alma mater, West Virginia University. Hes made the most of his opportunity, reaching a Final Four and establishing West Virginia basketball as an elite program where low-name ballers become Saturday afternoon superstars and some of them, eventually pros.
Watch out for Huggins and West Virginia this March Madness. Eventually hes going to break through and snag that elusive title. It might be this season.