This is part of The Shadow League's Black Music Month In Focus series celebrating the vibrating musical excellence within our wide cultural tapestry.
It was 1992 and the campus of Hampton University in Virginia was buzzing about these Brooklyn-born girls who were wearing big jackets and cleats as sneakers as they were at the Student Union, giving out free cassette copies of their new single, Right Here.
It was bouncy and soulful, but little did we know that those girls – Coko, Lelee and Taj – were at the starting point of what would become brief but unforgettable careers. The sexy, rugged, around-the-way girls would immortalize themselves in the musical annals of multi-talented women who flexed their sex appeal, strength, dynamic vocals and various talents during the '90s Golden Era of female R&B groups.
That same year, they dropped their debut album It's About Time and the 15-track LP, filled with a variation of soulful ballads, up-tempo party joints, precision production and relatable content, peaked at No. 8 on the Billboard 200 chart and found itself sitting at No. 2 on Billboards R&B Albums chart.
"Weak" is a classic urban ballad that truly introduced the world to the fact that this trio was no one-trick pony enhanced by exterior furnishings and over-the-top production. Their music was real, same as their lives and relationships, which werent always peachy.
SWV's official music video for 'Weak'. Click to listen to SWV on Spotify: http://smarturl.it/SWVSpotify?IQid=SWVWeak As featured on Best of SWV.
After the instant success of Its About Time, the trio blew up — literally. They had fans waiting years for a follow-up before finally releasing New Beginning four years later. Once again, they enthralled with their chemistry, vivid imagery and tomboyish yet totally feminine charms. They were maturing , they had a solid fan base and were poised for some crossover success.
But, after releasing two more uninspired projects, the girls watched their five-year reign come to an end as personality differences, life circumstances, tensions and jealousies — typical obliterators of successful music groups — forced the girls to split up after releasing their third studio album.
The project, Release Some Tension was a fitting description because the dynamic group parted ways to pursue solo projects before reuniting in 2005, touring with various artists and embarking on another joint project. In 2011, SWV signed a record deal with Mass Appeal Entertainment and E1 Entertainment and was featured on the official remix of Chris Brown's remake of their "Right Here/Human Nature" song, "She Ain't You". SWV was re-introduced to the younger generation, which bolstered sales of their fourth studio album, I Missed Us, which was released in 2012 and went to No. 1 on the iTunes R&B albums chart .
The trio has sold more than 25 million records, making them one of the best selling girl groups of all time.
As lady R&B groups came, left and eventually disappeared from todays musical landscape, SWV maintained a permanent respectability as Queens of the '90s R&B Era.
As recently as 2012, they received a Soul Train Music Award for their lasting contributions to Black music. And this past weekend they reunited back home in New York at the Three Stripes Tour in Brooklyn and tore the stage down, with lots of help from an audience who sang along without missing a word or beat.
10 Likes, 1 Comments – The Shadow League (@theshadowleague) on Instagram: "Kicking off #blackmusicmonth the right way. The 90s way. The @officialswv way. Brooklyn. Word."
With the advent of reality TV, fans of the group, who are now adults, were able to get to know SWV more than ever and put their absence the last two decades into perspective. The 2014 Reality show, SWV Reunited on Wetv, gave us a great glimpse into why the group was so captivating, dramatic and passionate in a dope and memorable way.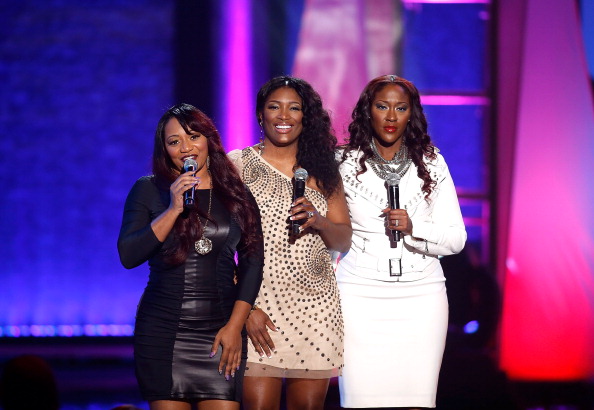 Through the show, which was canceled in 2015, they were able to heal a lot of old wounds and take on their current trials and tribulations together. Regardless, it was great to see them back in front of the camera, working on a new album and performing for fans.
Black Music Month is the perfect time to reflect on three of the the shooting stars of '90s R&B.
The girls sit down to discuss the premiere episode of SWV Reunited.