The dismissals of Barry Bonds as Miami Marlins hitting coach and Dave Stewart as Arizona Diamondbacks GM signal another blow to MLB's diversity portfolio in regards to coaching and front office positions.
(Photo Credit: mlb.com)
Stewarts ousting leaves Major League Baseball without an African-American GM. Ken Williams of the Chicago White Sox and Mike Hill of the Miami Marlins were former GMs, but have since been promoted to club presidents.
Bonds, baseballs all-time homer king, had cleaned up his image enough to reintegrate back into baseball as a hitting instructor.
Statistically, he didnt do a bad job. Despite absences by key players Dee Gordon and Giancarlo Stanton, Bonds managed to improve the Marlins offense. The clubs .263 batting average ranked fourth in the league and the Marlins improved slightly from 19th in 2015 to 17th in team hitting this season.
Youd think Miami would give Bonds another year to develop in his new gig, but the team chose to cut ties after one season. Reportedly there was a brewing tension between Bonds and manager Don Mattingly, and Bonds criticism of wildly popular slugger Giancarlo Stanton was not well received.
That doesn't seem to make sense because as recent as July, ESPN was raving about how Bonds helped a slumping Stanton get his swing back.
"He's like a technician; he'll get as technical as you can understand or as simple as you need," Stanton told ESPN.com, laughing when asked which he preferred. "I'd say we grew together with that. Now, I want every last bit of knowledge — which he knows some may not understand — but I wanna be as far into it as I can."
(Photo Credit: sun-sentinel.com)
Bonds took a huge chance by taking on a coaching position. Coaches are judged on results and they arent the ones on the field playing. Its tough for superstar coaches to survive because they are often very critical of players who dont achieve certain levels of performance.
Bonds didnt do anything to ultimately prevent himself from getting other job offers. Getting canned is part of the game.
To be honest, I tend to agree with SNY announcer Ron Darling who told me prior to Bonds taking the Marlins gig, that he believed a coaching job would be beneath a player of Barry Bonds mythical standing in the game. Bonds should be serving MLB as an ambassador and spreading his vast knowledge all across the globe.
Dave Stewart Is Two And Out
As a hurler, Stewart was known for pitching deep into games, but his stint as Diamondbacks GM resembled that of a spot reliever.
The situation started out redeeming and positive. Before being named GM of the Diamondbacks, Stewart had lost faith in baseballs commitment to equal opportunity and diversity. In 2001, he was passed over for the Toronto Blue Jays job when they instead promoted J.P. Ricciardi.
Stewart told me he believed race to be a factor.
This time, Stewart tells usatoday.com that he and owner Ken Kendrick just didnt see eye-to-eye on things. Stewart says he and Kendrick were oil and water.
When I left Toronto, said Stewart, who resigned from the Blue Jays, I was angry. Im not angry this time. Its just different. Almost a relief. I just got to figure out what to do next, but really, Ill be just fine.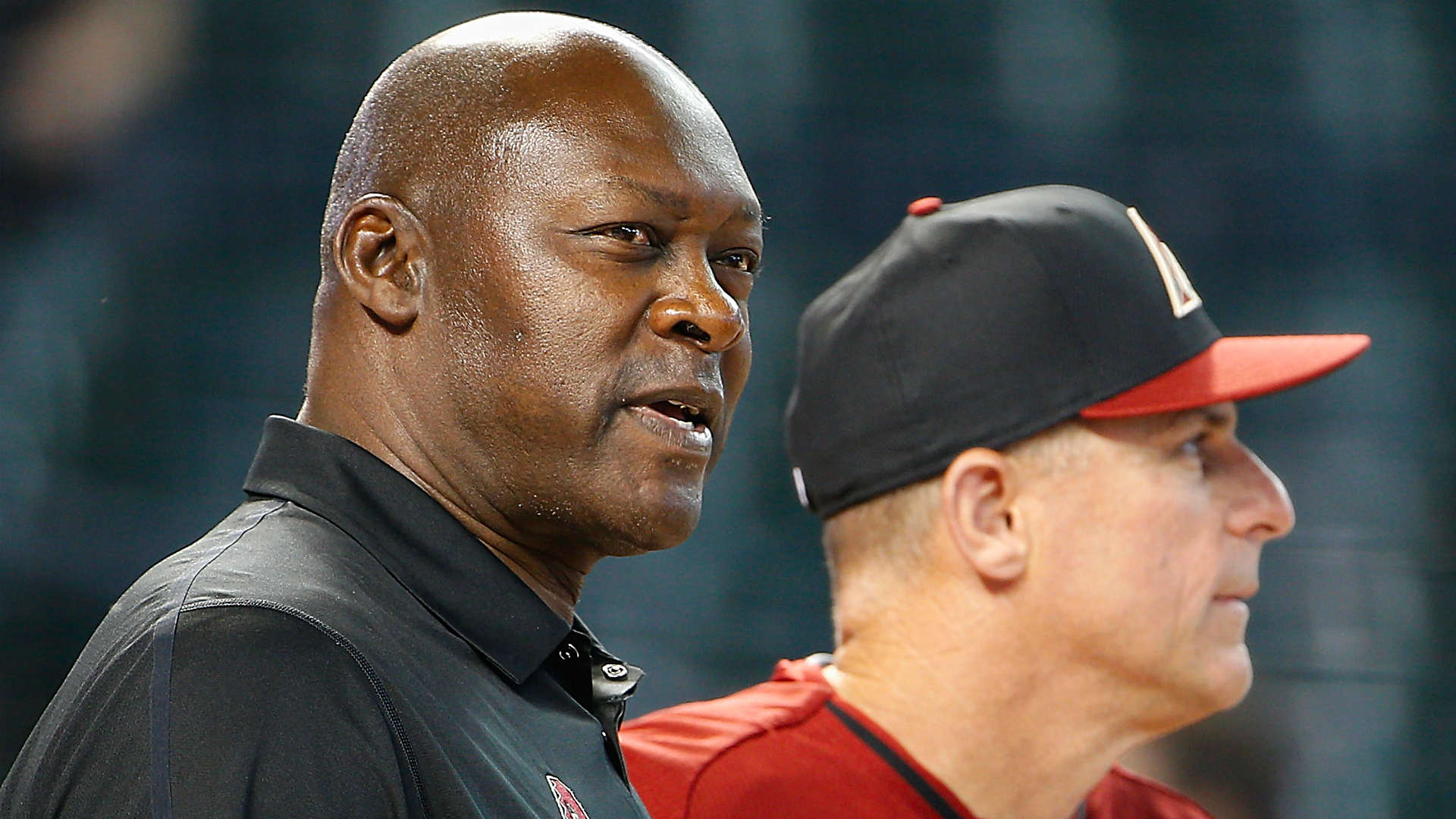 (Photo Credit: sportingnews.com)
When I spoke with Stewart during Spring Training two seasons ago, the newly-hired general manager of the Arizona Diamondbacks was beaming with optimism. Arizonas Chief Baseball Officer Tony LaRussa, who had coached Stewart when the former Black Ace was racking up dominant pitching seasons for World Series champions, tabbed Stewart as the perfect man to lead a revamped Diamondbacks organization in 2014, joining a new braintrust featuring some of the most accomplished baseball minds around.
Two seasons later and LaRussa, whose job is also under pressure, gives Stewart the pink slip. You dont get much time to turn things around in pro sports anymore. This is the age of instant results.
Stewart was hired in late September of 2014 to take over the GM job from Kevin Towers. A few weeks later, Stewart named Chip Hale — who was fired as well — as manager.
The first year was positive as the Diamondbacks went from 64 to 79 wins and then spent $218.75 million this past winter on Zack Greinke and Tyler Clippard and traded away their first overall draft pick for Shelby Miller, who played more than a month of the season in Triple-A.
(Photo Credit: venomstrikes.com)
Optimism was high for Arizona fans but things didnt pan out as expected. The teams 69-93 record was the third-worst record in MLB.
Stewart is an astute baseball mind and a proven leader who can be a valuable asset to an organization. He should land on his feet. In fact, hes not really sweating it.
"But you look at everything, and I feel like I did a pretty good job here, Stewart told USA Today Sports. "You may not know it for a couple of years, but you will. Quite frankly, Ive got better things to do.