Week 6 left a nasty taste in the mouths of some as highfalutin coaches began questioning more injury claims than health insurance providers. At least Washington's Steve Sarkisian saved the jabs for opposing Stanford's defeners. Steve Spurrier subtly implicated the greatest collegiate player he's ever coached.
"The Hit" against Michigan, launched Clowney into Bo Jackson-type urban legend territory. His hype reached such heights that before the season, debate raged over the possibility of him sitting out the season until he was draft-eligible next spring.
Sure, Clowney could have sat out and remained a top-five pick, but he would have also lost a year in the development of his pass rushing techniques and run contain ability that individual workouts could not take the place of. Clowney is not a perfect prospect.
Jadaveon Clowney had fallen so far out of the Heisman conversation by last weekend, that his executive decision to rest against Kentucky went unmentioned on Saturday afternoon.
It wasn't until Spurrier's awkward and strained cue-card eulogy of Clowney's Gamecocks career following their harrowing one-touchdown win over Kentucky that the national media picked up on Clowney's absence. Clowney wasn't fearful about the health of his knees, heart palpitations or a concussion, but of minor rib soreness and bone spurs in his foot that he's played with since high school.
If Clowney "wants to play, we will welcome him to come play for the team if he wants," Spurrier recited. "But he if doesn't want to play, he doesn't have to play. Simple as that."
The media throng immediately hit the deck in response to the shots fired. His decision to sit out a game against Kentucky has ignited two schools of thought: Does it matter if student-athletes treat the game like a labor of love or as CEO's of their future business brand?
Would Clowney have sat himself if he were a senior projected as a third-day draft prospect? At the same time Clowney was making the decision to rest up, his future "Pro In Something Other Than Sports" quarterback Connor Shaw was completing 17 0f 20 passes and rushing for 50 yards despite playing through an injury to his throwing shoulder that was wrapped in Styrofoam all week and was forecasted to keep him out for two to three weeks.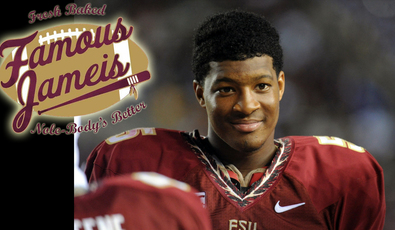 AGS: Week 7
USC Is Obsessed With NFL Head Coahes: Pros before Joes. College coaches need not apply.
Second Chance HBCU All-Stars: These former FBS players have found new homes at HBCUs..
We Can't Possibly Go From BCS Computer Rankings To Letting Women Pick The NCAA Playoffs: It's just not right.
Famous Jameis Is Serving Up Greatness; Redshirt freshman Jameis Winston is on track to have the greatest passing season for a freshman in college football history.
Football players, especially the physical specimens who play in the trenches, are supposed to have less regard for their own well-being than they do for the offensive playmakers they blow up on Saturdays and Sundays.
NFL-types admire sacrifices like the one Arizona Cardinals safety Rashad Johnson made. At the same time, Johnson is adjusting to life without half a digit, Patriots tight end Rob Gronkowski is being criticized for listening to his (financial) advisors by taking his time rehabbing from back and forearm surgeries before returning to the field.
Even before the season there were concerns by scouts about Clowney's mentality, because of highlight film that illuminated his penchant for taking plays off.
Clowney shouldn't be vilified for taking the week off to heal his body. However, once he gets back on the field it would behoove him to prove his motor exists.
As one anonymous NFL executive disclosed to Yahoo Sports, "I'd be scared to death to take him if I had a top-10 pick."
Expectations for Clowney were high and whether they admit it or not, scouts are curious whether Clowney loves the game with a Ronnie Lott-type mentality or if he's a future Albert Haynesworth-lite. Will his passion and already questionable effort wane once he starts collecting six and seven-figure checks?
Even before Saturday night his junior season has caused apprehension. Who could blame him for plugging the drip of negative press about his play, before it intensified into a complete downpour of negative plays observed on tape? Brian Brohm, the Patron Saint of Sunken Draft Stock probably wished he's thought of that. Defenses are scheming around him, he's criticized about his defensive strategies' and doubts have been raised about his endurance levels.
What happens after the season is for evaluators and team executives to decide, but on the flipside, Spurrier can also learn a little something from Lott.
After Lott made a football decision to snip off the tip of his finger in 1986, he admitted to regretting it afterwards and waxed poetically about the contrived definition of toughness that had spread throughout the game.
"We are losing the compassionate side of sports," Lott told the San Francisco Chronicle. "We're becoming gladiators. If I ever become a coach, I hope I never lose sight of the fact that players are people. They feel, they have emotions."
Clowney's measurables are superhuman, but he's not a tall tale. There's no cardiovascular device that can measure love for the game.
Athletes have to be judicious with their business decisions. However, paid or not, once Clowney returned for his junior season, he committed himself to his teammates for the entire year. There's no going back now. If top-5 projected picks sought to project their IPOs, Michael Vick, A.J. Green, Julio Jones and Sam Bradford would have sat out their junior seasons.
The five athletes I just names played positions that put them in much more physical peril as the target of bloodthirsty defensive ends.
Clowney's Gamecocks legacy isn't etched in stone and when or if he returns to South Carolina, he'll have an opportunity to pen the ending of his South Carolina career and solidify his draft stock.
HEISMAN JURY: These candidates are making their case for why they should be awarded the sport's most prestigious trophy. Each week, TSL will deliberate over each player's weekly exploits.
1. Trinidad Jameis Winston – Winston's dissection of Maryland's defense was a crash course in how to play quarterback and had the Terps defenses blinded by his Midas touch. At 6'4, he moves so well in the pocket, that he could be a Kaepernick or Cam Newton-type passer. Instead, he chills in the pocket and operates like Russell Wilson.
His tackle-shedding pirouette in the pocket followed by a scramble and touchdown dart at the perfect depth to Jack Nicklaus' grandson Nick O'Leary, may have replaced his Randall Cunningham-like duck and pass Hail Mary against as his signature play of the Seminoles season.
2. Johnny Manziel – Manziel no longer controls his own destiny to repeat as the Heisman Trophy winner. In Manziel's defense, he doesn't have a shutdown defense that enables him to pick his spots. As A&M creeps down their SEC schedule, we'll find out whether that helps or hurts them. A few game-winning or game-sealing drives could reinvigorate his candidacy.
3. Aaron Murray – No, Gurley, Marshall or healthy Malcolm Mitchell, Justin Scott-Wesley and no defense. No problem. Murray does it all. But check him slicing between two converging Tennessee defenders around the 40-yard line. He also set the SEC record for career passing yardage in the first half.
4. Marcus Mariota – Oregon's dominance on both sides of the ball have put a damper on his candidacy. Mariota is buoyed by the nation's third-ranked rushing offense and the second-stingiest scoring defense.
5. Bryce Petty – Petty has the second-highest adjusted QBR in the nation, but until he plays a defense that can matchup with Baylor's athletes, it's difficult to get a read on just how much of his success is a product of Briles' laser show offense or Petty's mastery. Scoring touchdowns against West Virginia's offense is like taking candy from a baby.
NO ALIBIS: Whereabouts unaccounted for at the time of kickoff.
Jadaveon Clowney – Just 'cause… We might name this the Clowney Zone and adorn the walls with No. 7 jerseys.
Brett Hundley – Hundley's versatility was on full showcase as he scored a touchdown in every way imaginable as a runner, passer and receiver. Unfortunately, he also scored a game-tying defensive touchdown in the fourth quarter against Utah.
THE ALTERNATES: Brandin Cooks (WR, Oregon State), Sean Mannion (QB, Oregon State), Lache Seastrunk (QB, Baylor)
RING OF FIRE – Another blowout in The Red River Rivalry could end with Mack Brown's firing. LSU and Florida meet in a matchup of national title contenders on life support. Only one can survive. Washington gets a second chance to play spoiler.
No. 2 Oregon at No. 16 Washington
Oregon and Washington used to be a rivalry. Oregon has runaway with their past nine matchups by 17 points or more. The Huskies defense leads the Pac-12 in pass efficiency defense, but can they stop the run? Nothing's been able to slow down the Oregon Ducks ground game, not even rain and a slick playing surface. The Huskies should be a solid tune-up for Oregon's November showdown against Stanford because of their similar styles of play. Unfortunately for Washington fans, their Huskies are coming off a crushing defeat to Stanford, while Oregon is rejuvenated and purged their roster of questionable characters during their off week.
No. 17 Florida at No. 10 LSU
LSU's defense is usually their most feared component, however, that hasn't been the case this year. Instead, the Tigers offense has been LSU's saving grace. Zach Mettenberger's in for a challenging day against the best defense he'll see all season. Texas has two people to thank for their national championship berths in the '00s. Vince Young in '06 and Will Muschamp's 12th ranked scoring defense in 2010. Nothing's been the same since Muschamp took the Florida job. Defense wins championships, however, the offense hasn't given them any breathing room. New quarterback Tyler Murphy's been a breath of fresh air.
No. 12 Oklahoma vs. Texas
It may be time for some vintage Blake Bell. And by throwback, I'm talking about running the ball. Bell was brought down to earth throwing the football against TCU's active pass defense, but on the game-sealing drive, Bell rushed for a pair of first downs, including a hit and run over a TCU linebacker that didn't even slow Bell down.
BYU's Taysom Hill proved Texas' run defense is a sieve. It might be time to test out whether that vulnerability still exists.
JUMPING TO CONCLUSIONS
Murphy's Law is a centuries old adage which states, anything that can go wrong will go wrong. Saturday's Red River Rivalry will feature a pair of programs that have been dealt low blows by the universe in the form of injuries to their quarterbacks. However, each has responded in different ways. Blake Bell used Trevor Knight's injury as a springboard to permanently hijack the starting job.
Texas hasn't been so fortunate, with Colt's younger brother Case McCoy in David Ash's stead. McCoy has already gone three-and-out nine times in two starts.
However, the weekend's other primetime matchup will feature one of the nation's most resurgent offenses. They also have a backup quarterback to thank.
While offensive revolutions have proliferated throughout college football, the Gators were stuck in an offensive funk. John Brantley, Jacoby Briskett and Jeff Driskel were each five-star prospects who were reduced to lemons. Ironically, a former two-star prospect buried on the depth chart for years has rescued the Gators offense. After Florida's Week 2 loss to the Miami Hurricanes, fans were ready to feed Driskel into an actual gator-infested swamp. After Driskel went down against the Vols, I suggested that that it was the last time Driskel would touch the field as the Gators starting quarterback.
Despite the instincts displayed by Murphy in his first start, my beliefs didn't have as much to do with his potential as it did with the misuse of Driskel in Florida's offense. Perhaps both may be the cause. Anything that could go right for Murphy has.
Turns out his 98.7 adjusted quarterback rating was the highest in the nation in Week 4. In the weeks that followed his weekly QBR ratings have ranked 11th and 13th in the nation.
However, it was unclear at the time whether Murphy could replicate his debut performance once defensive coordinators had an opportunity to prepare for him. Two starts later, the narrative has taken an unexpected twist. As a high school senior in Connecticut, Murphy was offered scholarships as a wide receiver at Syracuse and UConn pursued him on the other side as a safety. He was more likely to raise the team's overall GPA than he was to increase their weekly offensive output. Essentially, he was the Anti-Hernandez.
Scout.com recruiting analyst Brandon Huffman postulated Murphy was recruited as an actual student-athlete because of his leadership abilities and possible influence on recruiting trips for blue chip prospects.
This weekend, Murphy will make his first truly meaningful start in Death Valley. If Tyler can disprove Murphy's Law, he can overwhelm LSU. Driskel should probably begin weighing his options.