One man's beginning is another man's ending. New Hampshire is where Bryan Cranston whisked away to spend the majority of his penultimate episode portraying AMC's "Mr. Chips turned Scarface." Chip Kelly's rise from ordinary offensive coordinator at the University of New Hampshire to the Heisenberg of offensive chemistry is the inverse. Since arrived in Eugene, Oregon's offense has been the purest offensive high experienced in the last decade of college football.
Once the NCAA put the heat on his program, Kelly bolted out the door. His departure hasn't been fully felt yet by the Ducks. The Ducks are still putting points on the board at an astronomical rate. Most impressively, they haven't turned the ball over once and their scoring defense is the fifth stingiest in the nation.
If history is any indication, Oregon will have one of its best chances to finally win its first national championship this season. The question looming over Oregon fans is what happens over the next few seasons? Oregon's 39-year-old Mark Helfrich may be a pupil of Kelly's, but does he have the natural instincts and acumen to make appropriate depth chart tweaks from year to year or to lure the right recruits for their system? Or is he a Jesse Pinkman facsimile on the verge of ruining the empire that his former bosses helped build? Oregon fans will find out over the next few weeks.
For every Mike Gundy, David Shaw, Jimbo Fisher and most famously Barry Switzer – who have stayed the course on calm waters atop their respective conference after getting plucked off the staff and getting promoted to head of the table – there's a Bill Stewart, Lane Kiffin, Larry Coker or Frank Solich.
It's smooth sailing right now for the Ducks, however, Kiffin and Coker are recent examples of college football program captains who've stranded or crashed a luxurious yacht in the middle of the ocean amid choppy waters. Pretty soon, the fans on board get desperate, resort to cannibalism and start with the dude who steered them into the rocks.
Forty years ago, a 35-year-old Switzer inherited the Sooner program from New England Patriot-bound Chuck Fairbanks that had won 52 of 67 games over a six-year span including two consecutive years as the AP Poll's bridesmaid as the No. 2 team in the nation. Three months into his swanky new job, the NCAA hammered Oklahoma with sanctions. Switzer did more than keep the program afloat. The Bootlegger's Boy's cruised to consecutive national championships in his second and third campaigns. The rest was history.
Helfrich is still a mystery. As Kelly was being recruited by the NFL, the perception was that the next head coach would be a brand name with proven experience. Helfrich has never been a head coach before and he's admitted that taking over the program has been a learning process. Hopefully, he's an inquisitive leader who's paid attention to the miscalculations that destroyed the Trojans' Pac-12 dynasty.
The HEISMAN JURY (a.k.a.WHO IS HEIS(M)ENBERG?) – Which player is the danger that knocks?
Derek Carr – (Brock) The younger sibling of former No. 1 overall pick and former NFL rag doll David Carr thrust himself into the Heisman spotlight with a 460-yard, four touchdown shootout victory over Boise State.
Marcus Mariota – (Todd) Mariota is next in line to assume the Heisman mantle from Johnny Manziel (see above). Mariota has a history with Manziel. Both were once committed to the Oregon Ducks as high school prospects. Mariota's rushing yardage is up from a year ago and he possesses the second-highest QBR in the nation.
Jameis Winston – (Flynn) He's the youngest member of this Heisman list. Winston is being hailed as the chosen one in Tallahassee and he has yet to make a mistake on the field in his first three starts.
Bryce Petty/ Lache Seastrunk – (Leonel & Marco Salamanca) At this point they are the most feared pair of offensive assassins in the nation. Baylor has become Oregon of the South, which is fitting because Seastrunk has played for both Art Briles and Kelly. The Bears have the nation's first ranked scoring offense, second-best scoring defense, third in passing yardage, eighth in rushing yards while getting fat on cupcakes. We won't get a feel for them until Nov. when they face Oklahoma, Texas Tech, Oklahoma State, TCU and Texas in succession.
Johnny Manziel – (Jesse Pinkman) He throws money all over the place, parties like there's no tomorrow and toes the line between being out of control and is a recidivist rabble-rouser who seems oblivious to consequences. The NCAA's tried to catch him on a number of occasions, but he's as slippery off the field as he is on it.
Whatever Happened To…?
Braxton Miller- (Gale Boetticher) Publicly and privately, by all accounts, support each other, but Miller has to be feeling uneasy about Kenny Guiton making him look replaceable in Urban Meyer's. Before his injury, Miller was indispensable. Guiton has replicated his formula with ease. They can learn from one another, but only one can take the snaps.
RING OF FIRE – Week 4 of the college football season was as mundane as a landscape shot of Albuquerque, New Mexico. The action picks up though as the cupcakes head back to their pastry shops and college football teams head into the meaty portion of their schedules.
No. 6 LSU at No. 9 UGA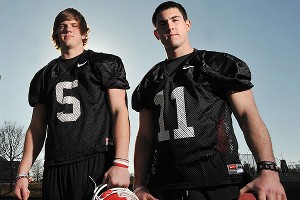 The prodigal son returns. Three years ago Aaron Murray and Zach Mettenberger, whose mother is an administrative assistant at UGA, and Aaron Murray were locked in a spring practice death grip over the Bulldogs starting quarterback position. Mettenberger was dismissed during that offseason and Murray was given the job. He'll enter their Week 5 matchup as a reborn quarterback. Last season, Mettenberger was a disaster until the Alabama game. The arrival of Cam Cameron as offensive coordinator has transformed him into a legit vertical passing threat. Fortunately, for UGA the game won't be played in Death Valley. That may or may not be a good thing. Since 1991 Georgia football has only beaten two Top-6 teams in Athens and have ever beaten two top-ten teams at home in the same season. Aaron Murray may be on pace to rearrange the UGA record book, but he's not worshipped on campus like most star quarterbacks. He's has garnered a reputation for faltering against top-15 teams and his relationship with UGA fans has been tenuous. If this loses a battle with Mettenberger, rash fans may start wondering whether the wrong quarterback transferred.
No. 23 Wisconsin vs. No. 4 Ohio State
Urban Meyer will face his former Utah Utes defensive line coach Gary Andersen. This isn't a reunion though. Wisconsin is looking to knock off the returning Big Ten rulers. Meanwhile, the Buckeyes are on a quest to recover lost prestige after being exiled from BCS eligibility over the last two years. The Badgers took Ohio State to overtime in their 2013 meeting thanks to a defense that held Miller to a season-low in passing yards and had their running game running in sand for five quarters. Wisconsin's running back factory is producing another shiny new Ford pickup truck in running back Melvin Gordon who's put the Badgers offense on his back. Gordon leads the nation in yards per game, despite averaging just 13 carries per game. For comparison's sake, Rutgers' Paul James is second in the nation with 51 fewer yards on 25 additional carries. Don't sleep on the Badgers. Last November, the Badgers nearly cracked the egg shell in the Buckeyes loss column in overtime.
No. 14 Oklahoma at No. 22 Notre Dame
This is the second year in a row that these two Midwestern powerhouses will clash. It's also a litmus test for Notre Dame's defense and Oklahoma's offense. Last time Notre Dame saw Blake Bell he was a part-time goal line mac truck under center. His first quarter plunge into the end zone was the first rushing touchdown scored against Notre Dame in 2012. That was 32 quarters into the season. This time his arm is guiding what should be an elite aerial attack. Even without Manti Te'o, Notre Dame should still be favored though. They have a 9-1 record in 10 previous scuffles with the Fighting Irish.
JUMPING TO CONCLUSION
All bad things must come to an end. Breaking Bad dims the lights on its series finale Sunday night, the BCS era draws to a close on Jan. 6, 2014 and at some point, the NCAA may split the FBS into two separate divisions of haves and have-nots. The more important change on the way may be the demise of the amateurism in college athletics.
Walt Byers, the first executive director of the NCAA, and Walter White have more in common than a first name. Walter's enterprise began in an RV with Jesse Pinkman. Their teacher-student relationship is at the core of Breaking Bad's dynamic. What began as a mutual partnership devolved into an abusive manipulation of Pinkman by Walter. Walter handled the chemistry, but Pinkman did the dirty work.
The NCAA's roots can be traced back to a cramped suite at 101 West 11th Street in Kansas City with three offices and a closet. Pinkman is an allegory for the NCAA's student-athletes putting their bones and bodies on the line for a meager payout. Since the NFL disclosed the findings of its studies, we've learned that football is just as poisonous to the human brain as methamphetamine is for dental health.
The term student-athlete was developed by the NCAA as a way for Byers to protect the member universities against worker's comp claims filed by players wounded on the field. This isn't conjecture or pontificating, Byers has admitted as such.
Jesse is the ultimate pawn. For the third time in the series' history, Jesse is an indentured servant who reached his limit. It's a predicament that college athletes can identify with. The exploitation of student-athletes has been going on for over 60 years. This isn't about academics or football leagues, the NCAA is in the "empire business"
Likewise, there have been increasingly larger cracks and fissures in the NCAA's once impervious structure. Over the weekend, student-athletes across the nation scribbled the initials APU for All Players United on their equipment to protest the NCAA's stance against compensation and for better healthcare. It was a subtle protest, but it was the most blatant signs of dissonance we've seen from student athletes since the 1939 freshmen class for the then-eight time national champion Pittsburgh Panthers went on strike until the university agreed to begin paying their tuition, room, board and auxiliary expenses.
As Breaking Bad crawls to its explosive end, the exploitative era of collegiate athletes also appears to be nearing a slow, grinding halt thanks in part to adjunct North Carolina law professor Robert F. Orr's representation of Ed O'Bannon in a class-action civil lawsuit against the NCAA over the rights to images of student-athletes.
Walls are closing in even as current NCAA cartel president, Mark Emmert, shifts the responsibility for student-athletes being restricted from the basic human right of profiting off of their own marketability and talent onto school presidents. He's not oblivious to the changing tides. He just seems determined to go out Scarface style with guns blazing to protect his organization's barrels of cash revenue.
That never ends well. Cupidity brought down Heisenberg and Walt Byers' empire is falling into the same trap. The NCAA's comeuppance is coming.