*Updated* "Road To The BCS Driven by Nissan" segment on TSL Sports Talk:
Urban Meyer changed his diet in Week 15 and it didn't sit too well in his stomach. The cupcakes left the Buckeyes' taste buds overstimulated and their fans salivating, but it was also fattening to Ohio State's ego. Their first matchup against a Top-10 team since the 2011 Rose Bowl confirmed our suspicions about the Buckeyes and grounded them after their sugar-high.
To the victors go the spoils. To the losers—cheesy, Papa John's pizza.
Surrounded by family, Urban Meyer eats postgame pizza very quietly in corridor beneath Lucas Oil Stadium. pic.twitter.com/80FtTVegWQ

— George Schroeder (@GeorgeSchroeder) December 8, 2013
Michigan State slithered up and down the field against Ohio State's defense like grease on a New York pizza. Connor Cook's 304 yards were the most he'd thrown for all season long. One week ago, Cook was a neon light against Minnesota.
In the second half, Michigan State's blizzard defense snowed Ohio State's offense in.
Meyer's lonely, binge pizza eating session was a carton of Häagen-Dazs away from being more depressing than Tebow's sideline tears as the clock winded down on the 2009 SEC Championship Game.
Saturday night may have just been the first loss Meyer suffered but more could be on the way. The consequences and repercussions may end extend to recruiting. Top JUCO offensive tackle Chad Mavety confirmed on Sunday night to Scout.com's Derek Young that he'll be making his decision about whether he's committing to Ohio State or Florida State on Monday.
De ja Vu For Missouri
A great pass rush is a requirement for disrupting a potent passing attack. Missouri's defensive line has kept opposing quarterbacks in handcuffs for much of the season.
However, it doesn't matter how easily you can get after the quarterback when he drops back to pass if he rarely drops back to throw. Nick Marshall only threw 11 passes against the Tigers. He had one attempt for each win Aurburn notched on their way to the SEC Championship.
Conversely, Missouri's James Franklin carved up Auburn's secondary by air. Missouri's towering receivers, and Dorial Green-Beckham in particular, had a day that would have had an NBA defense hack-a-Shaq'ing.
Unfortunately for Missouri, it was 2007 all over again. That was the last time Missouri let a national championship opportunity slip between their fingers.
With a trip to the BCS National Championship in their sights, the then-No. 1 ranked Tigers were blasted by Oklahoma and were cast out into the darkest corner of Missouri Tigers football history and the underwhelming Cotton Bowl victory over Arkansas
——-
How we failed to note Tre Mason's greatness is bewildering. After a pair of miracle finishes, Marshall and Chris Davis have consumed so much of the conversation that Mason's season was swept underneath the rug. We'd missed him barreling forward for 132 yards and two touchdowns in their lone loss to LSU, his 164-yard bruiser against Alabama, his 178 yards over Texas A&M and the 115 he served up to UGA.
In the aftermath of his 304-yard, four touchdown performance, his name was being mentioned in the same sentence as Heisman.
It's a sad commentary on the state of Missouri's run defense when the most sure-handed tackler Mason met on Saturday afternoon was an official.
After Auburn's Ryan White sent Missouri running back Henry Josey sliding into the corner of a golf cart, backup Marcus Murphy and James Franklin rushed for just 14 yards in the fourth. Josey's presence probably would not have made much of a difference as Auburn's rushing attack kept racking up yards for a grand total of 545 all over the Georgia Dome. The only thing that stopped them was the 0:00 on the scoreboard.
The Magnum Opus Of Freshman Campaigns Is Nearly Complete
Hey,the upside for Duke is that basketball season is back. The Blue Devils have their own freshman phenom on campus that matches Winston's pro potential—maybe. We all know Jameis Winston can spin spirals from the pocket. Peep his first touchdown airdropped into the arms of Kelvin Benjamin.
Oh, but he can do so much more. Winston must have been over the moon this week after he dodged sexual assault charges. On Saturday, he responded by literally leaping over a Duke defender.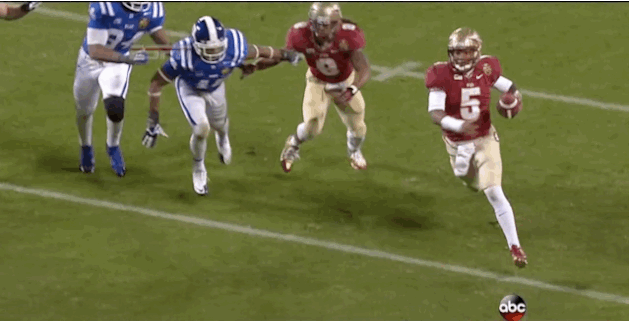 By the night's end, he'd also secured a bit of history as the single-season record holder for ACC and freshman touchdowns.
Case 'The Counterfeit' McCoy
Sometime after 3:30, when Jalen Saunders secured Blake Bell's touchdown pass in the right corner of the end zone, the Texas vs. Baylor matchup went from being the Mack Brown Living Dead Memorial Game to the de facto Big 12 Conference Championship Game.
It took just 13 minutes in the third quarter for Baylor to spring a 3-3 defensive showdown into a 20-3 jailbreak.
Texas' second half vanishing act was on the level of David Blaine freaking black people out with magic. It wasn't unexpected. Texas' defense fought against the current as long as it could, but they were ultimately swept out to sea by a tsunami in the third quarter.
If Brown returns to Texas next season, the athletic department has to be either commended or ridiculed for their loyalty. I'm not sure which on yet. Brown may not return next season, but on a positive note, neither will senior Case McCoy, whose patented pass into the turf didn't help Texas' cause.
Colt was the real McCoy for Mack Brown. Case is a part of history Texas fans would rather erase from their memory banks.
Not recruiting Johnny Manziel, RGIII and Bryce Petty was one thing. However, while Jameis Winston is accepting the Heisman Trophy and becoming just the second freshman quarterback to ever shepherd a program through the unfamiliar murky waters of an undefeated 13-game regular season, keep in mind that Brown ignored Winston's pleas to recruit him.
That alone should count as two strikes against him.
Against Baylor, McCoy complete just 12 of his 34 attempts for 54 yards!!!!!! There were Dr. Pepper Quarterback Challenge participants with better accuracy.
After the loss, McCoy showed no sympathy for Brown's precarious unstable job security.
He has a loose definition of "playing" RT @justinwells2424: "We played for us, not him" – Case McCoy, on Mack Brown's potential swan song

— DJ RedHerring Dunson (@CerebralSportex) December 8, 2013
To piggyback off that tweet,eEither that, or McCoy has low self-esteem and aims low. Instead of heading to the Fiesta Bowl, it appears the 2013 'Remember The' Alamo Bowl will be the site of Brown's last stand. Looks like he'll have to dodge a little friendly fire and errant passes from his own sidelines on his way there.
Week 15's Did You Know Moment…
Did you know the Pac-12 staged a championship game this weekend? Because they didn't have a hand in the national championship race, the second-toughest conference in America went virtually unnoticed. Arizona State versus Stanford deserved a little more love and fanfare. Instead, we got a tree falling in forest situation: Nobody heard it. Unfortunately for ASU, it was a Stanford Tree collapsing and pinning them to the turf.
Stanford made sure there was nothing significant to report. The crowd that witnessed the Pac-12's Rose Bowl Semifinals witnessed a defensive autopsy as the Sun Devils were held to half of their previous season-low at home.
Stanford's quarantine of offenses led by mobile quarterbacks continued. D.J. Foster scored two touchdowns, but Taylor Kelly had a sub-.200 yard passing day and limited explosive plays in his ugliest outing of the season. As a result, the Holiday Bowl awaits them.
At the end of the day, Stanford is still Stanford and Arizona State is still, well, Arizona State.