The compelling themes as we enter the 2015 MLB season were thought to already be in place. A-Rod returns from the longest PED suspension in MLB history and seeks Roids redemption with the Yankees in the post-Jeter era. Bud Seligs legacy is now cemented in baseball lore. Hes no longer MLBs savior or Pete Roses legacy controller. Rob Manfred begins his official reign as baseball kingpin with an open mind and a vision to diversify and expand the game internationally. Are the re-tooled Padres for real?
These are some of the questions that the average MLB fan ponders as we await next weeks first official pitch. At least they were until Pittsburgh Pirates star Andrew McCutchen AKA Baseballs Natty Dread cut his long, luxurious locks and decided to sell his hair for charity last Wednesday.
Each lock will be auctioned off on MLB.com with the proceeds benefiting various Pirates charities. He's been tweeting information about his shocking decision on his Twitter account: @TheCUTCH22.
McCutchen posted a video on YouTube saying it was time for a new change before showing the process. He chuckled as he watched them getting snipped one by one. The 28-year-old then had a few small designs shaved in and clapped his hands after the transformation was complete.
It was surely a blow to the dreadlock community and the visibility and mainstream acceptance McCutchen's hairstyle has awarded them.
In the piece, The History of Dredlocks by Knotty EmX on knottyboy.com, he explains how Rastafarianism was born in the 1930s when Ras Tafari was crowned emperor of Ethiopia. When the emperor was forced into exile during an invasion, guerrilla warriors swore not to cut their hair until the emperor was reinstated. The religion resonated with the ideologies of the day, for example socialism, Marxism, nationalism and black power. It was therefore, seen as a threat to Christianity and came under attack by the authorities that tried to suppress the 'Rasta' movement and imprisoned those who possessed 'ganja'. Rastafarians smoked cannabis because they thought it prompted a clearer state of well – being. Their dreadlocks were thought to be disgusting and frightening, hence the term 'dread' which was later reclaimed by the 'Rasta' community.
The hairstyle was later brought into mainstream culture through the worldwide impact of reggae artist Bob Marley, whose powerful music prompted an international interest in the style, and the anti-establishment philosophy of Rastafarian culture.
Dreadlocks became increasingly popular. They can be an expression of deep religious or spiritual convictions, a manifestation of ethnic pride. They can make a political statement, or simply be a fashion choice.
On the more radical end, some believe that cutting your hair saps you of the strength gained by its growth. Dreadlocks are more than just a symbolic statement of disregard for physical appearance. Both Eastern and Western Traditions hold that mental and spiritual energies mainly exit the body through the top of the head and the hair. If the hair is knotted, they believe, the energy remains within the hair and the body, keeping a person more strong and healthy.
For instance, in the tale of Samson and Delilah, a mans potency is directly linked to the seven locks on his head (the biblical Sampson wore his hair in dreadlocks, and his unsurpassed strength was lost when Delilah cut off his seven locks of hair). According to Roman accounts, the Celts were described to have "hair like snakes." Germanic tribes, Greeks and the Vikings are all said to have worn dreadlocks too.
W'ell find out soon enough if McCutchen is a compromised player, but truth be told, he never had dreads because of religious or political orientations.
Over the past 15 years, everyday people and entertainers from baseball players to hip-hop performers — have rocked dreads mainly as a fashion statement. McCutchen brought a lot of attention to his stellar game with them. There was no doubt who was in centerfield for the Pirates, running like the wind, hair blowing as he closes in on a sinking line drive.
People have always been obsessed with hair and McCutchens joints were not the typical head dressing for a baseball player. In a way, the dreads categorized him as a leading face of a particular hair movement. In hip-hop it became guys like Lil Wayne and 2 Chainz.
The socio-political connotation associated with dreads (as a symbol of defiance, individuality and strength) endears athletes who wear them to an entire community of dread-wearers of all ethnicities who share a tribal and common bond through hair. Some arent even baseball fans.
McCutchens popularity and the cities connection with his hair created a mania.
Players have rocked dreads before. Remember Manny Ramirezs Dominican version? When Manny was making a comeback from his PED suspension in 2013, he had to comply with the Rangers' minor league team policy and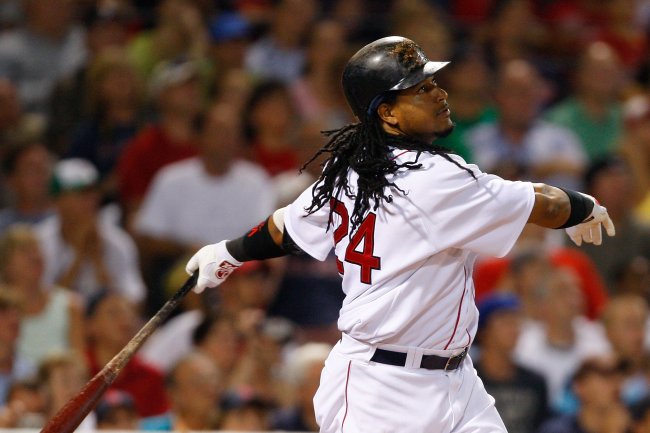 McCutchen, however, was known for the hairstyle and his new, stylish cut is definitely an end of an era. While people will equate his peak as a Pirate and his 2013 MVP Award with his days as a dreadlock-rockin, ball poppin baseball dynamo, this is also an opportunity for McCutchen to show growth and maturity. Hes elevating his social status from young superstar to boss veteran and from cartoon character to what he should be recognized as a Top 5 player in the game.