On Thursday, the NBA announced the starting lineups for the upcoming All-Star Game in New Orleans. There remains a division over whether fan voting should decide who receives recognition for being one of the top-10 basketball players in the world at any one time. However, that's a moot point. This is a game for the fans.
However, the elite shouldn't be alone in receiving acclaim at this time of year. There are tiers of players that also deserve props. The rookies will be staging their annual novice showcase on Friday night, on Saturday the pure athletes pull out their tricks before the main attraction on Sunday night.
However, I'm a firm believer in that just as the cream rises to the top, the dreck that sank to the bottom should have its day in the sun. The top-five worst NBA players in each conference midway through the NBA season need a reason to pick up the slack midway through the 2014 season. On Monday morning while the rest of the league is recovering these 10 players should play shirts vs. skins in a sweltering, musty gym sans air conditioning.
Before the Academy Awards announces its Best Picture, Best Actor and Best Actress picks in February, the Razzies annually recognizes the dichotomy between those at the peak of their artistic profession and those scraping rock bottom.
The worst of the worst. On Monday, while everyone else is resting, these 10 men should have to play with the microfiber composite Cross Traxxion basketball the NBA introduced a few years back that left cuts all over the hands of players. The hope is that it will produce passing, less driblling and promote the participants' latent desires to play fundamental basketball in the future.
We can look up at All-Stars because they've reached the zenith of their sport. We marvel at them for one weekend in mid-February like constellations in the sky. On the other end of that spectrum is the All-Asteroid Team. Like the cold space rocks floating aimlessly until they find a planet to destroy, fans would like to jettison these players into a black hole.
Here's how I anticipate the All-Asteroid Team voting panning out. A few guys are playing out of position, but I didn't say this would be a well-coached team either did I? As you can imagine, the East had a larger pool of players to choose from than the West. The MVP trophy will be an asteroid bricking off a hoop that symbolizes the earth's orbit.
WEST Coach – Bruce Willis: He has experience with neutralizing disasters as the leader of a ragtag group of Texas oil drillers with eccentric and volatile personalities.
Ricky Rubio: Ricky Rubio entered the NBA Draft five years ago with a mountain of promise, however, while he continued to pursue his pro career overseas, questions began being asked about the lack of development of his shooting. His form isn't terrible, but his Tebow-like release is one of the NBA's slowest and therefore one of the easiest to defend.
What's odder is that based on his shot chart he's worse attacking the rim. There's nothing to like about his shooting and is affecting how teams defend the Timberwolves. He's a wizard with the rock, but until he starts hitting some shots, he's essentially an overexposed Spanish Harlem Globetrotter.
Austin Rivers: I've never seen a man make James Harden's D look more tenacious than Jack Black and Kyle Gass by comparison – then get roasted by his own franchise's broadcast team.They're basically paid homers. That's an impressive feat.
Much was expected from Rivers. People forget that at one time, he was projected to be a top-five NBA draft pick who was drilling step back game-winners over Duke. However, he's come up extraordinarily short. In his second season, Rivers is shooting 39 percent from the field and making 58 percent from the free throw line! He's converting from the charity stripe worse than Roy Hibbert this season, but he's actually improved since his rookie year.
That's not saying much. His 56 percent career free throw percentage is actually lower than Dwight Howard's. If the Hornets really wanted to get under Doc Rivers' skin, they'd offer his son to the Clippers in a trade just for the sheer entertainment of watching Doc decline the offer then have his wife admonish him publicly for not spending enough time with his son (or stepping down as Celtics coach so he could watch his son play at Duke like promised and threaten to join the cast of Vh1's Real Basketball Wives.
He'll sleep in his office for a week, wake up the morning before the trade deadline, do an about-face and they become the NBA's Sanford and Son.
Tyreke Evans: The former rookie of the year has a degenerative disease. It's called his hoops game. Evans was signed with the intent of being New Orleans' younger, less follicle-challenged Manu Ginobili. He's shooting 41 percent from the field, and 18 percent from the three-point line. The 6'6 combo guard has inexplicably regressed every year since his rookie year. He's the incredibly shrinking combo guard with the incredibly ballooning contract. Don't worry though he's got a contract year beginning in two years. You can expect a brief spike then.
Tayshaun Prince: The former All-Defensive Teamer's defensive value has declined like Tyreke Evan's three-point percentage. He's moving like grits on team "Grit and Grind" and getting burnt like toast. His 8.2 player efficiency rating is the lowest of his career and the Memphis Grizzlies are poised to miss the playoffs.
Omer Asik: Captain of the All-DNP Team is still sour about not getting traded to another team after the Rockets signed Dwight Howard. When he's on the floor, he's a double-double machine and a defensive deterrent in the post, but right now he's busy throwing a temper tantrum and hasn't played since December 2, so those are all moot points. Even better is that the capsule in his poison pill third year of his contract bursts open next season. Hopefully, dodging this bullet is enough to make Kendrick Perkins smile.
EAST Coach – Maurice Cheeks (for allowing Josh Smith to chuck threes from the rafters like he's imitating Larry vs. Michael playing H-O-R-S-E for McDonalds)
Dion Waiters: The tables have been turned on Waiters getting served all season long. He's threatened to fight much larger teammates like Tristan Thompson, accused teammates of playing favorites and has been a locker room malcontent. On the floor, he's a turnstile on defense, a bricklayer with the rock and undersized as a 2-guard. Cavs fans were already frustrated with him by mid-November.
J.R. Smith: Smith's impulse for untying opposing player's shoes is analogous to the loose screw he apparently has rattling around his dome. As you'll see from the next player on our list, Mike Woodson has terrible luck. Smith dribbles the shot clock down like he has no concept of time, he's erratic, wields way too much power within that organization and is a mushroom cloud waiting to happen every night. What's worse i that his scoring average has declined by seven points per game from last season.
Andrea Bargnani vs. Anthony Bennett: This spot came down to a pair of former No. 1 overall picks. Bennett has been so atrocious that him being a rookie doesn't shield him from the wrath of the All-Asteroid team. I'm not even talking about his in-game performances because those don't happen anymore. I'm just imagining how he looks in practice. He's to tweeners what the lion that attacked Siegfried is to aspiring lion tamers. On the other hand, Bargnani has been griping about escaping Toronto only to land in New York City and fail to do the one thing he's good at—shoot the three. He's shooting 27 percent from three point range and doesn't play a lick of defense. Behold his mastery of matador defense.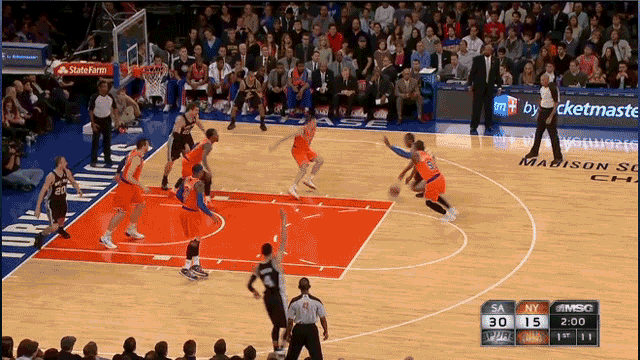 However, Bargnani tore a ligament in his elbow Wednesday and will be out of action for the next few weeks so Bennett gets the spot. Hopefully this compensates for when LeBron James was snubbed as a reserve pick by the coaches for the 2004 All-Star Game after recording 20-5-5 during his rookie season.
Josh Smith: Young Matrix is second-to-last in the entire league in catch-and-shoot three point field goal percentage among players who attempt at least three per game. Part of the reason he spurned the Houston Rockets in the offseason was that he reportedly wanted to play small forward instead of power forward.
It worked out better for Houston, which found a stretch-4 in Terrence Jones on their bench. Smith works best near the basket, but his penchant for drifting has made him an ineffective scorer for the Pistons and he hasn't contributed anything to the large frontcourt on the boards either. The lineup of Smith, Drummond and Monroe has one of the league's worst plus/minuses when they're on the floor together.
Smith's shot chart is colder than MetLife Stadium on Super Bowl Sunday. Anytime he shoots a trey, forecasters predict a 30 percent chance of hail– or frozen air balls. Not only is he arguably the worst three-point shooter of all time, aka the anti-Steph Curry, but a higher percentage of his shots are coming from behind the arc than during any season in his career.
In case you were wondering, the 2009-10 season which was the apex of the Woodson-Smith feud was also the best winning percentage for the Hawks franchise since 1997 and the final year of Woodson's tenure. Are Josh and J.R. secretly brothers or something? In case it's not clear by now, he's my pick for All-Asteroid Least Valuable Player.
Larry Sanders: It's tempting to put Andrew Bynum in the starting lineup, but his biggest issues were attitude and injury related. A bar altercation resulted in him missing the first seven weeks of the season. Since his return, he's averaging just 6.7 rebounds, 6.7 points, shooting 44 percent from the free throw line and Milwaukee wields an NBA-worst .195 percent winning percentage. Those averages are all down from last season. Sanders is one of a litany of players whose play has plummeted after tricking general managers into buying into his "contract" year performance.