(Scoop wrote a three-parter on the AF1.You can check out Part 1 and Part 2 here.)
"The city never sleeps/full of villains and creeps/that's where I learn to do my hustle/had to scuffle with freaks/I'm an addict for sneakers/20s of Buddha and bitches with beepers…"
-Nas, "N.Y. State of Mind"
"Thanks to the duffle bag/the brown paper bag/the Nike shoe box for holdin' all this cash."
-Jay Z, "Roc Boys"
There are so many things unknown and untold of the Air Force 1…of the life it's lived.
…of Baron Davis: Of when he was a Nike athlete keeping at all times 100 fresh, uncreased, in-the-box pairs of white/white AF1 lows. Of how every two weeks, after he'd wear at least four pairs maybe twice, he'd have four new pairs sent to him and give the "old" 1s away.
…of Charles Barkley: Of the 3000 – read again, 3000 – pairs of kicks he owns; he had more AF1s than the kicks Nike made with his name attached to them. Of how players who were signed to other shoe companies, players who played the games and showed up in practice in whatever shoes they were contracted to wear, the second practice and/or a game was over, left the arena/stadium in white/whites. Same thing when they'd be at home, or when they hit the club.
…of Kobe Bryant: Of how before Nike created the Kobe System line of sneaks, he kept white/whites on his feet when making public appearances. Especially when speaking to high school kids.
…of LeBron James's personal collection: Of the over-fifty pairs Nike has designed exclusively for him…so far.
…of the original six: Moses Malone. Bobby Jones. Calvin Natt. Michael Cooper. Michael Thompson. Jamaal Wilkes. Of the original poster. Of them each having their own signature Air Force 1s.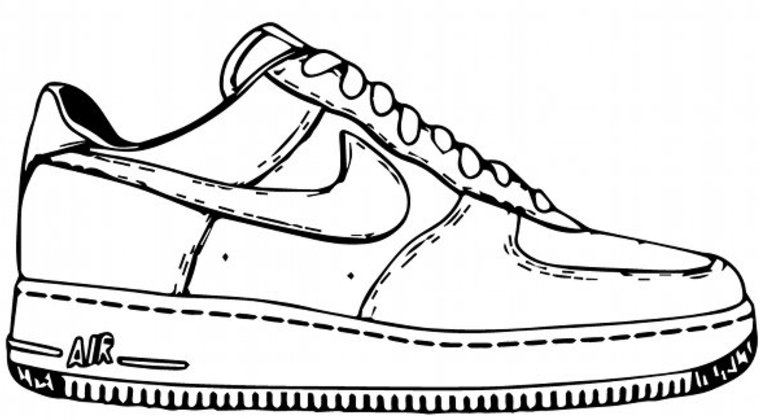 Join Scoop Jackson on the TSL Facebook Page this Friday at 11 am ET for an AMA on Air Force 1s.
…of Jay Z: Of him having his own shoe by Reebok, but wearing 1s during high profile events, including concerts and commercials. Of Fat Joe licking the bottom of his every time he got a new pair. Of Dapper Dan. Of Rakim on the Don't Sweat The Technique album cover. Of appearances on Yo! MTV Raps. Of Tigger's basement on BET. Of Nelly's song. Of Nas's, "I'm a Nike head/I wear chains that excite the Feds" line in "Halftime." Of Chuck D's "I like Nike but wait a minute…" lyric from "Shut 'Em Down." Of Common when he was Common Sense in the "Take It Easy" video. Of Clark Kent's claim in Peace magazine, "I had 4800 to 5000 pairs at one time. That was sneakers and 95% of them were Air Force 1s."
…of Marlo Stanfield on The Wire, and of an entire episode ("Turtle AF1") dedicated on Entourage.
…of the new "cross breeding" with other Nike shoes, including limited edition Barkleys and signature numbered Jordans. Of designers Eric Avar and Kevin Hoffer's desire almost 10 years ago to reinvent the shoe.
…of the Andre Iguodala X Marcus Troy "bespoke" hook up.
…of faux Louis Vuitton customization. Of "real" Coach leather. Of those $2000 crocodile Masterpieces. Of the priceless Mark Smith lasered Premiums. Of the $220 "Year of The Dog" pair that made Time last year. Of Mr. Cartoon, Tangible Thoughts, Stash, Chris "C2" Hui and all other now-ghetto superstars who have made 1s Picassos for the streets. Of "biting" Bapes.
…of being able to move what equates to $15M worth of units a year of the most socially relevant product in sports without any association or assistance from Tiger Woods, Peyton Manning or Michael Jordan.
…of Rasheed Wallace.
…of the concrete on which we stand on.
***
In an office in San Francisco while working on Sole Provider: The 30 Year History of Nike Basketball (Powerhouse Books), when it came to the part where I had to write about the Air Force 1, I remember the book's architect and designer, Ray Butts pulling me to the side and saying very seriously: "This has to be the best piece of writing you've ever done in your life."
Ray Butts: "This to me was the most important shoe in basketball history, and what we were going to say about it had to represent that and also represent what the shoe meant to urban America."
There were a lot of fresh Air Force's. These were the freshest»
He knew then, over 10 years ago, that it would come to this. That this shoe was worth, and had earned, all celebration and recognition. He knew there would be parties across the globe celebrating the shoe; he knew documentary films would get done documenting its life; he knew magazines were going to dedicate entire issues showcasing the variety of styles; he knew that for the 25th anniversary there would be a release of a new 1 every week of the year, and that for the 30th there would be something bigger done in its honor.
He knew that there was going to be a second coming.
Which brings it back to basketball, back to where it began, back to where Bruce Kilgore saw it, back to where the original impact was made.
Back to the connection of the original six NBA players and the new 10 NBA ballers. The new marketing plan. "Even with us," Rudo remembers, "It started with the poster of those six players in our store's window."
But from there it was the design that carried the shoe. As performance was the principle, the design of the Air Force 1 is what has, over the 30 years, given it an existence that no other athletic shoe – not even the Chuck Taylor All-Star, adidas Pro Model/Superstar, K-Swiss original or New Balance 574 – can claim.
In all honesty, Nike hopes that the 2012-13 XXX versions (including the AF1 "Downtowns" and "Nylon" packs and "Foamposite Pro Lows" just to name drop a few) re-energizes the same shelf life of the classic, knowing all too well that the 30 years they had with the original will never happen again. And not with any other shoe.
"The fact that we are still talking about a shoe for 30 years is crazy," Tony Gervino, former editorial director of Antenna and current editor at the New York Times. "But there's always been something special about that shoe, something that can't be explained. It transcends sports, lifestyles, incomes and cultures. People, Michael Jordan, Tiger Woods, Oprah, are supposed to do that, not gym shoes. It's almost magical."
But it is Bonsu Thompson who sums the story up best. "The reason the Air Force 1 is so big in the urban community, is because a large portion of the urban community lives in poverty. And when you live in poverty you have to stretch everything to the limit. Now keep in mind, we still gotta stay fresh regardless of the income. But if you can get away with one shoe that you can ball in, go to school, go to dinner, go to church, one shoe that you can dress up, dress down, and still be clean because you keep the shoe clean, and that one shoe goes with everything? If you can only afford one shoe, if you are young and black living in the 'hood, what shoe would you choose? That's why the Air Force 1 means so much to us; it gives options to those that don't have many. It's been a part of our struggle."