(Ed Note: Scoop Jackson wrote a three-part series on the history of Air Force 1's. Click here for Part 1 and look out for Part 3 on Friday)
The words of Bobbito Garcia.
"In 2000, I embarked on writing, "Where'd You Get Those? New York City's Sneaker Culture 1960-1987" (Testify Books) specifically to knowledge everyone – the industry, the new generation of sneaker heads, and uninformed media – just how all this started. I unequivocally proved, through my own experiences and with sociological perspective, that African-American and Latino kids living in New York during the '70s and '80s with no resources created this whole sneaker culture phenomenon. We were the generation that changed the approach to how, when, and where a 'gym shoe' could be worn, and in what quantity they could be owned. It's a pure New York sensibility, owning to hip-hop, playground basketball, and the street culture. We wanted to be unique, differentiate ourselves from others – which sparked customizing, accessorizing, cleaning, storing, hunting, all that. The global industry recognizes our contribution, that's why you see so many collabs with guys from my era."
Outside of the Baltimore influence came the entire influence of a country unknowingly defining itself through sneakers.
Around 1985 adidas created a "special" pale navy blue make-up of their Forum with fur-laced (fleece) interior, strictly to be released and sold only in Detroit. Which in its own right caused such madness that folks from all other major Midwest cities like Chicago, Gary, Ind., St. Louis, and Cleveland, all wanted to recreate the I-95 magic. That is, until they realized that one, there weren't that many shoes made, and two, Detroit is more than two hours away from each city. Five hours was a long way to drive for some kicks.
Out West, red and blue Converse Chuck Taylors (taking advantage of the constant 70-degree weather that is conducive to collecting canvas sneakers) became as much a part of the Crips and Bloods red, black and blue war as bandanas and skullcaps.
As Simone Weichselbaum wrote in her 2006 piece for the Philadelphia Daily News about the depth of urban aesthetic to those that create it:
"A desire for designer clothes and shoes drove both Mikey (17) and Donnie (16), two young drug runners from Philly, to the street corners, or so they say. Their families couldn't support their hunger for blue jeans, Nike sneakers, Lacoste shirts. The boys said they had no other choice but to find the easiest and closest job available: hustling. "I had to do me," said Donnie, explaining in street slang that he had to survive. Shoe companies – especially before they created the term "lifestyle brand" – turned away from what was really going on and realizing what's always been known, "if our product is embraced by the 'hood the rest of the world will follow."
There were a lot of fresh Air Force's. These were the freshest»
"Nike made that shoe accessible to the community," Bonsu Thompson, shoe aficionado and a former editor at King and XXL magazines. "They targeted the black community, they put that shoe on the right peoples feet. They knew what they were doing."
A philosophy that over the years has been just as profitable and relevant as "Just Do It."
"The Air Force 1 was a straight up gang shoe." Ronald "Doody" Smith spoke his truth from his home in Holland, Michigan in a 2007 interview for this original story. A father of nine at the time, Smith was a shoe head since he was 12 years old, running the streets of Chicago. Then, at 31, with a fresh pair of 1s on his feet, he knew and preached what the Air Force 1 meant to one segment of the street's couture (not culture) back in the day.
"That shoe was the shoe all of the dudes bangin' would keep on their feet. Nothing else. Maybe Tims, but other than 1s … no one gave a f— about nothin' else."
But it's deeper than just tales from the crib and being in every episode of The Wire. The true story of the Air Force 1 is closer to the story of the black renaissance, and the reason "gear" (aka: clothing, etc.) means so much to a displaced people who throughout history have used sports, entertainment and "hustle" as a lifeline to survival and escape.
Like F. Scott Fitzgerald's The Great Gatsby, Ernie Barnes' "Sugar Shack," any song by Holland-Dozier-Holland, Frank Miller's The Dark Knight Returns, Marni Nixon or Kim Burrell's voice, or a 1971 bottle of Dom Perignon, the AF1 has been a signature inside the pursuit of how a people have learned to live.
"The Air Force 1 is the only shoe that belongs to a particular culture," says Isaac Perry author of Nike's Air Force 1 Premium book and host of a Nike online shoe documentary Laced.
"And because of that, black culture – not urban culture, there's a difference – has a sense of ownership over the shoe. And because of that the value of the shoe has not diminished."
It was introduced – by accident – in the middle of a force that was in the infancy stages of becoming the next rights of civil movement. Hip-hop in the early '80s was just finding its legs, learning how to walk. And just like the musical and artistic renaissance that came out of Harlem 60 years before, the music and art that was driving hip-hop was searching to establish a style that would define exactly what it was and what it wasn't.
"When you think of the way black men have always dressed, being fresh is not a new concept," says Beth Gillies, former Sportswear Director forVibe and currently co-owner at Strategy Factory. "The photographs by James Van Der Zee of the 1920s Harlem Renaissance show men from celebrities to regular church going folk in their finest suits, spats, fedoras and fur. The shoes were shined, the angle of the hat, precise, the suits, pressed. This style and polish carried on and was exemplified by Sidney Poitier and Harry Belafonte in the '50s to Puff's hand-tailored suits today."
And although the steppers (shoes) were often the least extravagant of most wardrobes, they were the most essential. Which is why Stacy Adams, Mauri and Foti are to this day mandatory soles for soul.
But they are not "kept" like 1s. No shoe in the 'hood is. Which begs for the social inquiry of why people who collectively have so little, collect so many? Why, in the black community (specifically), from where the shoe found life – a community that is often painted as impoverished and under-employed – has a shoe become one of the centerpieces of cultural importance?
Something far beyond a simple $80 element of style.
In Departures: The Cultural Issue (May/June 2006) Paul Theroux writes: "The collectors instinct, which is also a powerful appetite, begins with a glimpse of something singular and a smile of recognition as though the collector has noticed what Arden once called 'a soul-bewitched face.' The collector has fallen hard, but the feeling cannot be openly expressed or the collector's urgency will be betrayed. Meanwhile, emotion takes hold as the collector lingers, from fascination to acquisitiveness, the feeling deepens, becomes tinged with a kind of benign lust, and next a sense of calculation, and finally a blatant greed for possession. The collector's catchphrase is 'I must have it.' So much ambiguity seems almost dangerous in it's seductiveness. Yes, it is a kind of passion."
How could someone so disconnected from this urban phenomenon be so on-point with an explanation? Or do his words and philosophy just fit the profile?
No shoe has generated the authenticity that the Air Force 1 has. It is as pure as the culture it came from, and it has grown as the culture has. As Perry says, "wherever basketball went, so did the Air Force 1." And beginning in 1982, when the basketball culture and the culture of hip-hop began to "find each other," the Air Force 1 was at the center of both. It became a symbol, the embodiment of BDPism and NWAism and every Charles Barkley sound byte in between.
And just as the Ferragamos were essential to Hollywood in the '20s and spats to mob bosses and gangsters in the '40s, the Air Force 1 became that to the culture of hip-hop. The cleanness and universality contradicted everything that hip-hop stood for, but that contrast exacted the genres definition of style and substance.
As DJ Clark Kent, the owner of a legendary collection of Air Force 1s and co-host of Complex.com's "Quickstrike," says in Thibaut De Longeville's classic sneaker documentary Just For Kicks, "Everyone saw us start it. The Air Force 1 thing comes from Harlem. They were wearin' them in the Rucker games, they were wearing them in the tournaments Uptown, that's where it comes from. We started that Air Force 1 thing."
(Below is a recent Nightline appearance by Clark Kent.)
***
He has trouble with the word "proud." His humbleness is often extreme. He feels his involvement with the shoe he created has nothing to do with its success and what it has become.
Bruce Kilgore sits on a white leather couch, cotton mock neck shirt under a black crew neck sweater, with an old, almost antique pair of Layers low 1s on his feet with brown dress socks. Not urban chic; nothing close to hip-hop fashionable. A simple look, very Curry Kirkpatrick. His hands, stubby. Clean. In movement when he speaks.
It's 2007. He's being forced to look back.
"We took the shoe around in pick-up trucks to colleges to wear test," he says, speaking of the days of old in Boston when he and his partner (Bill Hayes) were not simply designers, but part of the marketing and distribution team for Nike. "When we didn't get the shoes back, we knew we were on to something."
He created the shoe out of what he felt at the time was a necessity in the game; his inspiration, a hiking boot. "The core approach," he will always tell you, is "to performance. It always comes first."
But in the midst of creating the perfect basketball shoe, Kilgore – a middle-aged white man who was once designing washers and dryers in Detroit and is now considered the "godfather of the modern basketball shoe" – created something that can't be detected on any bio-mechanical test done on shoes today before they hit the shelves or the feet of those who will end up never playing basketball in them. Kilgore never expected his shoe to have a life like this. He never expected the 'hood to take his shoe under.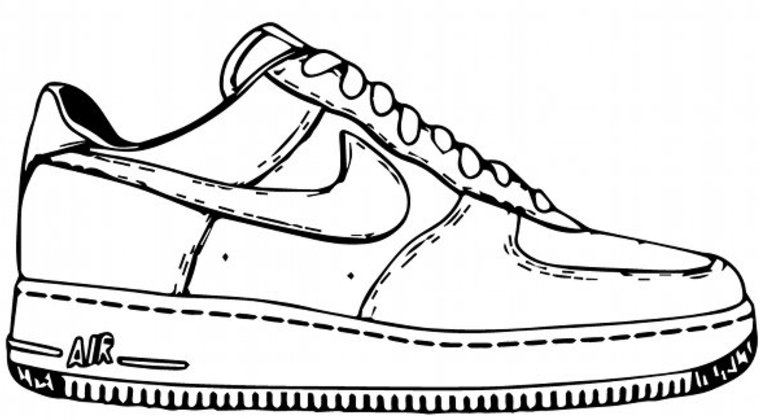 Join Scoop Jackson on the TSL Facebook Page this Friday at 11 am ET for an AMA on Air Force 1s.
"Yes, you could say that I had a lot of influence in the design of (the Air Force 1), but the fact that people have embraced the product and it has now taken on a life of its own and has this huge following, I have absolutely nothing to do with that."
He looks around to make sure Nike PR is missing, nowhere around to harness what he is saying. "This is more about the people who created the following for the product more than it is for what I designed. Obviously, there are a lot of people that cherish this product. Where I struggle, honestly, is with taking credit for what the product has become. That is something I struggle with."
But still, he'd created something that would stand the test of time and become an integral part of the socialization and professionalization of the African-American youth in the later part of the 20th Century. Something that would by the end of the century spread worldwide.
"If you look at the classic designs of all time," Tracy Teague, who designed the AF25 says. "If you look at the most classic designs of all time in any area, take the Porsche 911, take the Coco Chanel dress, you can add little things to it but you can't change the design. The concept has to stay the same because (certain things) stand the test of time. If you go back and ask any designer what they would do to change the Air Force 1, they'd say, 'Nothing.'"
(As of 2013, there have been more than 1,700 versions of the Air Force 1 created.)
The ventless three-button suit jacket. The one-pleat pant. The Italian herringbone necklace. The design of the modern baseball, the football, and even though they tried to change it, the basketball. All extreme in simplicity. All extremely beautiful in their raw nakedness and the fact that their form often gets lost in their function, in the purpose that they serve.
Or as Jim Wicks, designer of the Motorola RAZR said in GQ, "Something doesn't have to be high style to be great design."
And as in most classic, irreplaceable designs of modern history, they lend themselves to the lifestyle of the times in which they exist. The form follows function. In the case of the Air Force 1, it's the adaptability of the shoe's form that puts it in a class of classic design that partially explains the way we live. Decoded: The Air Force 1 is one of the few "accessories" (because shoes and caps are considered accessories in most apparel industry circles) in modern sports and society that "look just as good" with jeans, sweats, leggings, dresses, khakis and shorts.
And to some … tuxes.
As John Getty, legendary in the shoe game for being involved with the revolutionary (now defunct) sneaker website NDemandConceptz, said years ago in Sole Collector, "Dunks (another Nike legendary sneaker) and AF1s will always remain timeless, more so with AF1s because of a few things – the simple clean lines of the shoe, comfort and its versatility. Because of the Air unit, I've always been more so a fan of the AF1 … the thick sole helps keep their look current and more in line with other, more technologically advanced shoes. (There is) a simplicity about them that will always allow them to sell, even when the masses stop seeking and consuming them like they are now."
And in a marketplace where in 2005 it was reported $26 billion was generated (and according the Sporting Goods Intelligence, Nike controlled 38 percent of the athletic footwear market), only 20 percent of those sneakers sold were attributed to use for athletic purposes. The other 80 percent of the revenue sales were categorized under "lifestyle." For the Air Force 1 "lifestyle" is code for urban/hip-hop fashion, which makes the fact that it adapts and translates from sport to streets better than all others even more eminent.
"When art meets design it lends itself to timelessness," is how John Gay explains it.
Gay is the president of JAQ Corp, a commercial architecture company that is one of the leading companies in innovative building design. From an architectural perspective, Gay looks at everything with an intricate eye on style. He builds buildings on the basis of heritage specific to a culture. He understands the importance of the connection between elements of design and the people that embrace them.
He, too, rocks 1s.
"When you look at Otto Vagner's (of Austria) work or Le Corbusier (of France) or Louis Sullivan (of America) you can see how each of their design styles set the mark for the period. That's what classic design does. People that pay attention to history keep it going. True designers set the mark for the period."
Which puts Bruce J. Kilgore in the category of the James Naismiths and Abe Sapersteins of the world who helped shape the lives and lifestyles of millions of African-Americans (and other minorities) almost by beautiful default.
In perpetuity in the soul of a culture. A definition of style. As once poetically written, "White steel in the hour of chaos."
Classic in structure and minimalism, the AF1, in this context, is the aforementioned Porsche 911 equivalent. It is what the Daytona is to the Rolex line, what a Technics 1200 is to DJs, what Levis 501 is to jeans, what Ray Ban 3025 Aviators are to sunglasses, what a Frank Lloyd Wright home is to architecture.
But to the place where it's lived most of its life, it is what churches and liquor stores are to the urban community. Omnipresent and necessary … and not just to the 'hood the Air Force 1 serves. To the game of basketball – both on and off the courts, on concrete or wood, in South East DC or Singapore – the AF1 has been just as significant. Almost every player in the League today that came from "the block" had or has some type of relationship with the Air Force 1. At different points in their lives, it is almost certain, all owned a pairpairs. Kilgore, in all the beauty that comes with his ability to stand back and watch his product evolve – and as reluctant as he can be to take credit for the influence his genius has had on society – he does relinquish one truth about the Air Force 1 that can not be argued, even a quarter century after the fact.
"It certainly set a different course for the basketball shoe."
He smiles when those words leave his mouth. His hands stop moving.