As has been tradition each April 15th since 2009, MLB will celebrate Jackie Robinson Day with all players and on-field personnel wearing Number 42 during today's games, commemorating the 70th anniversary of the Legendary Hall of Famer breaking baseballs color barrier and changing America forever in 1947.
Robinson endured constant racism, death threats and resistance en route to opening the floodgates for minorities as pro MLB players and eventually coaches and front office execs.
Life of An American Icon
Robinson played his first Major League game at Ebbets Field on this day as a first baseman for the Brooklyn Dodgers.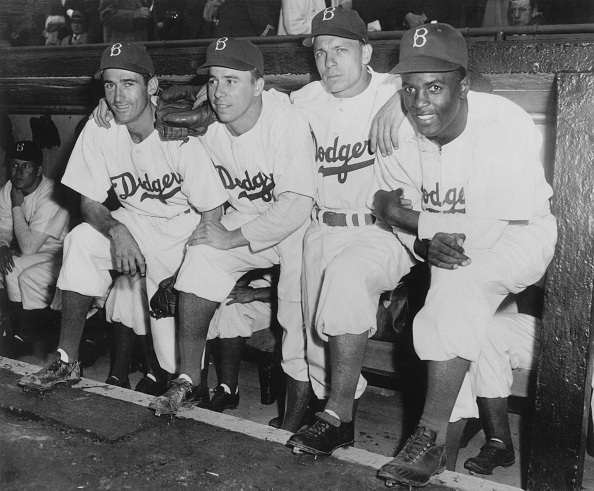 A Black cat was thrown on the field. It was supposed to be a racial jab thrown at Robinson, instead it was a sign of colossal change. The Black cat had infiltrated the all-white game and was here to stay. And more were coming.
After starring in three sports at UCLA, Robinson went on to crush balls, run the bases better than anyone before him and single-handedly shift the narrative about black athletes in America.
Born January 31, 1919 in Cairo, Georgia, Robinson burst onto the big city scene and into the history books with the Brooklyn Dodgers amidst a firestorm of controversy and bigotry. He had a stellar, decade-long career, helping the franchise finally defeat the Yankees and win a World Series in 1955. He stole home a record 19 times and had a savage bat to match, finishing with a career average of .311.
After integrating baseball, Robinson became an invested leader in the civil rights movement. As a board member of the NAACP, he traveled the country intent on building morale among minorities fighting against racial injustice in their communities. As a friend and confidant of Dr. Martin Luther King Jr., Robinson helped to lead civil rights initiatives in Albany (Ga.) and Birmingham. He used his celebrity as a baseball player and the credibility he acquired within the white community as a Black man of impeccable character to help further the various campaigns of African-Americans.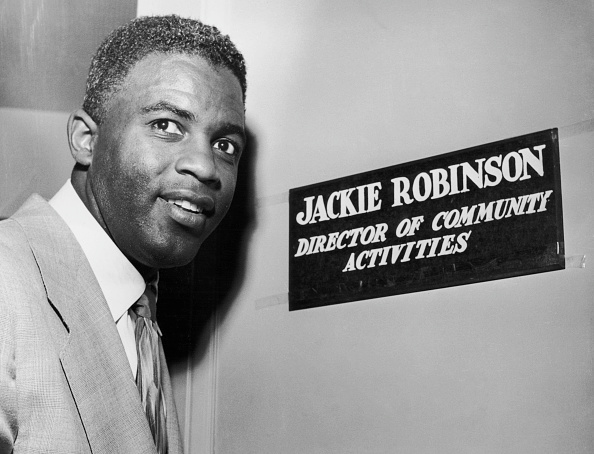 Jackie knew baseball, but he also set a course for brothers to follow in education, business and economics.
In 1964, Robinson founded the Freedom National Bank in Harlem as a protest against white financial institutions that discriminated against African-Americans by denying them loans or inflating interest rates. He was extremely vocal in challenging the existing powers that be – white politicians, U.S. Presidents and financial leaders — to advance civil rights legislation.
Black millionaires in all aspects of business owe Robinson a salute.
"Jackie Robinson probably opened the door to a lot of those guys, too — and me," said Dodgers owner Magic Johnson back in 2013. "If Jackie hadn't played for the Dodgers, I don't think I'd be an owner of the Dodgers."
The memory of his courage, talent, aggressive and exciting style of play as well as his selfless contributions to the game cant be forgotten. Therefore, the powers that be in baseball are intent on making sure Robinsons life is remembered and held in its proper lofty place in history.
Celebrating Greatness Since 1997
Major League Baseball has celebrated Jackie Robinsons legacy in an extensive and unified League-wide show of support over the years, including retiring his number throughout the Majors in 1997. Each season, the celebration becomes more decorated, far-reaching and ingrained as the league's elite commemorative event.
That was the objective when ex-commissioner Bud Selig used Jackie Robinson Day to set the foundation for a revived commitment by MLB to preserve baseballs rich history and acknowledge African-American legends of the past. Legislating uniform conformity on this day leaves no misunderstanding about the magnitude of Robinsons existence.
This year, MLB once again has an array of special activities designed around Jackie Robinson Day.
All clubs playing at home on Saturday, April 15th will commemorate the day with special on-field, pregame ceremonies in their ballparks. Home Clubs will feature Jackie Robinson Day-jeweled bases and lineup cards.
The Los Angeles Dodgers will be joined by the Robinson Family (Rachel, Sharon and David), Dodgers owner Magic Johnson as well as Baseball Hall of Famers Frank Robinson, Sandy Koufax, Tommy Lasorda and Hall of Fame Broadcaster Vin Scully in the unveiling of a long-overdue statue dedicated to Jackie. Jackies teammate and Dodger legend Don Newcombe (known as the "first great black pitcher") will also attend. The statue depicts a young Jackie Robinson in his rookie season sliding into home plate in a salute to his signature playing style.
Additionally, MLB Clubs will host more than 50 Jackie Robinson Foundation (JRF) scholars and alumni for ceremonies across the league. The Jackie Robinson Foundation Scholarship Program provides four-years of financial assistance and direct program services annually to 225 highly motivated students attending 100 colleges and universities across the country.
What's #JackieRobinsonDay all about, actually? Keywords: #colorbarrier, @MLB, @Dodgers, and, of course, #No42. pic.twitter.com/ogrRbSwtRn

Jackie Robinson Fdtn (@JRFoundation) April 13, 2017
In essence, MLB has created a black baseball movement through acknowledging and preserving the historical importance of the African-American players who have helped build the sport into the mega-billion dollar fan attraction it is today.