"After the laughter comes the tears…"
Team USA won its first World Baseball Classic Championship over undefeated Puerto Rico 8-0 in front of a record crowd in Los Angeles, behind the brilliance of Black Knight Marcus Stroman, who was gangster, gritty, immaculate in his execution and took a no-hitter into the seventh inning.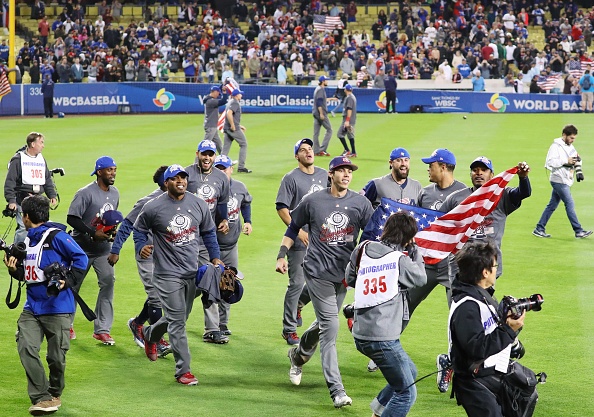 (Photo Credit: Getty Images)
Stroman was focused like it was Game 7 of the World Series. Same emotion, same effort, same passion. While this WBC has definitely put international baseball into the spotlight for a few months and reminded everyone of how exciting the game of baseball can be, Im just not sure how long the tournament can stay at this star-studded level before MLB owners start cracking down on player participation because too many of MLBs money-makers are nursing WBC injuries.
WBC and Spring Training are two completely different animals. We have seen the dangerous flipside of throwing pros into heavy action at a time when their bodies arent used to going 100 percent and are still actually recovering from the previous grueling season. And why it is such a risk for owners to allow their superstars to participate in the WBC.
In 2013, Yankees first baseman Mark Teixeira injured his wrist hitting off a batting tee while practicing with the United States team. Ultimately, he played only 15 games that year before season-ending surgery and attributed a disappointing 2014 season to a long recovery.
(Photo Credit: USAToday.com)
Historically, the month of March is a chillax month for MLB players, especially the veterans whose bodies are finely-tuned to the pattern of stresses and strain endured throughout a baseball calendar year.
There were some major casualties this WBC. Some superstars who had to leave the tournament due to injuries that may or may not affect their MLB season.
Team Venezuela was decimated by injuries and ailments to MLB All-stars. Kansas City Royals catcher Salvador Perez (knee), Detroit Tigers first baseman Miguel Cabrera (back), Miami Marlins outfielder Martin Prado (hamstring) and Arizona Diamondbacks pitcher Silvino Bracho (hamstring) were all injured and had to return to their MLB teams, though none of their physical problems appear to be serious.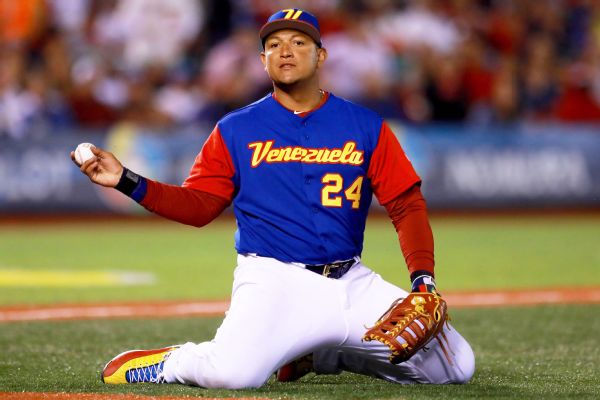 Once again, the Yankees had a star player hit with the injury bug.
The shoulder injury to star shortstop Didi Gregorius who was playing on Team Netherlands has pissed off a Yankees front office already unenamoured with the risks associated with the WBC. This incident perfectly highlights the underlying tension between major league clubs, who pay players like Gregorius millions of dollars, and the tournament, which players participate in mainly for national pride.
Gregorius, a workhorse during the MLB season, felt a twinge in his shoulder while turning a double play as he was playing second base. Now the rising star is expected to be out until May for the Yankees, a significant blow to their hopes of getting off to a good start in the AL Beast division.
The fact that MLB allows any of their prime players to participate in the tourney is wonderful and surely helps the product over the long run, but in the short term it can be damaging to the product that counts the most and makes the WBC possible.
A lot of people get wrapped up in the patriotism and childhood euphoria of the Olympic style tournament. Fans dont comprehend or care about the financial risks and ramifications of why this might be the last WBC of this level that we ever see.
Remember when the top players in the NBA competed in the slam dunk contest and then guys like LeBron refused to do it because they didnt want to risk injury and losing millions for a meaningless exhibition? Expect the WBC to move towards that model.
The saving grace is that the tournament is every four years, so new generations of ballplayers with a youthful exuberance and desire to play in the tournament will always exist. However, owners will surely be setting some new guidelines and tweaking the player process a bit to protect themselves against injuries to their star players right before the start of the MLB season.
If Im an owner and Im going to risk losing my best player, it will be on the field trying to win ball games for me — the guy who pays him. Because after the laughter, fan fare and the emotion of the WBC moment fades, the real task begins for these major leaguers and if they are physically unable to do their jobs the tears will surely follow.