In the words of Puffy aka Puff Daddy aka P-Diddy aka Diddy, Colin Kaepernick started a movement with his National Anthem protest that now "Can't Stop-Won't Stop."
Before yesterday's ACC football matchup between North Carolina and Pitt Panthers at Kenan Stadium in Chapel Hill, a group in the Tar Heels student section staged a protest during The Star-Spangled Banner.
Dressed in black shirts, approximately 50 students remained seated with fists raised, while at least one member of the UNC marching band was kneeling on the field with a fist raised.
.@UNC students sit for peaceful protest during National Anthem…..@WFMY@mchightower@ptwrightpic.twitter.com/76mZo2iPft

Brian Hall (@bhallwfmy) September 24, 2016
Players for both Michigan and Michigan State raised their fists during the national anthem at each team's respective home games yesterday.
Three Michigan State players, running back Delton Williams, safety Kenney Lyke and defensive end Gabe Sherrod, raised their fists during the anthem before the Spartans' 30-6 loss to Wisconsin.
"To me, your patriotism, your faith are sort of the same — that's your choice. And it's influenced by what you've experienced in this world, said Spartans coach Mark Dantonio after the game. "So whether somebody salutes or puts a hand over their heart, everybody has a choice to make. I guess they have decisions that people have to make. As long as it's done in a peaceful way, this is America. That's what the flag stands for. It stands for the freedom to do what you need to do. That's the beautiful thing about this country."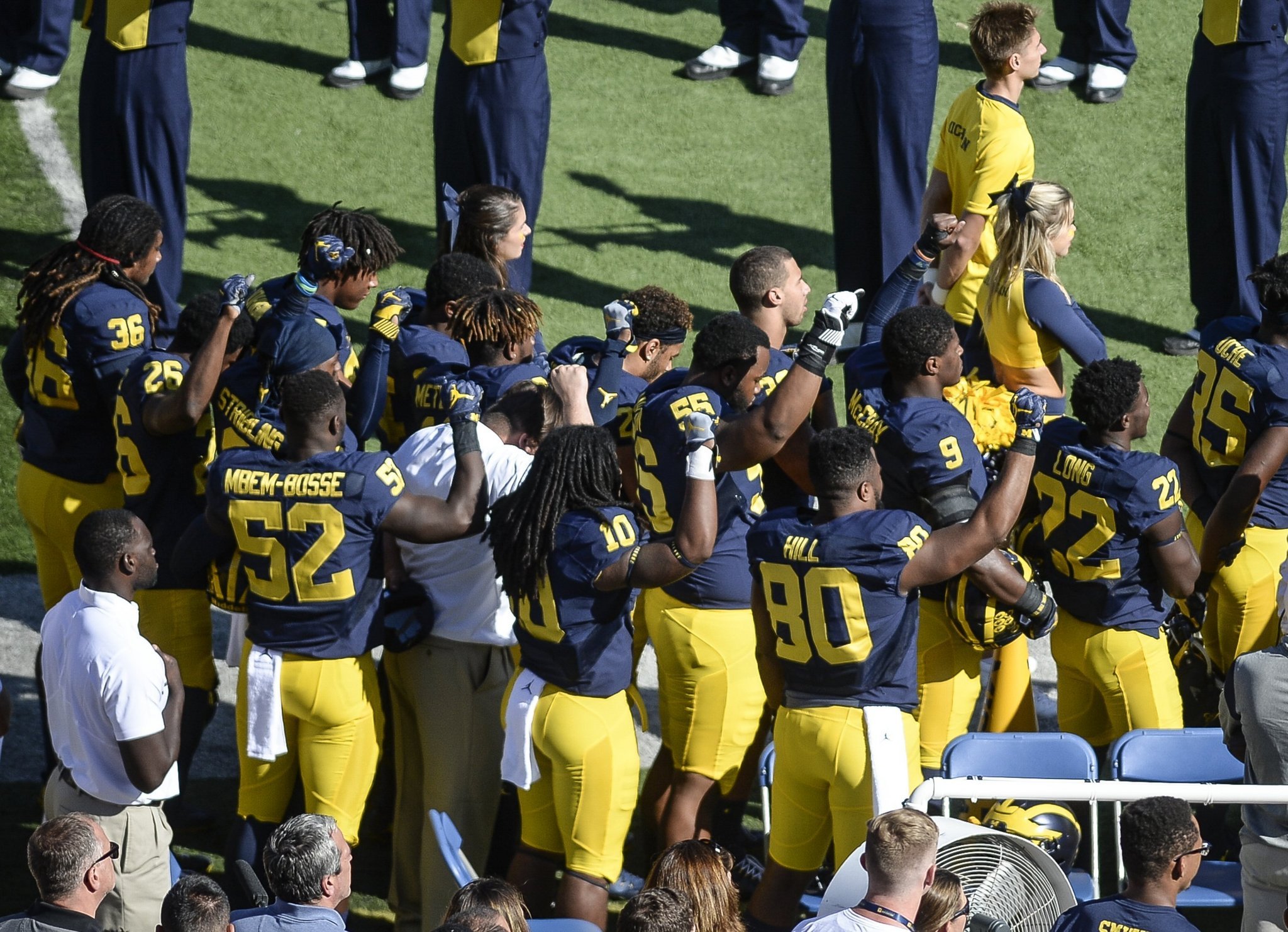 (Photo Credit: pennlive.com)
In Ann Arbor, Michigan All-American cornerback Jourdan Lewis was among the Wolverines with their hands in the air along with tight end Khalid Hill, outside linebackers Mike McCray and Devin Bush and inside linebacker Elysee Mbem-Bosse.
"I have a platform," said Lewis, one of the Wolverines most popular and accomplished players. "Regardless of anything, I'm going to stand up for injustice. That wasn't disrespecting anything. I love this university. I love this country, but things can get better."
When the San Francisco quarterback made his initial statement by sitting during the anthem in the preseason, Michigan head coach Jim Harbaugh, who coached Kaepernick for four seasons with the San Francisco 49'ers, said he understood his motivation and his right to protest, but didn't agree with the method in which the he chose to express himself.
But after some thought, Harbaugh seems to have softened his stance.
"I've been thinking a lot about this over the last four, five, six weeks," Harbaugh said after Michigan's 49-10 home victory over Penn State. "Because I am the football coach doesn't mean I can dictate to people what they believe. I support our guys."
On the Eastern Michigan University campus in Ypsilanti, spray-painted graffiti that included the letters "KKK" and a racial epithet was found Tuesday on the exterior wall of a building. Another racial slur was found Wednesday.
Students took to the field after their 27-24 win over Wyoming on Friday night to protest, chanting, "No Justice! No Peace!"
Since speaking up about racial injustice and police brutality, Kaepernick's movement is mushrooming across America's athletic landscape, especially after a week punctuated by riots in Charlotte, North Carolina , and the killing of an unarmed black man in Tulsa, Oklahoma.
(Photo Credit: houstonchronicle.com)
Prior to yesterday's WNBA playoff game at Madison Square Garden, New York Liberty guard Brittany Boyd sat on the bench with her head bowed in prayer during the national anthem.
"I dont want to stand up," said Boyd. "I choose not to stand up and I sit down and pray. Colin and his message about social injustice going on in this country today is something I believe needs change."