The March Madness machine rolled through four regions and the only No. 1 seed who failed to make the Sweet 16 showdown was Villanova in the East, where a couple of intriguing story lines developed quicker than Manny Pacquiao's swollen eye will when Floyd gets too it on May 2nd.
Last season the state of North Carolina was without a Sweet 16 team for the first time since 1979. To put the teams failure into perspective, that was the year ESPN (Entertainment and Sports Programming Network) was launched on cable television. A time that younger heads like my eight-year-old son JC refer to as the old days.
This season North Carolina, N.C. State and Duke are all back in the mix, and once again N.C. State is the less-heralded of the trio. The Wolfpack edged LSU in amazing fashion in Round 2.
Then stunned Nova on Sunday night to advance to the Sweet 16 for only the third time since 1989 (2005, '12). With the top seed Wildcats also out, it is the first time a No. 1 and 2 seed from the same region didn't advance to the Sweet 16 since Kentucky and Gonzaga in 2004.
Novas leading scorer Darrun Hilliard scored 27 points and tried to singlehandly shoot the Wildcats to victory in the final minutes. The senior flushed treys that brought them to within four, within two with 41.1 seconds left and 69-68 with 1.2 seconds left. It was too little too late. In the first half, the Wildcats missed a disgusting 20 of 28 field goals.
The rim looked smaller than a tea cup. Junior guard Ryan Arcidiacano looked lost and shot a dismal 2-of-8 from the field for four points. The Wildcats saw a 16-game winning streak end and have not reached the second weekend since 2009. Nova came up flat after smashing its way to the Big East crown and then lacing Lafayette with a 41-point victory in the tourney opener. 
The Wolpacks Throwback Attack
The Wolfpack hadn't defeated a top seed since that magical night in 1983 when they upset Houstons impenetrable Phi Slama Jama on a miraculous flush by forward Lorenzo Charles, off a desperate heave by guard Dereck Whittenburg, as the clock expired. That play is the everlasting symbol of NCAA March Madness, a tournament rooted in the real possibility of accomplishing the impossible. No image is more emotion-provoking than that of the late Jim Valvano darting around the court in a euphoric and frenzied state looking for someone to embrace and share one of college basketball's shining moments with.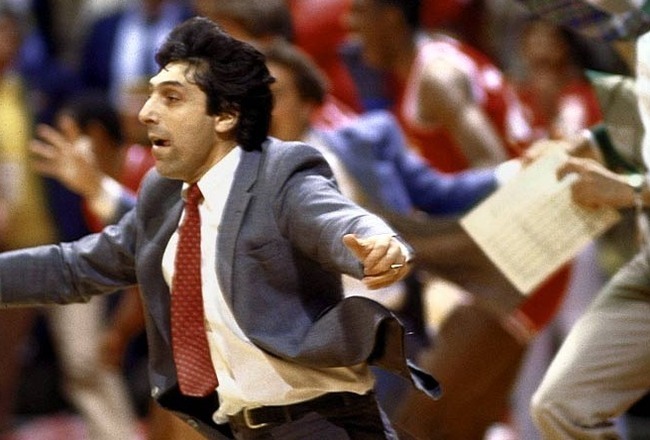 The Wolfpack (22-13) are hoping to duplicate that run and will move on to Syracuse, New York, to play Louisville.
The Shadow League actually interviewed Whittenburg around the 30th anniversary of N.C. States championship in 2013, shortly before ESPN released the 30-for 30 documentary, Survive and Advance,chronicling that improbable Wolfpack run.
Kruger Is Coaching Viagra
Led by the Program Rejuvenator Lon Kruger, Oklahoma advanced to the Sweet 16 for the first time since Blake Griffin led the Sooners to the Elite Eight in 2009.
After Griffin left for the NBA, the Sooners went 27-36 over the next two years under Jeff Capel. Kruger became Oklahoma's coach in 2011, and now, the Sooners are heading to the NCAA Tournament for the third straight year.
Kruger doesnt get the props that other elite coaches with NCAA bling and long-standing tenures at one program get, but hes like a master producer. A chef in the kitchen when he's coaching and obviously a polished motivator. When Oklahoma beat Albany 69-60 on Friday night, Kruger became the first coach in NCAA history to win an NCAA tournament game at five different schools. That's like dropping a triple-platinum album back in rap's glory days — with five different producers.
Krugers board work has the Sooners consistently going to the Big Dance. It's not quite the days of Billy Tubbs' "Loaded Offensive Legion", consisting of Mookie Blaylock, Stacy King. Harvey Grant, point guru Ricky "Amazing" Grace and sharp-shooting David Sieger.
However, OU lost in the first round of the tournament the past two years to North Dakota State (2014) and San Diego State (2013) so this Sweet 16 step is a natural progression if Kruger's past career is any indication.
Kruger previously led Kansas State, Florida, Illinois and UNLV to NCAA tournament wins in a head-coaching career now in its 28th season. Kruger has now taken a record five teams to the NCAA Tournament and with Sundays 72-66 victory over Dayton; Kruger became the first coach in history to take four different programs to the Sweet 16.
Former Oklahoma State coach Eddie Sutton has also taken four programs beyond the NCAA tournaments round of 32 Creighton, Arkansas, Kentucky and the Cowboys. However, Suttons trip with the Blue Jays was when the tournament had a 25-team field in 1974. His trips with Arkansas came with fields of less than 64 teams.
Kruger downplayed the accomplishment, telling Yahoo! Sports that It obviously doesn't make a lot of difference in people's lives. Certainly won't in mind. It means we've had a lot of good players, a lot of good programs and certainly proud of this group today.
People give legends like Coach K all of these props for remaining at one university for decades. Id dare say that what Kruger has accomplished is equally if not more remarkable, less the championship hardware. To constantly be called in to cleanup and rebuild a floundering program is no small task. Its like rehabilitating a washed up drunk. Kruger seems to have contortionist skills when it comes to managing and coaching talent. Hes the anti-Coach K in a lot of ways. Some leaders make you adjust to their environment and circumstances. Others (such as Kruger) are flexible in adjusting to the surrounding environment.
Oklahoma will meet Tournament mainstay Michigan State on Friday at 9:07 EST.
Ring-Roaming Regulars
None of the big-wig analysts gave MSU a chance after finishing third in the Big Ten conference.
However, history doesnt lie and MSU coach Tom Izzo is a bit of a March Madness Master himself. He also knows Kruger well. Kruger was Illinois' head coach from 1996 to 2000, leaving to take the Atlanta Hawks job that spring after Izzo turned it down. Izzo was 6-3 vs. Kruger in Big Ten battles when Kruger was at Illinois.
This seems to be Izzos time of the year. No matter what kind of team he has during the regular season, they always seem to emerge among the countrys elite by tournament time. Sunday night's 60-54 upset of No. 2 seed Virginia was typical of Izzo and his seventh-seeded Spartans.
Under Izzo, the Michigan State program has been on fleek. Izzo has led the Spartans to the 2000 NCAA Division I National Championship, the 2009 NCAA Division I National Championship Game, six Final Fours, and seven Big Ten Championships in his first 17 years at Michigan State. Hes the host coach with the most wins in school history and Izzos squads have earned invitations to the past 17 consecutive NCAA tournaments.
MSU is 5-3 all-time against Oklahoma and 1-0 in the NCAA tournament. Izzo's first Final Four team beat Oklahoma, 54-46, in the Sweet 16 in 1999.
This is familiar hunting ground for MSU. Louisville is not to be ignored either. After dispensing of potential slipper-rocker Northern Iowa, you know the Cards are always bringing the Rick Pitino ruckus as well.
Dont sleep on NC State either. ACC teams play quality regular season schedules and are built for close games with raucous crowds either for or against them. The best thing about it is we have historic programs emerging as the powerhouses in the Eastern Region. March Madness is officially in full effect.