The time has arrived for America's greatest sporting spectacle, the NCAA Basketball Tournament. We've assembled our roundtable of roundball experts to break down this year's March Madness as we take our first steps toward crowing the 2017 national champion.
First Number 1 Seed to take an L
Maurice Merrell: Gonzaga. All of this years No. 1 seeds earned rewarding brackets in the opening rounds, and should all advance to the second weekend. But even though theyve got the best record on paper, Zagas on a clash course with the very hot Notre Dame Fighting Irish. Of all the lower seeds in the West Region, the Irish seem to be the hottest after barely falling to Duke in the ACC Tournament championship. Gonzaga might only have one loss, but Notre Dame poses the earliest threat to turn that into (a season ending) two.
Martin Sumners: Gonzaga. Coming out of the Western Athletic Conference, they bum-rushed the show as a No.10 seed in 1999 with an Elite Eight finish. Eighteen years later, for the first time, the Bulldogs are a No.1 seed. Their 32-1 record belies that this team may be less talented than other seasons. But its more athletic and better defensively. Thus, this prediction is not to suggest they are like fake news. They are legit, its just the other top seeds have just have a little more talent that should carry them past the Sweet 16, where these Bulldogs will likely fail again.
Amaar Abdul-Nasir: Kansas. Since the beginning of this season, the Jayhawks had been my pick to win the national championship. While I still think KU has what it takes to claim the crown led by PG Frank Mason III, SF Josh Jackson and SG Devonte Graham there are also some significant obstacles that could get in their way.
Kansas could face Michigan State in the second round of the Midwest region, and nobody wants to play a Tom Izzo squad in March. In the Sweet 16, Kansas could face Iowa State, who beat KU this season; or Purdue, whose All-American big man Caleb Swanigan will expose the Jayhawks biggest weakness defending the post.
The Cinder-fella Squad (Mid-Major team that will make noise)
MM: The two mid-majors that might break-ya-bracket could potentially see each other in the round of 32: Iona College and the University of Rhode Island. Iona is making back-to-back NCAA tournaments for the first time ever, appearing with a more balanced team than in recent years instead of relying on one potential NBA-level talent like usual. URI, who beat a then No. 24 Cincinnati and lost to then No.1 Duke by 10 points this season, boasts a balanced squad too, but is led by potential NBA player E.C. Matthews. Dont be shocked to see either team in the Sweet 16.
MS: The American Athletic Conference may not be the truest Mid-Major with the perennial power UConn and other big time traditional programs in this quilt-work of a conference. But SMU (29-4), with losses to Michigan, USC and Cincinnati (all tourney teams) looks scary good. Prior to this season, the peripatetic Larry Brown, after running them into probation, quit as the head coach in June. Tim Jankovich took over and the Mustangs have not looked back. Led by Duke-transfer Semi Ojeleyes 18.9 point per game the Mustangs run, shoot, rebound and defend. What more do you want?
AA-N: Rhode Island. The last time Rhode Island was in the NCAA Tournament, Lamar Odom was on the squad. The last time Rhode Island made a decent run in the tournament, Cuttino Mobley and Tyson Wheeler led the Rams to the 1998 Elite Eight. I dont see Rhode Island getting that far in their return to the Big Dance, but I can see them winning a couple of games as the 11th seed in the Midwest region.
Led by guard E.C. Matthews (14.9 points per game), forward Hassan Martin (2.6 blocks) and head coach Danny Hurley (whose family has had a bit of success in the NCAAs), the Rams upset VCU in the A-10 title game. Rhode Islands first-round opponent in the NCAA tourney will be Creighton, who hasnt been the same since losing star PG Maurice Watson to a season-ending knee injury. Their next opponent would likely be Oregon, who cant be the same after recently losing standout PF Chris Boucher to a season-ending knee injury.
We Major! (High Major team seeded 4th or lower that could make a Final Four run)
MM: If they can get past the Louisville, the Michigan Wolverines might go straight Logan through the Midwest Region. Theyd face a depleted Oregon squad in the Sweet 16 and then a talent heavy Kansas if things go chalk. While many consider the Jayhawks a title game favorite, Michigan is hot off a five-game winning streak that includes wins over No. 13 Purdue and No. 24 Wisconsin en route to the Big Ten Conference championship. March means the most for college teams in terms of when they should peak, and Michigan has hit a serious stride.
MS: Yall dont remember Gawen Bonzi Wells. Well, Notre Dames Bonzie Colson not only shares a name but is a doppelganger of the former NBA player. Colson is an undersized forward at 6-foot-5 who can kill you like bad potato salad: inside or outside. As a freshman, he helped push the undefeated Kentucky team to the brink in a 2014 Regional Final, which the Fighting Irish narrowly lost, 68-66. This year, with all five players on the court who can effectively dribble, pass and shoot creating such an almost effortless offense, reaching a Final Four wont just be due to the luck of the Irish.
AA-N: Michigan. There is something that feels storybook about this Michigan squad, the 7th seed in the Midwest. The harrowing airplane incident prior to the Big Ten tournament, having to play a game in their practice uniforms, winning their conference tournament as an No. 8 seed, going 10-2 in their last dozen games this is looking like a special team.
The Wolverines are led by senior point guard Derrick Walton Jr. and senior wing Zak Irvin, a talented scorer. Bouncy big man D.J. Wilson wears short-shorts and has a Joakim-Noah-like magnetism. Muhammad-Ali Abdur-Rahkman is a wild card scorer who can go off in any given game. They are better than their record and peaking at the right time.
Just watch: Michigan will make a run and somebodys going to write a script. Mark Moses from Desperate Housewives will play coach John Beilein in the movie. Jim Harbaugh is gonna have himself all in front of the camera during the tourney and play himself in the movie.
Pay That Man! (The one player who could totally win this thing by himself, a la Kemba Walker / Carmelo Anthony)
MM: Whats the difference between being a team that loses its season home opener to Monmouth and doesnt make the NCAA in 2016, and being a team that goes 29-4 in the regular season with wins over Kentucky, Michigan, Ohio State, Oregon and Arizona? The answer for the UCLA Bruins is simple: Lonzo Ball.
He makes plays before anyone else can see them unfold, elevates the play of his peers and he competes with the fortitude of his (last) namesake. If theres one player that has already proven he can carry a team, its Ball. The future NBA lottery pick will be the most compelling player to watch as the Bruins attempt a title run.
MS: With a few friends having sons named Justin, Josh, or Ja(y)son, its hard to distinguish the siblings at times. Likewise, there is a struggle here between selecting Josh Jackson or Jayson Tatum. Both are 6-8 freshmen with agility and skill that bode well for them at the upcoming NBA Draft. Kansas Jackson is dynamic on offense and on defense locks down opponents best player. He served a one-game suspension and the Jayhawks lost in the first round of the Big 12 tournament. Dukes Tatum may just be the best all-around player in the nation. Jayson, I think, it is.
AA-N: Josh Hart. The Villanova senior got his first NCAA title ring last year as the best player on a balanced Nova squad. Over the summer, the Wildcats lost some key veterans, Hart improved in some key areas, and this season he came as close to carrying the Wildcats as coach Jay Wrights system would allow for one player.
Hart is averaging 18.9 points, 6.5 rebounds and 3.1 assists per game. Hes conjuring up memories of Kerry Kittles and Ed Pinckney in Philadelphia. Hes a front-runner for National Player of the Year, having already led Villanova to Big East regular-season and tournament titles, and the NCAA Tournaments No. 1 overall seed. He can complete the sweep by leading Nova to a second straight national championship.
Final Four Picks
MM:
East: Duke
The Duke Blue Devils almost made you forget everything they faced this season (losing Coach K, injured stars, Grayson Allen whylin) with their record-setting four victories in four nights to win the ACC Tournament title. Luke Kennard has become the teams poised veteran, and while Grant Hill carved out the do-it-all prototypical Duke small forward type long before he was born, Jayson Tatums been playing as if he was the one born to fill Hills FILAs. Duke has become the squad no team wants static with in the tournament.
West: Arizona
Gonzaga deserves their No.1 see and Florida State is a dangerous team for anyone in the field, but Arizona is finally at full strength and that spells problems for all in their way. Alonzo Triers play gives the Wildcats the stable bucket-getter theyve needed since the the season began. Fellow standout, Lauri Markkanen gave the Pac-12 fits with his inside-outside game (53% 3-point percentage this season) and is playing like a man motivated to cement NBA lottery pick status. Rawle Alkins, Kobi Simmons and Parker Jackson-Cartwright are staying in their all important roles and excelling in them. Look for the Cats to get to the Final Four in their backyard of Glendale, Arizona.
South: North Carolina
Call it luck. Call it bad defense. Call it the craziest finish to a college basketball season youve ever seen. But the only thing the Tar Heels can call last seasons heroics from Villanovas Kris Jenkins is heartbreaking. Led by the returned trio of Joel Berry, Justin Jackson and Kennedy Meeks, theres still a shot at retribution. Big plays from the bench will be 100% necessary, but experience might be the biggest factor for UNC in the South Region.
Midwest: Michigan
The string of wins Michigan needed to win the Big 10 Conference tournament might be tougher than the Wolverines road to reach the Elite 8. Aside from a potential matchup with Louisville, they wont play anyone with the star power of Purdue or the defensive presence of Wisconsin. Of course things might get interesting if they face Kansas in the Elite 8, but the Maze & Blue are equally as battle tested as the Jayhawks to pull off a Final Four securing upset.
MS:
Kansas – Their region may be the weakest. No. 3 seed Oregon lost a formidable player in forward Chris Boucher (Boo-shay like Bobby in The Waterboy), while No. 4 seed Purdue's success may be the product of a down year in the Big Ten. Also, Louisville as the No. 2 seed will always fight with Rick Pitino at the helm, but the Cardinals lack top-flight guard play like its national championship squad in 2013 with Russ Smith and Peyton Silva. However, the biggest determining factor here is KUs own backcourt of senior Frank Mason III and junior Devonte Graham.
Duke – The Blue Devils are peaking at the right time entering the tournament after winning the ACC tournament with four wins in consecutive nights. Bolstered with four players who will potentially get drafted this year by the NBA, its only obstacle to reach Glendale will likely be Josh Hart-led Villanova in the Regional Final. Although hyped freshman Harry Giles never materialized after not fully recovering from a serious knee injury he suffered as schoolboy player, Luke Kennard has filled in the gap. The lefty has also replaced Grayson Allen, besieged with tripping and other malfeasance ticks, as the more trusted playmaker.
Arizona – Head coach Sean Miller finally breaks through for his first Final Four appearance after several heartbreaking efforts. The Wildcats have 6-5 sophomore guard Allonzo Trier and its leading scorer back after playing just half the season. Also, 7-0 center Lauri Markkanen may be the best kept secret in college basketball. The freshman hails from Jyvaskyla, Finland and can flat out finish from anywhere on the court. Balanced scoring with six players averaging at least 9 points per game will deliver this time for Miller.
UNC Last year, the Tar Heels may have let one slip away allowing Villanova to creep back in the championship game won by Kris Jenkins memorable buzzer beater. Most of the Carolina crew returns and that malignant memory should push them through perhaps the toughest region in a long time. They will likely face blue-blood programs like Kentucky with freshman sharpshooter Malik Monk an'nem, or UCLA with point god Lonzo Ball and company. However, Joel Berry II looks like he is on mission. And junior Justin Jackson and senior Kennedy Meeks provide the best forward-center combo in the tourney.
AA-N:
Arizona The West region has high upset potential, which can make for one or two or three shining moments, but also means top seeds Gonzaga and Arizona can avoid some high hurdles before what seems like an inevitable Elite Eight showdown. For example, Arizonas road to the regional final might have them going through No. 15 seed North Dakota, No. 10 seed VCU, and either No. 11 seed Xavier or No. 14 seed Florida Gulf Coast. Zona lost to the Zags earlier this season, but that time they were missing a couple of important players, including star guard Allonzo Trier.
Villanova The defending national champs have a potentially tough road to Phoenix. They could face Wisconsin in the second round, Virginia or Florida in the Sweet 16, and Duke or Baylor in the Elite Eight. But the Wildcats are good enough to beat all of those teams. Josh Hart is the headliner, but Villanova also boasts experienced and underrated talent like PG Jalen Brunson, swingman Mikal Bridges and last years national title game hero, forward Kris Jenkins.
Michigan Disclaimer: Last year I picked an underdog Big Ten team to shock the world and win the whole thing. That didnt quite work out for the Indiana Hoosiers. The Wolverines didnt make a lot of noise this regular season before their improbable Big Ten tournament run, but their resume is strong. They had close losses to Villanova and Louisville (possible second-round opponent), and went 2-0 against Purdue (possible Elite Eight opponent).
Kentucky Its been two years since the Wildcats were in the Final Four, and five long years since they won a national title. In other words, Big Blue Nation is starving for a championship like LaVar Ball is starving for media attention. (Ironically, UK will probably have to get past LaVars sons UCLA squad who beat them in Lexington earlier this season to get to the Final Four.) Kentucky has gotten better since losing to UCLA at home and since beating South region top seed North Carolina on a neutral court. Malik Monk is as polished a scorer as anybody in the nation, and PG DeAaron Fox has improved with experience. Along with Isaiah Briscoes versatility in the backcourt and Bam Adebayos muscle in the frontcourt, these Wildcats are title-ready.
Championship Team
MM: Michael Jordan had to watch his beloved Tar Heels lose last season, but experience could and should win out in a field with this much parity. Daggum Roy Williams wont let his team walk out of the tournament on another miracle loss. As long as the trio of Justin Jackson, Kennedy Meeks and Joel Berry show up in the final game, the championship is there for the Tar Heel taking.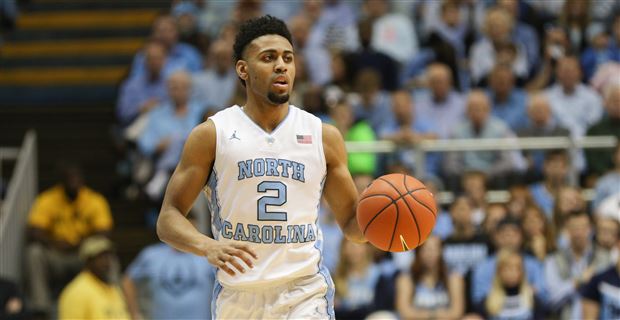 MS: Kansas – Rock chalk Jayhawks – one of the most consistent programs is due. But quality backcourt upperclassmen, they say is the key to winning it all. Last year Villanova senior point guard Ryan Arcidiacono proved invaluable throughout the game and on the final possession assisting on the winning bucket. The Jayhawks have the most experienced backcourt in Mason III (20.8 points per game, 5.4 assists per game) and Graham (13.1 ppg, 4.3 apg). Along with forward Jackson who can interject excitement like the ABC schoolhouse rock verb at any time, Kansas possesses the tools to cut down the nets.
AA-N: Kentucky. Twenty years after Mike Bibby and Miles Simon led Arizona over Ron Mercer and Scott Padgetts Kentucky team for the national championship, this is the rematch for the big prize.
Some things will feel familiar. There will be freshman stars on display: Arizonas Lauri Markkanen and Rawle Alkins versus Kentuckys Malik Monk, DeAaron Fox and Bam Adebayo. There will be sweet-shooting two-guards in Monk and Allonzo Trier. There will be a matchup of great coaches: Arizonas Sean Miller and UKs John Calipari.
Arizona is as deep and balanced now as Kentucky was back then. Kentucky is as strong in the backcourt as Arizona was back then. And while Arizona will have the home-court advantage, with the title game being in Phoenix, Im picking Kentucky to win it all.
Most Outstanding Player
MM: Joel Berry III. Simply put, Berry is a go-to Bucket. Fun fact: A Florida native, Berry won Mr. Basketball three times in his state. The only other player to ever do that in high school? LeBron James. Is the undersized two guard anything like the LeBron on the outside? No. But hes got the same beast in him when it comes to crunch time. Enough as much that if it comes down to one game, he wont let his team lose in the chip again. Like the greatest Tar Heel of all-time recently said, the ceiling is the roof. And Berrys about to raise another banner to the one in the Dean Dome.
MS: Frank Mason III – The man with the rock in his hand always controls the flow and ooze of an offense. Like a benevolent crime lord, he makes sure all his people eat. Frank Mason, reminiscent of other fabled gangsters like Frank Lucas (American Gangster) and Frank White (King of New York), will get the job done. FM3 for MOP!
AA-N: Isaiah Briscoe. Malik Monk will score the most points. Bam Adebayo will provide the biggest dunks. DeAaron Fox will do the most to improve his NBA Draft stock. And Briscoe will simply be the best overall basketball player on the floor during UKs championship run.
The 6-foot-3 sophomore guard averages 12.6 points, 5.4 rebounds and 4.2 assists. Hell have at least one game during the tournament in which he flirts with a triple-double (he put up 19 points, 10 rebounds and 11 assists against Ole Miss this season and 23-11-8 against Georgia) and make a clutch play or two along the way.