The NFL is dripping with young QB talent.
The NFL's recent luck with young QBs storming the league and conducting themselves with the poise, leadership and technical understanding of a 10-year-vet is continuing this season as rookie QBs Zak Prescott, Carson Wentz, and Trevor Siemian – we can't forget the Pats Jacoby Brissett who won his rookie debut against Houston this past Thursday night — have defied the odds and risen from novice to capable ringleaders overnight.

  (Photo Credit: vavel.com)
When Tony Romo went down with another injury, Prescott was forced into the starters role. He had already proved in the preseason that he had poise, toughness, and confidence that implied his readiness for the regular season task. With Dallas battling key injuries in a very winnable NFC East, Prescott is asserting himself as a major weapon and prime time player in deciding how far the 2-1 Cowboys will go this season.
With all due respect to Prescott, there are two other novice QBs whose performances have reigned supreme this season as their teams are 3-0 division leaders at this point, and not even Miss Cleo in her prime could have predicted that.
In Week 3, the rookie Wentz and Siemian, the second-year player who had never even thrown an NFL pass, had breakout performances in earning Offensive Players of the Week awards, as they both bested unbeaten opponents from the AFC North to do so.
In Philadelphia's 34-3 destruction of the highly-touted Steelers, Wentz tossed for 301 yards and a pair of scores on a needlepoint nasty 23-of-31 passing. Wentz has shown a penchant for maneuvering around the pocket and creating magic with his multi-faceted receivers.
  (Photo Credit: bleedinggreennation.com)
Of course, the social media and NFL hype machine has the rookie QB in its clutches. NFL Network's Brian Baldinger compared Wentz, who appeared in back-to-back NCAA FCS National Championships at North Dakota State, to some all-time prolific pigskin passers.
The Eagles front office of Jeffrey Lurie and Howie Roseman didn't fret about trading Sam Bradford before the season began because they say when they traveled to Fargo, North Dakota before the NFL Draft to spend time with Wentz, they all knew he was an instant gem.
Magical, said offensive coordinator Frank Reich, describing the moment in a Sports Illustrated article.
"Seriously. Like magic. There was just something about him. I've been around a lot of smart quarterbacks, a lot of really good quarterbacks. This guy had something we all noticed. On the practice field, just watching him warm up and get ready, I was giddy. His movements, his explosiveness in his lower body. His arm strength. His accuracy. Then in the classroom, his intellect and his football acumen hard to describe. But all there. He could not be stumped, by any of us. What's your protection here? Whyd you pick this receiver? What do you like about this play? He was so far ahead of guys I've studied. And we kept hearing the level of competition, that people were worried about the North Dakota State part of it. I said, Let em keep saying that! Please keep saying that."
Some did keep saying it and a questionable No. 2 pick became a steal after three NFL games.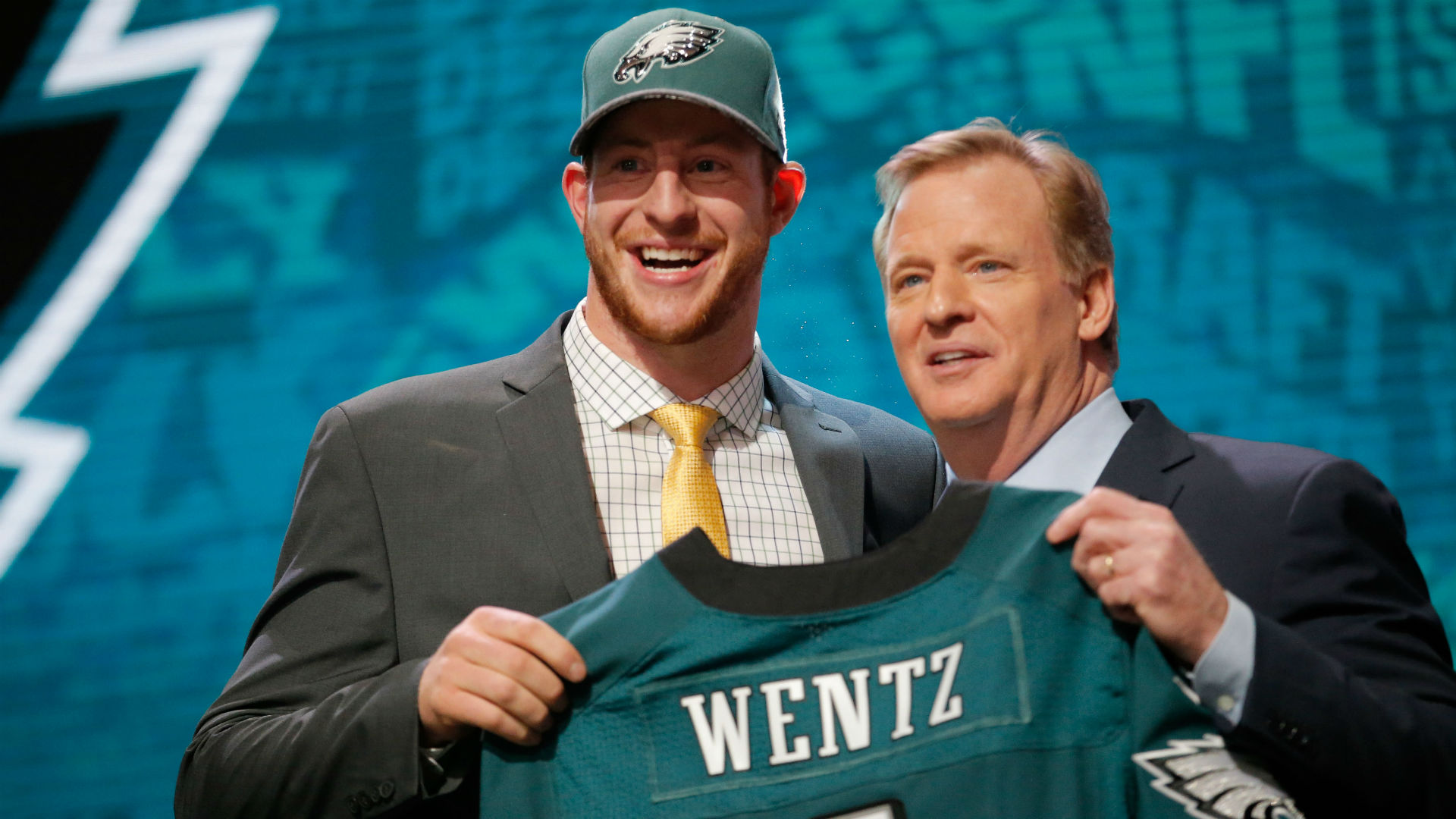 (Photo Credit: sportingnews.com)
"(Wentz) is Peyton Manning pre-snap, he's Aaron Rodgers post-snap," NFL Media's Brian Baldinger said Monday on NFL Network. "He's thrown 102 passes. He hasn't thrown one, not one yet, that has been close to intercepted, a 50-50 ball. His decisions are impeccable and his location and accuracy, I don't know if he could throw the ball any better than he's thrown it."
As reported by nfl.com, NFL Network's Aditi Kinkhabwala said: "This team here in Pittsburgh could not stop raving about Wentz's preparation. The way that he was absolutely able to take advantage of every mistake.
Steelers linebacker Arthur Moats added, 'You don't usually see a rookie able to do that.
Actually, over the past few years, we've seen an influx of newbies like Joe Flacco, Andrew Luck, RGIII, Russell Wilson, Cam Newton, Jameis Winston, and Marcus Mariota do the unthinkable. It's a testament to how college football has evolved and how advanced, talented, experienced and innovative the offensive coaching pool is at the college level.
(Photo Credit: sportsquotient.com)
Wentz has a formerly disgruntled Eagles fanbase singing his praises and the only thing left for him to do is lead them to a Super Bowl and get a statue next to Rocky. It won't be easy, but he's making this Eagles QB thing look pretty Donovan McNabb-like.
Siemian, the lab rat leading Denver's post-Manning life, showed out in the 2016 seasons inaugural NFL contest, game managing the defending champs to a decisive win over Killa Cam Newton and the Super Bowl-focused Panthers.
The unheralded second-year player from Northwestern with ball-tossing skills and a brilliant mind, couldn't have gotten a tougher draw when he took over for the most productive and revolutionary QB of all-time in Peyton Manning.
Broncos staff had the training wheels on early, allowing the defense to guide Siemian home to victories and requiring little of the QB other than caution and patience.
  (Photo Credit: si.com)
On Sunday, Siemian must have had a sip of Manning juice because the safety guards were off against a tough Bengals squad, and he delivered by tossing for 312 yards and four TDs to lead Denver to a 29-17 win in his first road battle.
Earlier in the week, a fan trolled Broncos GM John Elway and gave him hell him for taking Siemian in the seventh-round of the 2015 draft. Following Sundays smackdown, Elway was inspired to troll the fan back and bask in what is looking like a glorious decision for Denver's front office team.
Losing Manning to retirement and Brock Osweiler to free agency was supposed to have crippled Denver's chances to repeat as champions. Instead, some would suggest they look stronger, younger and more formidable.
"The NFL is in great shape with young quarterbacks," CBS analyst Boomer Esiason told The Shadow League.
Add Carson Wentz and Trevor Siemian to that list.