This has been quite a year for black films and television. From "Atlanta" and "Insecure," to "Hidden Figures" and "Fences," Black creators have been getting their just due.
Perhaps as an aftereffect to last year's industry lampooning #OscarSoWhite hashtag, brothers and sisters were giving all kinds of thank you speeches and shout outs on the podium at Sunday's Golden Globes. Projects that garnered nominations were "Atlanta," "Blackish," "Insecure", Moonlight, Fences and Hidden Figures.
Indeed, many in the media have been raving about these quality offerings since they kicked off. However, with the way racism has been denying the efforts of black creators for years, a few years of positive award show results can't exactly drain away all the negative history of the mainstream fronting on quality works from black directors, actresses and actors.
But it was delightful to see the 74th Annual Golden Globes show its melanin with accolades for some of our favorite works from Black creative minds. But that wasn't the only thing that radiated blackness. As many already know, negritude is the total spectrum of black life experiences colliding with the status quo. Not only is this piece about celebrating black creativity, but noting those moments where mainstream sensibilities and blackness crashed into one another. So, without further ado, here are some of the Blackest Golden Globe Moments of 2017.
Winning With Less
(Photo Credit: NBC)
Moonlight won the Best Drama award with very little press and fanfare. It came up against such nominees as Hell or High Water, Hacksaw Ridge, Lion and Manchester by the Sea, many of which had a far bigger budget and more prominent backers, but Moonlight, starring Mahershala Ali, Naomie Harris Janelle Monae and Ashton Sanders, and directed by Barry Jenkins, still came out on top. Winning against insurmountable odds? It don't get much blacker than that.
White Ignorance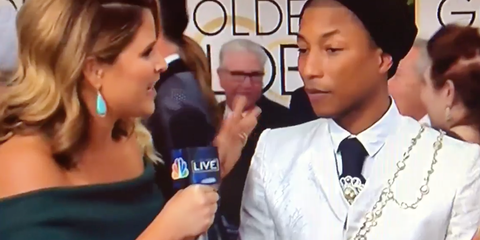 (Photo Credit: NBC)
A phenomenon that many have with mainstream interpretation of black art is its ignorance of the subject matter they're trying to interpret. This first took place on the red carpet when Jenna Bush condensed the names of the films Hidden Figures and Fences into HiddenFences while talking to the film's producer Pharrell Williams. This took place repeatedly throughout the evening, most notably by actor Michael Keaton, and earned the Twitter hashtag #HiddenFences. Such f-ups are kinda typical but it's still disrespectful. If you're gonna speak on something on national television at least get the name right. Sheesh.
A Very Black Shoutout
Donald Glover's effortless black millennial smoothness is apparent in all of his projects, including the hit FX comedy "Atlanta," for which Glover gave the acceptance speech when winning the Best TV Comedy Award. During the acceptance speech he gave a shout out to rapper Migos for appearing on the show and for making the song "Bad and Boujee." Who gives shoutouts to musicians who appear on a show but have nothing to do with the production? Black people, that's who.
Viola Davis Being Viola Davis
Actress Viola Davis was on the crest of this recent wave of quality works helmed by Black talent. In addition to her outstanding performance in Fences, she has been wowing people with the job she has done on "How to Get Away With Murder." Davis presented Meryl Streep with the Cecil B. DeMille Award. Though Streep caused a flap with her statements about Donald Trump and UFC, I was still stuck off the fact that Ms. Davis mentioned collard greens during a presentation on network television.
I guess it was inevitable that this would occur seeing as though Nieman Marcus was selling collard greens for $80 this past Holiday Season. So, if white folks wanna buy 'em I suppose they can listen to a Black person talk about 'em. Upon winning the Best Performance in a Supporting Role in any Motion Picture for her role in Fences, Davis gave a shout out to her father's struggle and how the story of his life is important. The blackness inherent in this speech was the recognition of one whose life and energy made it possible for her to stand on stage and accept her award. Respect.
Brotherly Love
Actors Brian Tyree Henry and Keith Stanfield are brilliant in "Atlanta." The two are absolutely as capable as any supporting actors on television. On the show, they are practically inseparable. Though to comedic effect, the relationship between them is wonderful in that they are "hood" individuals who aren't adversarial, cut-throat or otherwise compromising one another.
During Glover's second acceptance speech, this time for winning Best Actor in a Television Series – Drama or Musical, a camera panned and caught Henry with his arm around Stansfield. Both men appeared misty-eyed and full of pride as Glover spoke of the show. In a world that constantly depicts black manhood as toxic, antiquated and obsolete, it was refreshing to show the kind of black love that rarely gets airplay. He ain't heavy, he's my brother!
A History Breaking Win
(Photo Credit: Getty Images)
As if the fact that Tracee Ellis Ross, daughter of legendary singer Diana Ross, has been making a living as a television star for decades isn't black enough. But, when she became the first Black woman to win the Golden Globe for Best Actress in a Television Series: Musical or Comedy in 34 years, it was indicative of how the industry loves to delay accolades, even from those who are most deserving. But Ross' talents cannot be denied any longer. I call it a history breaker because it signifies to the rest of the world just how Black resilience will always win, given time.
# # #