Back in 2015 we created a comprehensive list of the what we called the Top 20 Illest Black Superheroes of All-Time.  Despite my intentions I was taken to task by a prominent independent comic book creator about the lists lack of characters that were created, drawn and written by individuals of African descent. I assured this creator that the offering was largely crafted from Black characters at major comic book companies because that's what I was most familiar with.
This meant I had research to do.
I have been aware of many of these titles, characters and artists for years, while some have only recently come to my attention. With that being said, this list has been created give props to some incredible characters of African descent, as well as their publishers, artists and writers. Many dont get the light they deserve for various reasons, but after months of immersing myself in some of these incredible works I can now comfortably give credit to those that deserve it. Not because theyre black, but because theyre dope.
Ajala
Crafted by Robert Garret and N. Steven Harris of Xmoor Studios, Ajala was initially created as a character who young black girls could relate to. A top level gymnast and athlete who possess martial arts abilities that belie her young age of 13, she's athletic, popular and intelligent; all the makings of a young lady with every excuse to be narcissistic and selfish. Her life turns upside down when recruited as a junior agent for the C S C. Daredevils fighting style is an apparent influence. For more information on Ajala and where to purchase this book visit Peepgamecomix.com or xmoorstudios.com.
Purge
The first Purge book was created by Roosevelt Pitt, Jr of Amara Entertainment back in 1993. The protagonist, Richard Kincaid, was kidnapped and experimented on by a nefarious criminal organization when he was a child. The torturous experiments included being subjected to a lobotomy and various surgical implants that were meant to push the limits of his physical output. But the process seemed to damage Richard so badly that his captors deemed their experiment a failure and dumped him in an orphanage. He is adopted by the loving Kincaid family a few years later, and soon after he seems to awaken from his damaged state and eventually realizes that his implants are indeed fully functional. Purge explores issues of familial love, exploitation and corporate evil in a tightly-wound, well-crafted offering. After being out of publication for years, Purge began publication once again late last year.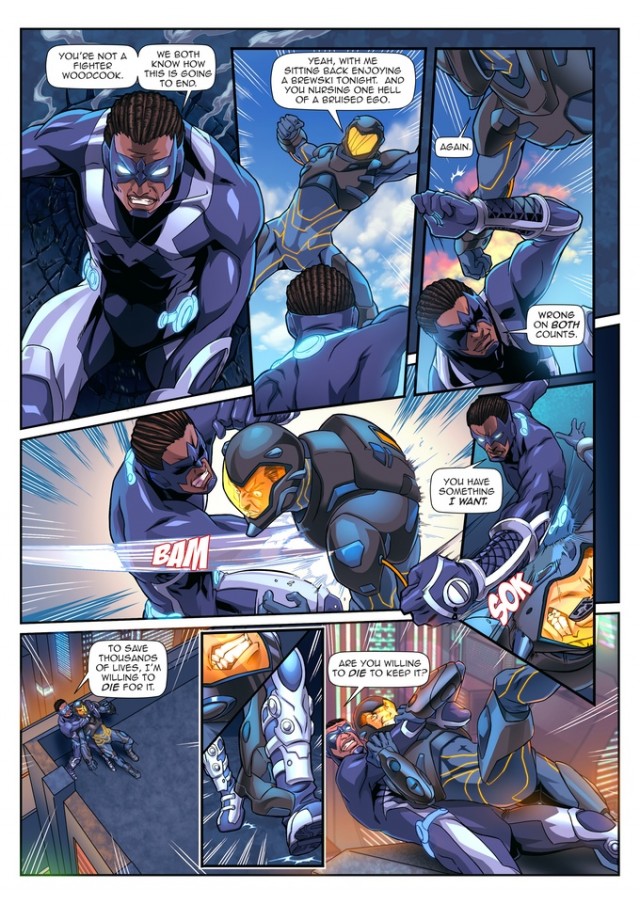 Prince Val-Mar
Created by legendary comic book artist Grey Williamson, Val-Mar: Prince of the Damn and The Gifted and the Cursed stands out to me because of the attention to detail inherent in the faces of many of the characters.  It tells the story of Prince Val-Mar, the son of a powerful man who many believed was unto a god. His world is turned upside down when his father is killed before his very eyes, revealing the fragility of his own existence in the process.  The story is very original, brutal and unapologetic. A well-executed digital comic book offering with tons of action from start to finish. All Val-Mar titles can be found on sale at Amazon.com or check out www.carbon-fibre.me for more information.
Brotherman
First published back in 1990, Brotherman: Dictator of Discipline was one of the very first creations that was created and published by a person of African descent for wide distribution. He was crafted by Emmy Award-winning artist Dawud Anyabwile and Guy Sims with the intention of creating a character that was completely immersed in the African-American experience rather than having that cultural catalyst be placed in the background.  His blackness is big, bold and apparent from issue one. Brotherman doesnt have superpowers in the traditional sense. He dons a costume to fight crime in his community after realizing the limits of his day job as a lawyer in Big City. Brotherman Revelation, which marks the return of protagonist Antonio Valor, recently was published in January 2016. You can get more information on this book at brothermancomics.com
E.X.O.: The Legend of Wale Williams
Last year I interviewed E.X.O.: The Legend of Wale Williams creator Roy Okupe when the book was still in a kickstarter phase. Since that time, E.X.O., which stands for Endogenic Xoskeletal Ordnance, has been published, and boy was it worth the wait. Wale Williams is a young man who returns to his home of Lagoon City (modeled after Lagos Island), Nigeria after a few years abroad to find his father, a genius level engineer and inventor who wants work for the global technology conglomerate PryTek, has gone missing. All he has of his father is a mysterious nanosuit that gives him with super strength, flight and speed.  He uses his new found abilities to help the poverty-stricken, fight government corruption and search for the whereabouts of his lost Dad; it doesnt get much blacker than that. The art is a joy to visualize and the writing is just as enjoyable. The villains, as greedy as they are, look as if they could inhabit any boardroom in the world. E.X.O. is a digital comic book. For more information log on to youneekstudios.com.
Tune in next week for the concluding installment on the biggest, baddest independently-crafted black superheroes from black creators of yesterday and today.