Virginia's 22-0 run in the second half against Notre Dame was a frightening display of persistent, indomitable swashbuckling defense. Ralph Sampson himself would have been swallowed whole by Bennett's Pack-Line defense. Why are we talking about Virginia? Because they are now in sole possession of first place in the ACC after Syracuse found themselves on the other end of the karmic spectrum.
Where do we begin with the ending to Saturday night's Syracuse – Duke matchup. Let's start with Jim Boeheim, who's getting a pass from the national media.
In my eyes, he became a little bit of a joke on Saturday night. It has nothing to do with the memes either.
@MattNorlander pic.twitter.com/K8grmX9qWF

— Daryl Von Muopsies (@Garcizzle13) February 23, 2014
Boeheim and other coaches preach discipline on the court, but Boeheim is one who lost his temper and the game for Syracuse. Even if you dispute the charge call, which is correct under the letter of the law, the two technical free throws awarded after Boeheim's blow-up are what squashed any hope for Syracuse.
Yet after the game, Boeheim was completely unapologetic. Not that we'd expect any from the same coach who presumptuously accused Bernie Fine's accusers of trying to jump on the financial gravy train after the Penn State scandal broke. Instead, Boeheim threw some extra sauce on his words by calling it the "worst call of the year."
"That was the game-decider right there. We weren't happy with that call. … It was a great game, a tremendously well-officiated game, I just didn't agree with that call. I kind of thought we would lose the game," Boeheim said in his postgame presser. I don't know if I was really thinking that much at the time, but I thought it was the game-decider. I just thought it was the worst call of the year, that's all. I just hate to see the game decided on that call."
After the game, C.J. Fair was honest and responded in the affirmative when asked by Yahoo Sports' Pat Forde whether the call cost the the game. Next time a player earns a tech for an equally over-the-top reaction, Boeheim can't be taken seriously if he tries to instruct him about controlling his emotions. He hasn't shown any remorse for giving Duke two additional free throws.
Nevermind that Rodney Hood was already in position when Fair began his upward motion. Beoheim is under the impression that it's all about him. However, because of his 945 wins, we praise his passion.
"People will remember this one for 30 years," Boeheim said in his postgame presser, "because the old coach went out there and got a little excited."
He actually believes that this was a positive because he needs another reason for people to memoralize him when he's gone. Oh Syracuse, isn't Boeheim just adorable? This one is for you coach.
He's so smarmy and hyperbolic, it's hard to take him any more seriously than Kevin Hart in a legit action hero role. Boeheim's team is still a major national championship favorite, but they're in the midst of a two-game losing streak and the ball is no longer bouncing in their favor.
Before Thursday, Syracuse was playing stifling defense and executing flawlessly on offense in the final five minutes of close matchups.
How about an old-school Did you Know to show you how clutch No. 1 Syracuse has been this season? pic.twitter.com/q8CSfZC2sL

— ESPN Stats & Info (@ESPNStatsInfo) February 16, 2014
They've been outscored 25-20 in their last two games after being tied with Boston College at the five minute mark and trailing Duke by four at the same point Saturday.
Syracuse couldn't summon a victory from their ice cold veins during the final seconds of a tense nail-biter. However, there were other suspenseful moments on taking place over the weekend.
Tennessee's Triple Double of Trouble
Jarnell Stokes and Cuonzo Martin experienced the good, the bad and the ugly on Saturday against Texas A&M. Everything
Down four with 30 seconds remaining Stokes scored on a drive to the basket to cut the Vols deficit to two. After the Vols immediately fouled, A&M's Alex Caruso missed the one-and-one and Tennessee gained possession down by two.
A few plays later, Tennessee guard Antonio Barton drained a three to put the Vols, up one, but during an ignominious moment of over-coaching, Martin called for a timeout before Barton's release. Stokes converted an And 1, waked to the charity stripe and missed the game-winning freebie.
The missed free throw cost Tennessee a win, but it didn't lose them the game. In overtime, A&M's Antwan Space cost the Vols another loss with a three-pointer that was reminiscent of the dagger trey he plunged into the heart of Tennessee on January 11 with seven-seconds remaining.
(cut to the 2:45 mark)
Julius Randle – The Freshman
Julius Randle scored the final basket in a game which featured three lead changes in the final 25 seconds. Johnny Bryant III's long arms in the post caused trouble for Randle for much of the night as the freshman shot 2-for-7 in the post before his game-winning basket underneath the hoop.
The only reason Randle got the ball without Bryant deterring him was because he was taken out of the play after leaping and forcing James Young to pass when he drove to the basket. Right place right team and things rolled Kentucky's way, but this team still doesn't look like the national title contender we anticipated they would be.
Russ Smith – The Senior
Russ Smith's improved distributor's mentality has played a major role in Louisville remaining in contention for the Big East title, but on Saturday, it was his game-winning shot against Cincinnati that have them tied atop the new Big East.
Texas' Big 12 Title Hopes Fade To Black
The only thing worth analyzing in Kansas" 31-point defeat of Texas was Tarik Black's dunk over Cameron Ridley which stirred the spirits of Wilt Chamberlain.
First of all, Black didn't soar over just any old Longhorn. He climbed over one of the top shot-blockers in the Big 12. Then, there's the guys on the sideline. Naadir Tharpe had a conniption, which leads to him bustin' out the Chappelle Show robot .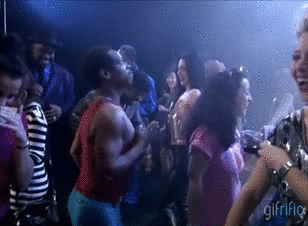 Secondly, it's become commonplace for the bench to break out into an impromptu display of sheer unbridled exhilaration while they mockingly hold each other back. They feign holding each other back, but Wayne Selden Jr.'s super overdramatic response is what really sets it off. Bench celebrations after dunks are reaching endzone dance circa 2005 levels of ridiculousness. In the end, Kansas secured its death grip on the Big 12 crown. Their ninth straight is further proof that the Big 12 is Kansas' kingdom.
Ethan Wragge is accustomed to dropping Wragge Bombs from deep. However, his two missed free throws with four seconds left in regulation nearly resulted in a catastrophic implosion for Creighton. Creighton led by five with 1:17 remaining, but didn't score from that point forward as McDermott (88 percent shooter) and Wragge (82) both missed a pair freebies at the line down the stretch.
Michigan's frontcourt is loaded. On a night when Derrick Walton Jr. couldn't hit the ground with his feet, Caris Levert chipped in 21, Nik Stauskas scored 25 and Glenn Robinson III scored 15. Defense and strong post play usually wins championships in the Big Ten, but Michigan is bucking that convention for the second year in a row. Conversely, Keith Appling is still limited by a wrist injury, but it's apparent at this point that the Wolverines are the Big Ten's top team.
Temple took No. 22 Memphis into overtime just one week after beating a ranked SMU squad. That should make the tournament committee and SMU fans feel a little less ashamed of their loss to the Owls last Sunday. Sunday's win over UConn helped as well.