Nobody wants to go back to that dark place that baseball was in during the early 2000's when the Steroid Era was fully exposed and so many greats of the game were thrown under the bus for a systematic and encouraged drug epidemic driven by the owners' greed, MLB front office compliance and a need to generate increased interest in a sport crippled by the 1994 MLB strike.
But as home run totals soar in baseball and players develop a rejuvenated thirst for the long ball, an old problem has resurfaced as Pirates outfielder Starling Marte has been suspended for 80 games for testing positive for Nandrolone, an injectable steroid, violating MLBs substance abuse policy.
The Dominican-born Marte is no scrub. He's a 2016 MLB All-star and a rising stud in the game.
Of course, Marte says he inadvertently took the substance, but answers like that are par for the course in these situations. The substance is an old school steroid that stays in your system for a long time. His actions wreak of not giving a funk.
Lack of knowledge…I dont buy it for a minute, said MLB Network host Karl Ravech. This is an injectable steroid. Theres intent here.
Co-host Raul Ibanez played 19 years in MLB, retiring in 2014 at the age of 42. He says he was afraid to take certain vitamins off the shelf in fear of using a banned substance. Hes baffled by players who keep getting caught and risking future paychecks and their reputation.
If an 80-game deterrent isnt enough…at what point… where do we go from here, said Ibanez.
The Pirates go from having one of the top outfields in baseball to missing a guy who hit just nine home runs last year but swiped 47 bases and hit .311.
Maybe the six-year vet felt pressure to duplicate his double-digit homer seasons of the past in order to be recognized as an All-star. In any event, the Pirates are dealing with it and moving on with the season.
"The Pittsburgh Pirates fully support MLB's Joint Drug Agreement, including the very tough penalties for violations of its prohibitions," Pirates president Frank Coonelly said. "We are disappointed that Starling put himself, his teammates and the organization in this position. We will continue to fight for the division title with the men who are here and will look forward to getting Starling back after the All-Star break."
Martes teammate Andrew McCutchen is a former NL MVP and known as one of the better character guys in the league. He was moved from his traditional centerfield this season to make way for Marte
"You hate to hear anything like that for anyone, especially your own teammate. You hate to hear it," McCutchen said. "Guys make mistakes, but the last thing I need to be doing is distancing myself away from him or whatever that may be. I'm just trying to be a good friend before I am a teammate. … When you make a mistake, you've got to pay for it. It's that simple, regardless, teammate or not."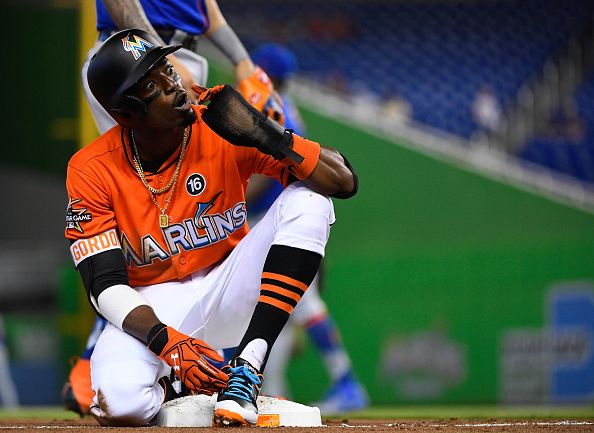 Miami Marlins second baseman Dee Gordon was the last high profile All-star caliber player to get hit with a significant PED suspension in 2016. Guys such as Ryan Braun and Nelson Cruz also have recovered from suspensions in recent seasons and remain productive. They will have to live with the stigma of the offense, but as long as they can produce it won't stop them from getting jobs and hefty checks.
With much embarrassment and helplessness, I ask for forgiveness for unintentionally disrespecting so many people who have trusted in my work and have supported me so much, Marte said in a statement aired on MLB Network. I promise to learn the lesson that this ordeal has left me. God bless you.
I wouldnt be calling on God because we know that it is pure greed that makes players juice. At the end of the day the financial windfall is greater than the temporary humiliation. And most players refuse to admit that they knowingly did it anyway, so its always the same song and dance.
Braun caused an innocent sample handler to lose his job while trying to weasel his way out of his PED suspension on a technicality, but eventually he did the crime so he had to serve the 65-game time. That was in 2013. He's back looking for a huge contract in the near future.
Despite baseballs stiff PED penalties and the falls from grace that so many superstars of the PED Era have to live with, it is clear that PEDs are still being created in labs, used by players and prevalent in the league.